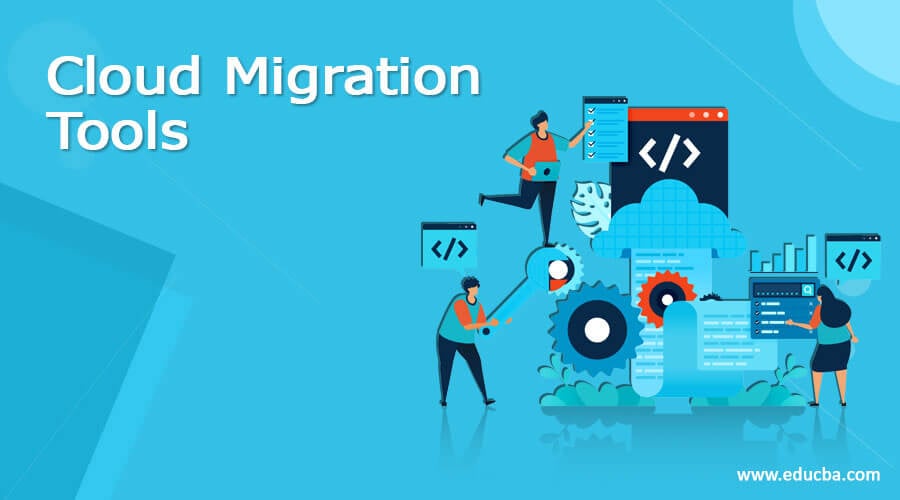 Introduction to Cloud Migration Tools
The process of moving digital business operations into the cloud is called cloud migration. It involves moving data, applications, and IT processes from some data centers to other data centers. Cloud migration requires a lot of preparation and advance work It saves the cost of the organizations. It reduces the amount of cost the organization spent on IT operations. It improves the overall performance and overall user experience for their customers. Most organizations used tools to perform cloud migration. It helps them to perform the task easily and effectively. In this article, we are going to discuss the various tools used for cloud migration.
Top 8 Tools of Cloud Migration
Below is the list of cloud migration tools
1. AWS
AWS is the best cloud migration tool, designed to minimize downtime for applications that rely on the database. It has the ability to perform data replication for multiple use cases. It migrates data into and out of the cloud for development reasons. It Continually monitors and targets the databases. If any error or interruption occurs, this tool automatically restarts the service. It has the ability to execute both homogeneous and heterogeneous database migration. It provides a variety of basic abstract technical infrastructure and distributed computing building blocks and tools.
2. Azure
Azure is a cloud migration tool developed by Microsoft to build, test, deploy, and manage applications and services through Microsoft-managed database centers. It supports SaaS (Software as a service), PaaS (Platform as a service), and IaaS (Infrastructure as a service). It also supports various programming languages and tools, frameworks, and third-party software and systems. It integrates with various tools and tacks the workloads and manages migrations. One of the main advantages of this is to utilize the end-to-end progress tracking for database and migration servers. Azure creates azure migration central hub where teams start, execute and track the migration.
3. Carbonite Migrate
Carbonite migrate tool migrates both data and systems from any combination of physical, virtual, and cloud-based platforms. To provide security, it uses AES 256 bit encryption algorithm. It can easily automate and orchestrates migration configuration. It can scale continuous replication with minimal performance or bandwidth impact. It reduces the downtime to minutes or seconds as you cut over to the new server. It ensures that data, files, and system settings are replicated reliably. It lowers the risk of data migration by establishing a structured and repeatable process for data migration.
4. Turbonomic
Turbonomic is a hybrid cloud migration tool that monitors and optimizes the workload. It uses straightforward intelligence to deal with complex hybrid clouds. It uses usual components like mapping resources consumption so that team can see what is going on with their data. It gives visibility to all workflows using visual tools. Using propriety policy engine, Turbonomic boost compliance.
5. ScienceLogic
ScienceLogic produces information technology management for It operations and cloud computing. It is an automated cloud migration tool that gives full visibility for the teams to their cloud migration process. It provides a user-friendly interface, to analyze a large amount of data. It manages the relationship between the storage environment and infrastructure components. It monitors the health of the application so that users can ensure that any risks are quickly identified.
6. AppDynamics
It is another cloud migration tool. It mainly focuses on managing the performance and availability of the application across cloud computing environments as well as inside the data center. It provides real-time monitoring of an application. It quickly detects issues so that they can be resolved and ensures the security of the application. AppDynamics provides end-user monitoring to evaluate the performance to deliver effective customer support. It also provides complete visibility to manage the network and containers.
7. Dynatrace
Dynatrace is a cloud migration tool that provides a software intelligence platform based on artificial intelligence to monitor and optimize the performance of the applications and its infrastructure and user experience for business and government agencies throughout the world. It is used to map and monitor application, microservice, and container orchestration platforms such as Kubernetes, and IT infrastructure running in multi-cloud and hybrid cloud environments. It also provides full-stack solutions to simplify the cloud complexity and speed up cloud migration.
8. Google Cloud
Google cloud is another cloud migration tool developed by google suite. Google cloud is a suite of cloud computing services that runs on the same infrastructure that Google uses internally for its end-user product such as Google search, Gmail, file storage, and YouTube. Besides this, it also provides series of modular cloud services including computing, data analytics, data storage, and machine learning. It provides real-time streaming for running workloads and migration.
Conclusion
Here, in this article we have discussed the various cloud migration tools such as  AWS, Azure, Carbonite migrates, Turbonomic, ScienceLogic, AppDynamics, Dynatrace and google cloud. Each has its own features advantages and limitations. Based on your requirements, you can choose one of them. Hope you enjoyed the article.
Recommended Articles
This is a guide to Cloud Migration Tools. Here we also discuss the introduction and top 8 tools of cloud migration along with an explanation. You may also have a look at the following articles to learn more –