Updated May 29, 2023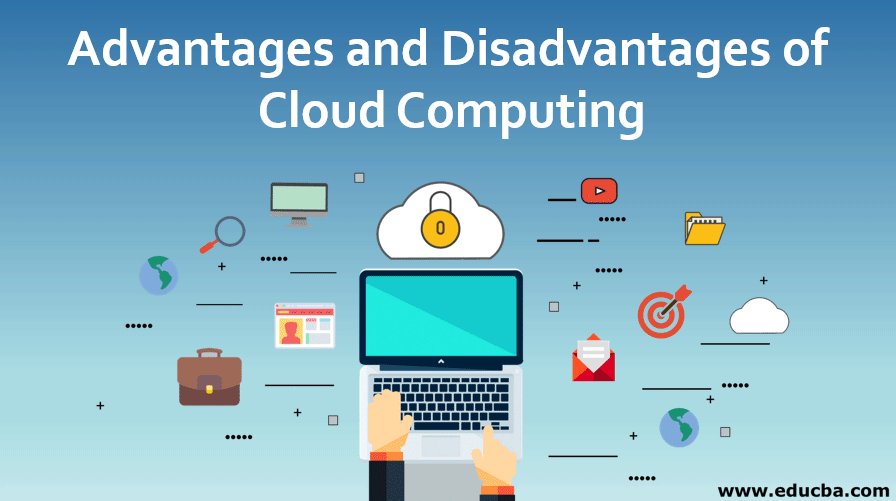 Introduction to Advantages and Disadvantages of Cloud Computing
The term' Cloud Computing' is very much in vogue nowadays. The Advantages and Disadvantages of cloud computing, instead of storing data, applications, and software on in-premises hardware, they are stored on remote servers. Subscribers use the internet to access data, applications, and software from remote servers and are charged a fee. Users can access data and run applications/software from the remote server. The on-premises hardware is not needed. Computing services are provided by remote entities such as databases, software, analytics, and intelligence. The remote hardware is referred to as the cloud. Its use is widespread as well as offers many benefits.
Advantages of Cloud Computing
The following are the advantages of Cloud Computing.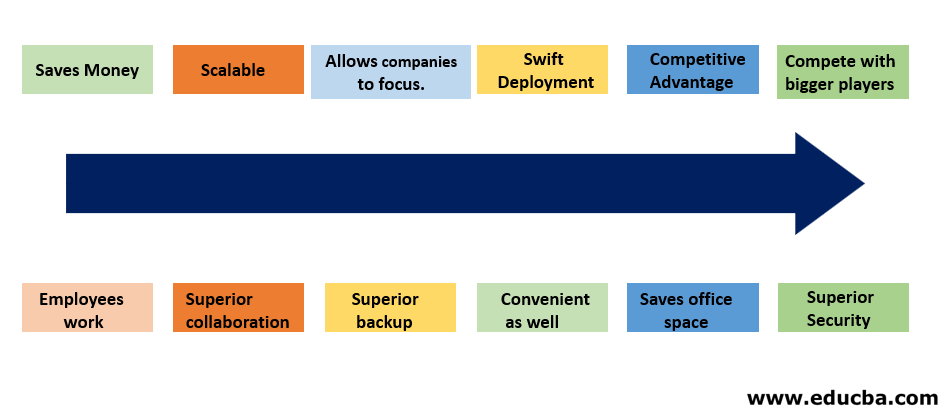 1. Saves money
You do not have to buy software and hardware. The cloud provides them. Hence, you save office space rent, electricity, air conditioning, maintenance, and operational expenses. Also, you pay only for the services that you use. There used to be unused hardware and software for organizations using on-premises hardware and software. Cloud eliminates that aspect of the business.
2. Scalable
You can change the resources you need from the cloud up or down. This was not possible earlier. Companies had to buy additional resources when requirements increased. When requirements were reduced, they were left with unwanted resources.
3. Allows companies to focus on their core areas of business
Earlier, businesses had to allocate human resources, time, money, and effort to manage on-premises hardware. Cloud takes care of all the hardware and software aspects of businesses. This allows the business to concentrate on taking care of its domain areas.
4. Swift deployment
Thanks to the cloud, your business system can run in just a few minutes. This gives an early lead over companies using the traditional approach.
5. Competitive advantage
Businesses leveraging the cloud have a strategic edge over those that don't. They can start quickly and have the latest hardware and software services.
6. Compete with bigger players
The cloud creates a level playing field. Even small companies can afford it. They don't have to spend a huge amount initially to start operating. The cloud subscription costs much less than outright purchasing the latest hardware and software.
7. Employees can work from any place at any time
Cloud services are available round the clock. Even if the office is closed, work can go on. You can work anytime and from any location if you have an Internet-enabled device.
8. Superior collaboration
Thanks to cloud technology, company staff stationed in different places can collaborate conveniently while maintaining high levels of security.
9. Superior backup
Compared to on-premise technology, where backup and recovery take a lot of time, you can easily and conveniently do backup and recovery on the cloud platform. There is less downtime involving cloud-based platforms. The latter provides quicker as well as relatively more accurate retrievals of information as well as applications.
10. Convenient as well as easy implementation
Cloud technology lets companies retain the same business processes while not having to handle the backend technicalities.
11. Saves office space
Since minimum hardware is installed at the company premises and fewer people are required to manage and administer the hardware and software, considerable office space is saved. Given the current trend of costly commercial real estate rates, this is an important benefit.
12. Superior Security
The cloud host completely handles the important responsibility of security. You don't have to worry about or handle security. The cloud host installs the latest security hardware and software. They regularly update the security services, apply patches, and review the security level.
Though the cloud is the latest technology with many benefits, it's important not to overlook its flaws; we should be aware of its drawbacks.
Disadvantages of Cloud Computing
Following are the disadvantages of Cloud Computing.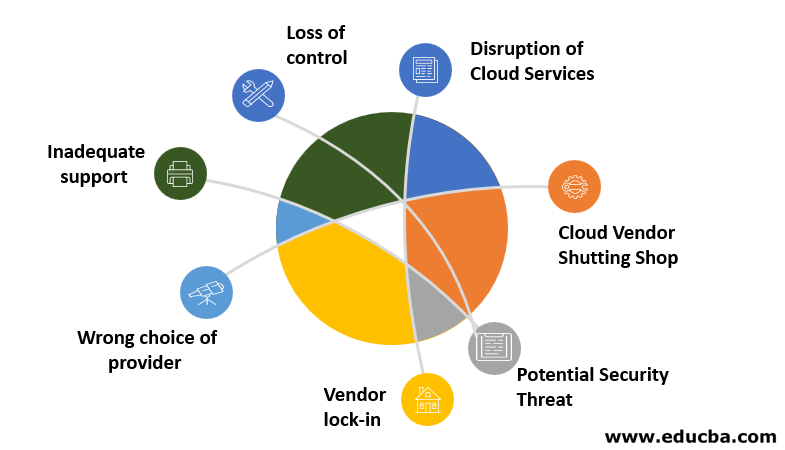 1. Loss of control
You are handing over your data and applications by opting for cloud services. You depend on the cloud provider if any hardware or software issues manifest. The speed and quality of service in such situations may not match your expectations.
2. Disruption of cloud services
In case of a cyber-attack, power outage, or loss of Internet connectivity at the Cloud provider's end, your business can suffer unwanted downtime.
3. Cloud vendor shutting shop
There is the possibility of your cloud service provider going out of business or changing its business domain. Your business will stop operating in this eventuality. You will have to quickly find another cloud service provider who is competent and reliable.
4. Potential security threat
Hackers are currently targeting high-profile websites such as that of prominent cloud service providers. You have no control over your data, applications, and software security. Also, you can suffer losses and downtime if your cloud service provider's security is breached.
5. Vendor lock-in
In the event of migration to another cloud platform from the current one, you may encounter major issues as the two platforms may differ. The challenges may include a lack of support, configuration issues, and an extra cost.
6. Wrong choice of provider
You may be in trouble if you have not done your homework well or asked for reliable references while selecting a suitable cloud services provider. The quality of service may not be as desirable, or certain features of cloud services may not be offered. This can affect the whole or part functioning of your business or operations.
7. Inadequate support
Some cloud computing providers fail to provide adequate support to their clients. Also, they ask you to refer to FAQs for technical problems, which are difficult for non-technical persons.
Conclusion
Though cloud computing has its pros and cons, on the whole, it is more beneficial than harmful. Do your research to select a good and reliable cloud provider. Investment in cloud computing should be long-term, and the cloud computing domain is expected to evolve further.
Recommended Articles
This is a guide to the Advantages and Disadvantages of Cloud Computing. Here we discuss the basic concept and the advantages and disadvantages of cloud computing. You can also go through our other suggested articles to learn more–