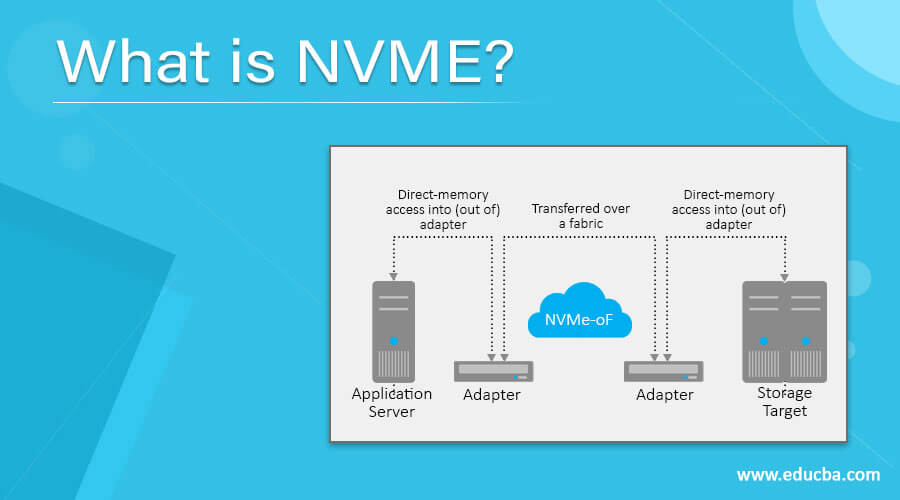 What is NVME?
NVMe is a high-performance storage protocol designed for NUMA and incredibly scalable that links the host to the memory subsystem. It is a relatively modern, practical protocol designed to be directly connected to the CPU via PCI interface for non-volatile Memory Media(NAND and Permanent Memory). The protocol is designed on PCIe high-speed lanes. This connects PCIe Gen 3.0 will provide more than two times the transmission speed of the SATA interface.
Importance of NVME in Business
Business processes are normally hungry for information. SSDs can be bogged down as data and specifications escalate exponentially. In the face of some of Fast Data's latest problems, even high-performance SSDs linked to legacy storage protocols will encounter lower performance, increased latency, and poor service efficiency. The specific features of NVMe help to prevent bottlenecks for everything from conventional database scale-up implementations to evolving architectures for Edge computing and to satisfy modern data demands. NVMe is the only protocol for high-performance and non-volatile stocking media that separates increasingly challenging enterprises, cloud and edge data environments of high computational strength.
What are NVME Drives?
Non-Volatile Memory Express (NVMe) is a 2013 data interface. Non-Volatile means that when your device reboots, the storage is not erased; thus Express refers to the fact that data passes on your motherboard via the PCI Express (PCIe) interface. This allows the drive to be more directly attached to the motherboard so the data need not be accessed by a Serial Advance Technology (SATA) controller. NVMe motors, which have been around for years, are much quicker. A maximum speed of 985 megabytes per second transmission on each lane is possible in the PCIe 3.0 — a PCI Express standard current generation. 4 PCIe-lanes, meaning a potential top speed of 3.9 GBPS is used by NVMe drives. Meanwhile, SATA SSDs like the Samsung 860 Pro are among the best to achieve speeds of around 560 Mbps when read and write.
Advantages of NVME Performance
The NVMe offers two main advantages to the SSD-based data centers. Quality is the first thing. Since an NVMe SSD has no legacy protocols to support, its providers will rely on the full benefits of memory-based storage. Flash can perform multiple I/O operations concurrently due to its low latency. NVMe's sixty-four thousand queues with 64 thousand commands allow proper feeding of I/Os to the computer. This allows an NVMe drive to pick up to 64,000 blocks if a SCSI-based disc wants to select a block from data at a time. In the same CPU loop where SCSI effectively requires a cycle for each access, NVMe will access additional data.
Why NVME is Required?
The positive news is the very simple specifications for NVMe. Currently, several data centers have servers that also support the norm in their setting, providing that the servers have PCIe slots. Since there is no shift to ROM Bios or Motherboard designs and other bootable BIOS understand NVMe, users don't need to buy a particular version of their servers. On the other hand, a flash system that supports NVMe is chosen. The cards are currently on the market. The commodity review of one such card from OCZ was recently carried out by Storage Switzerland.
How does NVME Works?
NVMe maps the PCIe interface input, output, and shared memory responses in a host map. The NVMe interface supports multi-core processor parallel I/O to allow high-performance CPU engines and minimize them. In the I/O request management system, NVMe has a simpler control collection, as opposed to the SCSI and ATA sets. NVMe needs less than half as many instructions for SAS devices as SCSI requires, and SATA drives use the ATA command collection. Inside one message queue and up to 65,535 I/O queues, NVMe supports 64,000 commands. A SAS unit, in comparison, normally supports up to 256 commands and a SATA drive can hold up to 32 commands. But currently, NVMe-based PCIe SSDs are more expensive than comparable capability and high-end business NVMe SSDs based on SAS and SATA can need higher power than SAS or SAS S SSDs. SSDs are not usable. The SCSA argues that more modern SAS SSDs have additional benefits compared with NVMe PCIe SSDs, such as better scalability and tested capabilities. NVMe PCIe SSDs can also have an output standard not required for certain applications.
Conclusion
NVMe will allow flash to achieve its dedication to results. It standardizes the PCIe bus and is particularly optimized for storage dependent on memory. The implementation should be reasonably simple and these technologies are now being introduced by manufacturers. NVMe could have a big effect on the industry and allow the data center to adapt to new demands.
This is a guide to What is NVME?. Here we discuss What are NVME Drives, How NVME Works with advantages, and its importance. You may also have a look at the following articles to learn more –