Updated April 12, 2023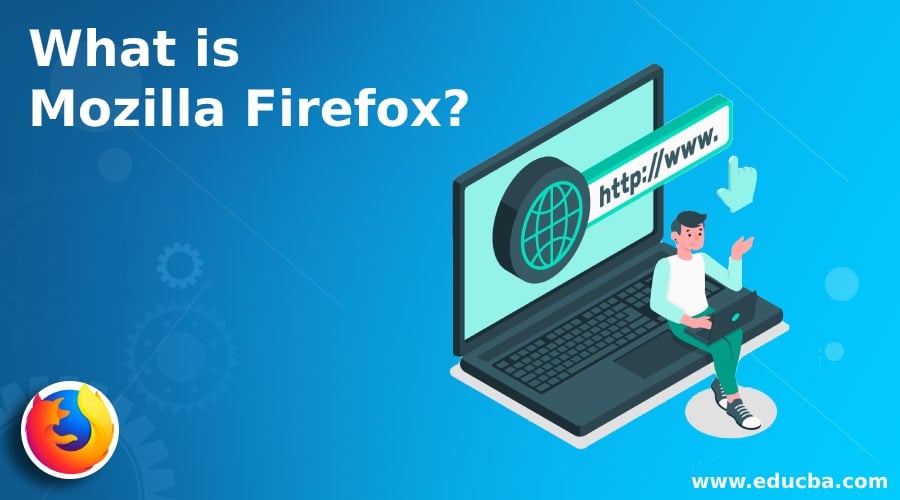 Introduction to Mozilla Firefox
Mozilla Firefox is nothing but a Web Bowser, with which one can access the internet. The web browser lets one access information in form of text, audio, images, and videos from all around the world. Mozilla Firefox was developed by Mozilla Foundation in 2002 under the Phoenix community. Nowadays, it is called Firefox only as it is derived from Mozilla Web Browser it is also known as Mozilla Firefox.
Mozilla Firefox can also be used to browse via android and ios. Firefox officially was released on Nov 2004 and gave tough competition to Microsoft's Internet Explorer with its add-ons, security, and speed. Firefox got it's the highest popularity at the end of 2009 when it had reached 32+% of total market usage. But after the introduction of Google Chrome, the popularity of Firefox declined. As of now, it has around 5%, market users.
Importance of Mozilla Firefox
Mozilla Firefox is known for its speed. Though the Firefox browser needs a lot of memory for operating efficiently. It may limit the multiple tasking of computers. However, It provides better network security. It has advanced security options that protect your system from spyware and malwares. It has strong popup broker and authentication protocols which makes it safe from potential attackers using any unauthorized codes. Further to enhance security users can use enhanced security options like NoScript and Flashblock. It enables user to execute advanced code so that certain new features which can make the browser more Intutive.
Firefox has an interface which is very user friendly and the user can use a number of add-ons on top of that user can customize the browsing also. It has more than 6000 extensions, user can customize the browser with more than 500 themes. Mozilla offers Tabbed Browsing which can let the user open unlimited tabs in a single window. It also has got embedded memory which makes it capable of remembering pages, in case if your systems is turned off by mistake, you can recall all the open pages.
Firefox is a safe browser when it comes to protecting personal data. It provides freedom of browsing and protection as no other browser does. Firefox is a non-profit organization, which means it does not intend to get profit from collecting personal browsing information of users.
Firefox has an Open-Source-Project which makes it for anyone to see the code and have a look at it how it works. And it does not share any information about the user with third-party partners.
Uses of Mozilla Firefox
Firefox is a web browser- a platform, which is used to browse the information via the internet. When we search for something, a web browser tries to fetch the data from various internet-connected servers. Data fetching is done by rendering engine which is the software itself and translates the data for user interpretation. The data is interpreted in HTML that is Hypertext Markup Language. Browser further reads this HTML code to the user, the way we see it. It could be text, image, audio, or video. All this information has a unique URL or web address that can directly be accessed using browser like Mozilla Firefox. There are a number of other extensions are available nowadays like css, RSS, XHTML, mng, etc and almost all of them are supported by Firefox.
If a user wants to get information from multiple sources, Firefox provides a better facility of multi-tab tasking where users don't have to lose hold of one information to get access to other information. Firefox does not record history or cookies used by users which makes it safer and more trustworthy.
Firefox earlier used to consume more memory for efficient browsing, but with the introduction of Firefox Quantum, it has been reduced significantly. Which makes Firefox safe as well as fast.
Users can download the information using the Download manager of Firefox, which is quite easy to use. In this user can manage downloads and customize it also.
If the user makes any typos or spelling mistakes, Firefox has a spell checker function. which will point out the mistake by crosschecking internally and also will suggest alternatives for mistakes. Which makes it more user friendly and accessible by all types of peoples.
Why we use Mozilla Firefox?
When it comes to the Browser, it's a very personal thing for people. People like to personalize their browser for easy access. Now with Firefox Quantum update, this browser has the same great speed as any other browser available. Firefox with this new Quantum uses 30% less memory than Chrome, which gives it the ability to respond faster.
Firefox does not track the personal information of the user like what websites the user has visited or what activities have been done across multiple websites. It makes Firefox safer to use.
A user can bookmark the pages which he is using frequently in order to access them quickly. This feature saves time as well as efforts put by users to fetch the information.
Firefox provides the facility of incremental search, that is with this functionality users can search a specific word or a link on the whole page just by clicking the CTRL plus F button to do this.
Firefox provides private browsing space, without keeping track of the sites or pages you have visited. Firefox is available in 75+ languages which makes it accessible to most of the people around the world. Firefox can be accessed by desktop users as well as mobile users. All the functionality that we have discussed so far is available for mobile users as well.
Conclusion
Firefox is a web browser to get information using the internet from different servers available all around the world. Firefox was introduced around 2002 but was fully released around 2004 and since then it has got a lot of popularity. Firefox consumes more memory but highly efficient and safer over the other browsers. Firefox does not use personal settings and personal information of users to gain profits of any sort. Moreover, with the introduction of Firefox Quantum, now it consumes less memory and is quite faster also.
Recommended Articles
This is a guide to What is Mozilla Firefox. Here we discuss an introduction to Mozilla Firefox, importance, uses in detailed explanation. You can also go through our other related articles to learn more –