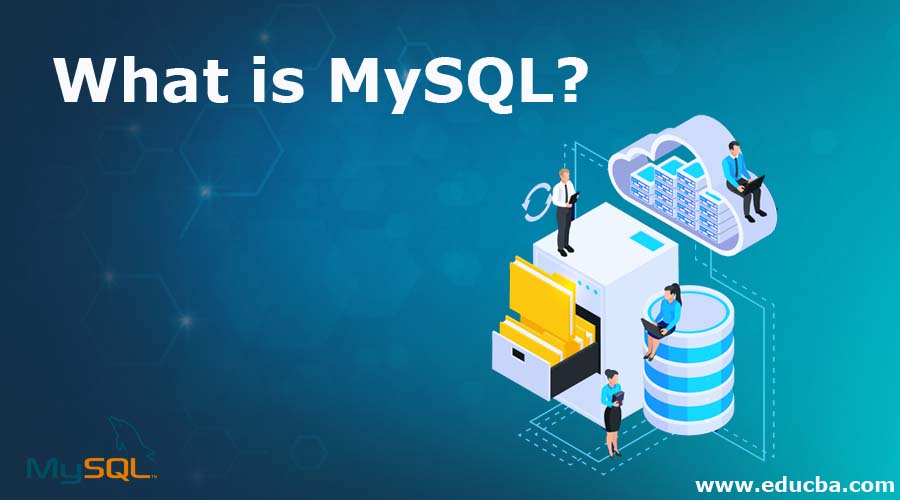 Introduction to What is MySQL?
A relational database management system based on SQL for the purpose of a web database is called MySQL. It is used in several applications such as data cleaning, data warehousing, e-commerce, logging applications and an online portal. This is used to store the applications, whether it is as small as a single record or it stores an entire inventory of products. The application of MySQL varies based on the need. It can associate with any scripting language such as PHP or Perl and create websites.
Understanding MySQL
The most popular open-source database in the world is mSQL. It is very powerful and simple to set up, and easy to use. Once we have done the setup and are ready to use, we can connect with the client as a superuser. In the shell, we need to give this command to connect with the root(superuser) MySQL -u root –p. We can perform many different operations using mSQL like create, delete a database, insert a record; all this is possible using simple commands.
How does it make Working so Easy?
Let us see how it makes working so easy:
1. mSQL can support multiple storage engines whereas other systems like SQL server supports only one storage engine.
2. mSQL supports InnoDB and MyISAM storage engines.
InnoDB is the default storage engine for MySQL as of version 5.5. ACID transactions are supported by the InnoDB.
MyISAM it was the default storage engine for MySQL prior to version 5.5. It was simple, but it lacked support for many transactions.
3. mSQL's performance is high compared to other relational database management systems.
4. mSQL works on many platforms, so it is easy to deploy and use. Where MS SQL Server runs only on the Windows platform.
Compatibility with Other Services
mSQL was designed to be compatible with other systems.
It supports virtual environments like Amazon RDS for mSQL, Amazon RDS for MariaDB, and Amazon Aurora for mSQL. Users can transfer their data to a SQL Server database by using database migration tools like AWS Schema Conversion Tool and the AWS Database Migration Service.
Top Companies that Uses it
mSQL customers by industrial segments are Computer Software and Information Technology and Services.
This is used by many companies few of them are F5, iStock, ITALTEL, etc.
What can you do with MySQL?
mSQL is a database where the data is stored; also, we can retrieve, use data for our needs. For example, we can store data in tables, create indexes, and query the data using SQL. Generally, mSQL is used to store the data from the internet; to achieve this, we need to write an application. mSQL is an RDBMS; some of the features of RDBMS are constraints, triggers, stored procedures, and views.
Working
Before starting to work on mSQL, we need to have a username and password with all the permissions required. GRANT and REVOKE commands are used to grant and revoke rights to MySQL users depending on the privilege the user has to be given. After getting connected, we are ready to query a database. In this, the keywords and functions are case insensitive, but the database name and table name are case sensitive. To execute a query, we need to just type it in the mSQL shell, end it with a semicolon(;) and enter. The query will be executed, and the result will be displayed.
The first step in the database management system is to create a database, to create a database, we will execute the following command.
Create a database test: Now we have created a database, we need to create a table in the database for that, we need to use it. So for that, we need to execute.
Use test: After this, we are using a test database, now we can create, delete any table in the test database.
Advantages
Given below are some of the advantages mentioned:
mSQL is very popular as the most secure and reliable database management system. It is used in many popular web applications such as WordPress, Facebook, etc.
mSQL assures an uptime of 24*7; it also has a wide range of high availability solutions.
mSQL can be implemented on many platforms such as Linux, MAC, Windows.
mSQL is scalable and can handle a huge amount of data.
Why should we use it?
We can start working on mSQL very quickly, as it takes a few minutes for the download to install. Regardless of the platform, we can use mSQL quickly. Features like self-management capabilities like auto restart, space expansion and automatic configuration changes for ease of management are available in mSQL. In ad dition, data security is very high in mSQL.
MySQL transactions work as a single unit, which means unless all the operational stages are completed successfully, they will not be cleared. If any stage fails, it will revert to the previous stage. This helps in the hassle-free online money transactions.
Required Skills
Multiple database platforms are available, and if we want to be database engineers, then we should have complete knowledge. To be a good database engineer, one should have good optimization and debugging skills.
Who is the Right Audience for Learning this Technologies?
Back-end or server-side developers require to learn MySQL Technologies. Some examples of job titles that require knowledge of MySQL are:
Backend or Database Engineer
SQL Server Database Administrator
Senior Web or Application Developer
MySQL Database Administrator
PHP Developer
Lead Software Engineer
Full Stack Engineer/Developer
How will this Technology help you in Career Growth?
If you want a stable job that pays well, this is one of the best fields to go into for a career. With the growth of the company, the rise of a DBA also increases. With this technology, we can have many interesting challenges, and there is also scope for development.
Conclusion – What is MySQL?
Relational databases are managed using MySQL, so we can call it a database management system. MySQL is open-source, but we can buy a premium support service from Oracle. MySQL can run on various platforms UNIX, Linux, Windows, etc.
Recommended Articles
This has been a guide to What is MySQL? Here we discussed the working, advantages of MySQL and top companies that implement this technology. You can also go through our other suggested articles to learn more –