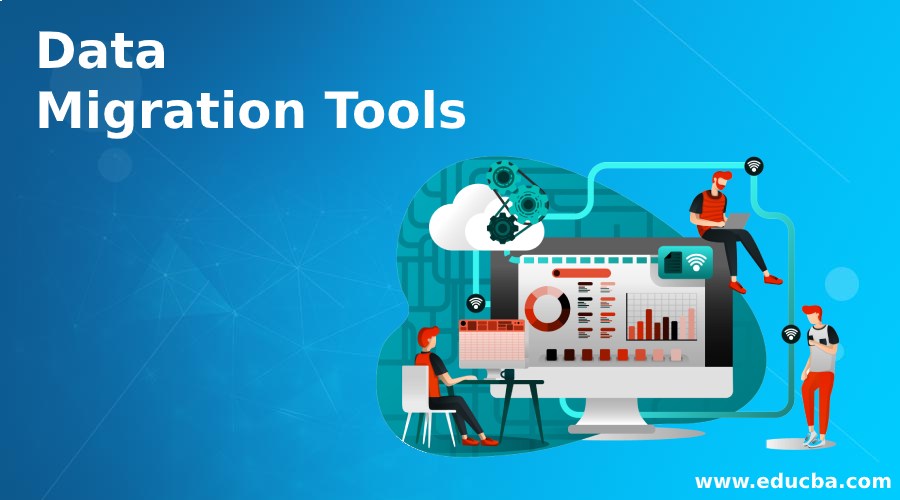 Introduction to Data Migration Tools
Data Migration is the process of transferring data from one place to another, from one application to another, or from one format to another. This is the product of implementing the data to a new device or location. In this article, we will see all the basic Data Migration information along with the Top Data Migration Tools. For your easy understanding, we will discuss the features of those top tools in detail.
Features of  Data Migration Tools
Below are the data migration tools:
1. HDS Universal Replicator
Hitachi Universal Replicator Technology offers enterprise-level replication storage devices while also ensuring business continuity. This deals with heterogeneous operating systems.
Key features of Hitachi Universal Replicator:
It provides efficient data storage and recovery tools and is capable of replicating data on one or more remote locations.
It enables the copying of data, irrespective of operating systems or protocol differences, from any authorized device to any approved device.
HDS replicator decreases the use of energy and provides valuable data protection.
2. Apex Data Loader
The Salesforce tool is the Ultimate Data Converter. It is a java based device capable of executing bulk commands on all data objects, upgrading, and deleting. The Apex Web Services (SOAP) API enables users to create queries to extract data.
Key Features of Apex Data Loader:
The wizard GUI is simple to use and can accommodate massive files with millions of rows.
Data Loader is a user-friendly graphical application that allows users to pass data to Salesforce objects.
It is supported on windows7 or XP. it has a built-in CSV file viewer.
3.  Rocket Data Migration
All facets of data migration are provided by Rocket Data Migration solutions. It is planned with the least manual effort to improve existing migration processes. This tool provides all necessary help during the migration simultaneously.
Key Features of Rocket Data Migration:
Minimize migration activity conflict in achieving everyday goals.
Reduces the cost of storage and increases investment return.
4. Configero Data Loader
Data Loader Configero is a cloud-based framework for data loader for Salesforce. This accelerates Salesforce data creation, actualization, and deletion operations. It has improved the management of errors as errors are shown in the grid so that errors can be fixed immediately.
Key Features of Configero Data Loader:
Effective multi-column filtering allows users to make final changes before loading data.
This offers integrated error correction and provides simple mass editing support.
5. IRI NextForm
Across multiple versions, IRI NextForm is available either as an individual database migration tool or as an included feature in the broader IRI and ETL platform Voracity data management framework.
Key features IRI Nextform:
The IRI Workbench, familiar and free Eclipse IDE for job design, deployment and management, graphically approaches, profiles, and migrates data.
In plain, self-documenting 4GL text files, the data description and manipulation metadata are also displayed in dialogs, outlines, and diagrams for easy comprehension and modification.
Builds jobs or batch scripts for command line, GUI, etc. planning, execution, and tracking, plus a secure team sharing for version control within a Git Hub.
6. AWS Data Migration
The AWS Data Migration platform owned by Amazon is most appropriate for the migration of cloud data. This facilitates the stable and fast migration of databases to AWS.
Key Features of AWS Data Migration:
It enables the full functioning of the source database during migration operation.
It is a very versatile tool that can move data to the most commonly used open-source & commercial databases.
7. Azure Document DB
Microsoft is owned by Azure Database Server Data Migration Tool. It is an excellent method for transferring data from various data sources to Azure Database DB.
Key Features of Azure Document DB:
Data from one of these sources can be productive imported: SQL, MongoDB, JSON data, CSV files, JSON data, Azure Table, Azure Document DB, Amazon Dynamo Database, HBase.
This supports a variety of Windows operating systems and 4.5.1 or older.
8. Brocade
DMM is a groundbreaking solution for high-performance data migration, efficient and performance-oriented. It operates in heterogeneous storage environments efficiently. This is one of the top 15 of the year's items.
Key Differences of Brocade:
It contains a unique feature to estimate the time of migration. This feature helps customers to schedule their migration activity time, budget, and resources.
DMM is a fast and easily deployed company environment data migration program
9. Informix
IBM Informix is another excellent method for transferring data from one IBM database to another IBM database. It supports mainly homogeneous migration of data.
Key Features of Informix:
It facilitates migration of data between various operating systems such as UNIX or Linux etc.
This also conducts server-to-server data migration.
Conclusion
In this article, we have seen various Data Migration Tools along with their features. I hope you will find this article helpful.
Recommended Articles
This is a guide to Data Migration Tools. Here we discuss an introduction to Data Migration Tools, explanation of different tools in detail. You can also go through our other related articles to learn more –