Updated March 6, 2023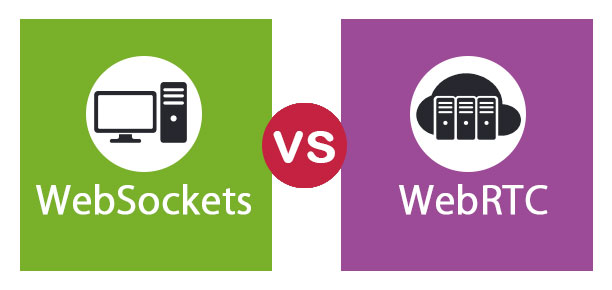 Difference Between WebSockets and WebRTC
WebSocket is a computer communications protocol, which provides full-duplex communication channels over a single TCP connection.
WebRTC is a free, open project that provides browsers and mobile applications with Real-Time Communications (RTC) capabilities via simple API's.
 WebSocket vs WebRTC are both projects that enable communication capabilities. These are two different ways to communicate with the server. WebSocket is a two-direction communication between the server and the client, which implies that both parties can communicate and exchange data simultaneously. With Web Real-Time Communication or WebRTC, modern web-applications can easily stream audio and video content to millions of viewers.
Head To Head Comparison Between WebSockets and WebRTC(Infographics)
Below is the top 7 difference between WebSockets vs WebRTC

Key Differences Between WebSockets and WebRTC
Both are popular choices in the market; let us discuss some of the major difference:
WebSocket is a computer communications protocol, whereas WebRTC is a free open source project that enables browsers and mobile applications with communication capabilities.
WebSockets' focus is on rich web applications, whereas that of WebRTC is quick and easy peer-to-peer connections.
Though both WebSockets vs WebRTC are communication protocols, WebRTC is used for more Real-Time Applications when in comparison to WebSockets.
The Environment for WebSockets is Java, JMS, and C++, whereas that for WebRTC is Java and HTML.
WebSockets have more Security concerns in comparison to WebRTC, where the route through which the network communication is made is the major concern of security.
As it is comparatively new, WebRTC is available only on some browsers, whereas WebSockets are in more browsers.
Scalability-wise, WebSockets use a server per session, whereas WebRTC is more peer-to-peer.
WebRTC is designed for high-performance, high-quality communication of video, audio and arbitrary data. WebRTC apps need a service via which they can exchange network and media metadata, a process known as signaling. WebSocket, on the other hand, is designed for bi-directional communication between client and server. It is possible to stream and share audio and video over WebSocket but, the API is not robust enough like their counterpart features in WebRTC.
WebSockets vs WebRTC Comparison Table
Below is the 7 topmost comparison between WebSockets vs WebRTC
The basis of comparison 
WebSockets
WebRTC
Definition
WebSocket is a computer communications protocol, which provides communication channels over a single TCP connection.
WebRTC is a free, open project that provides browsers and mobile applications with Real-Time Communications capabilities via simple API's.
Overview

The key points of Web Sockets are true concurrency and optimization of performance, resulting in more responsive and rich web applications.
The Web Socket protocol defines a full-duplex communication from the ground up.
WebSockets represent evolution as they take a step forward in bringing desktop rich functionalities to web browsers.

WebRTC allows users to set up peer-to-peer connections to other web browsers quickly and easily.
With WebRTC, issues like data loss, connection dropping, and NAT traversal comes built-in the browser.
The WebRTC API includes media capture, encoding and decoding audio and video, transportation layer and session management.

Uses

Social Feeds
Multiplayer Games
Collaborative editing/coding
Clickstream data
Financial tickers
Sports updates
Multimedia chat
Location-based apps
Online education

Real-time marketing
Real-time advertising
Back office communications (CRM, ERP, SCM, FFM)
HR management
social networking
Dating services
online medical consultations
financial services
surveillance
multiplayer games
live to broadcast
e-learning

Architecture
The architecture for WebRTC consists of the Layers:

Browsers
Internet
WebSocket Server or Gateway
Messaging Service
The trading gateway, News Feed, Payment System, Database Storage, Application Logic, Web Service, ERP/CRM System and Desktop Solution.

WebRTC has a complex architecture. WebRTC architecture has three layers.

API for Web Developers
API for browser makers
Overridable  API

Environment
Java, JMS, C++
Before building WebRTC applications, it is important to have the coding environment set. Firstly we should have a text editor where we can edit HTML and JavaScript. Another requirement is the server to host the HTML and JavaScript files.
Features

WebSockets are being standardized, which means that real-time communication between web servers and clients is possible with this protocol.
It is transforming to a cross-platform standard for real-time communication between the client and the server.
WebSockets standard enables new kinds of applications, especially the business for the real-time web application.
The biggest advantage and feature of WebSockets is that it provides two-way communication over a single TCP connection.

Distributed Communication- This is the connection from a client device to another client device without the use of servers.
Access to the camera, microphone, and screen.
Multi-Party Conferencing on mobile

Security
Security concerns for WebSockets involve:

Denial of Service
Man-in-the-Middle
Cross-site Scripting
Client-to-server masking
Security Toolbox
Browser Developer Tools

In order to connect one user with another, we should find a clear path around your own network and the other user network. There may be several layers for security in this case. To increase security and allow multiple users to use the same IP address, the router hides your own network address and replaces it with another one.
Conclusion
Having seen the comparison and differences of WebSockets vs WebRTC, we come to know that WebSockets vs WebRTC are both Communication enabling protocols. WebSockets enable two-way communication via a single TCP communication, whereas WebRTC enables real-time peer-to-peer communication in the browser and mobile applications. Both WebSockets vs WebRTC have Java as their primary environment. Though WebSockets API's are enabled with the power of transferring video communication, it is, however, not as robust as WebRTC.
Recommended Articles
This has been a guide to the top difference between WebSockets vs WebRTC. Here we also discuss the key differences with infographics and comparison table. You may also have a look at the following articles to learn more.