Updated April 18, 2023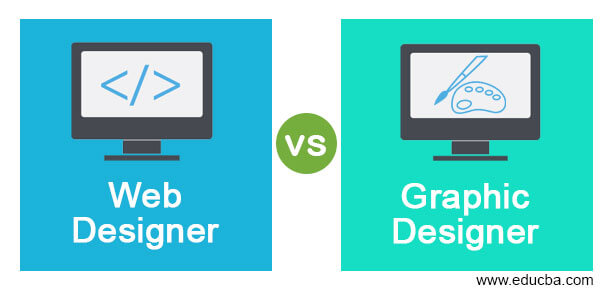 Difference between Web Designer vs Graphic Designer
Web designers are the technical and creative persons who are responsible to either build a new website from scratch or redesign the already created website.
They are able to recognize what it proceeds to make a website useful and tranquil to use but along with it, they understand what is required to create it artistically pleasing to the consumer.
On the other hand, Graphical designers are known to be the professionals inside the graphical design and arts industry who gather together motion graphics, images or, typography for making a part of the design.
They make the graphics initially to publish, print, or electronic media like sometimes brochures and advertising or sometimes to illustrate, typesetting, web design, and user interfaces.
Head to Head Comparison Between Web Designer vs Graphic Designer (Infographics)
Below are the top 13 differences between Web Designer vs Graphic Designer:

Comparison Table of Web Designer vs Graphic Designer
| | |
| --- | --- |
| Web Designer | Graphical Designer |
| A web designer is anxious about how all fragments of a design function collectively as a system. | A graphic designer concentrates on creativity and all about artistry. |
| Being web designers, sometimes they have to work with a web developers or also may be any front-end development team which transforms the design into functional code. | Graphic designers work inside concrete specifications by creating a square peg that fits one square hole. |
| Web designer includes its origin in the form of the website, web pages, call to action button, UI design, or UX design. | Graphic design includes its origins in the form of print such as magazines, printed materials, or children's books. |
| Web design is an active medium and is alarmed with load times along with file sizes. | Graphic design has only a time when it upkeeps about file sizes and that is when they try to suit the big promotional banner into the back of their compact. |
| However, Web designers require to consider how the text will show on many screens and in several browsers. | Graphic designers may implement nice-looking font deprived of distressing too much about how it will show in the final deliverable until the printer's value the name. |
| Descent web designers function toward making a peg which accepts every hole, irrespective of shape or size, deprived packing or flouting the design. | Graphic designers function inside actual conditions by creating a square peg which will accept one square hole. |
| Web design is a dynamic intermediate which has the flexibility and power for adaptation and modifications. | Graphic design is however a permanent one because once any design is printed physically, then no changes can be done. |
| Web designer allows web pages for to be interactive navigating pages, clicking buttons, playing videos or motion graphics. | Graphic designer in comparison is fewer interactive, we can view or touch but cannot alter the design or navigate. |
| The website needs regular maintenance with ongoing changes and clients may hire for any updates or help. | When the design is prepared and printed then it's all complete but if required any change then it should be reprinted or distributing graphic in a new version on a mail piece that may be costly. |
| Working as a freelancer, web designers can select to add services for web development by studying how to create custom websites using tools like Webflow or CMS. | A graphic designer may work with a manufacturing artist helping out to clean up and organize the files for print production finally. |
| In web design, RGB colour mode is used as per its special imaging mode which emphases mocking out the connection between the data structure. | Since graphic design depends on printing, it uses basically the CMYK colour mode which emphases on visual flow and impact guidance like banner design, etc. |
| The information carrier as a material medium is the screen. The quantity of info is definite by the size of the material used. | The information carrier as a material medium is cloth or, paper. The quantity of info relies on HTML, infinite info amount. |
| The web design or website created is not recognized or appropriate for all age groups. | Graphic design is recognized by diverse ages. |
Key differences of Web Designer vs Graphic Designer
The succeeding points mention some key differences for both web designers and graphic designers:
There is a major difference between graphic designers and web designers – technical expertise. Since, web designers require to be familiar with CSS, HTML, and how to structure a design on the web as well as deal with constraints such as load time and file size. Whereas, graphic designers usually are able to customize the design depriving too many restrictions.
Both graphic designers and web designers need to have the fundamental knowledge and understanding of design basics, remain up to date for newer versions of design trends, be able to solve any problem with creativity for clients, should have good communication with clients for design layouts and font style, should have articulation for decisions regarding designs and the most important self-learning and dedicated one.
Graphic designers contain much of the identical skill sets similar to Web designers. They both should know typography, rules of composition & layouts, and colour palettes. But decent web designers provide care for how these features mark virtual usability and interactivity.
A web designer may operate with a graphical designer to work with visual tools such as iconography and graphics but then as a web designer will be acceptable for all these parts organized for creating a comprehensive interactive design that is somewhat operational.
If we talk about graphics, then graphic design includes more performances in comparison to web design, particularly for the product websites.
Graphic design depends on printing material and media whereas web design involves back-end development, network signals, server applications, and few other third-party asset maintenances.
Conclusion
The graphic designers have the ability to syndicate the technology and art together for connecting ideas by means of images, printed pages, and the layout of web screens. Here, they can consider various design features to accomplish enhancing or artistic effects.
The main task of web designers is focused on creating web pages by visual effects of website, planning designs, layouts, elements to apply, target audience, meet client, colours, font styles, and also target markets. They achieve particular personalities being artistic, creative, intuitive, expressive, and sensitive as well.
Recommended Articles
This is a guide to Web Designer vs Graphic Designer. Here we discuss Web Designer vs Graphic Designer key differences with infographics and comparison table, respectively. You may also have a look at the following articles to learn more –