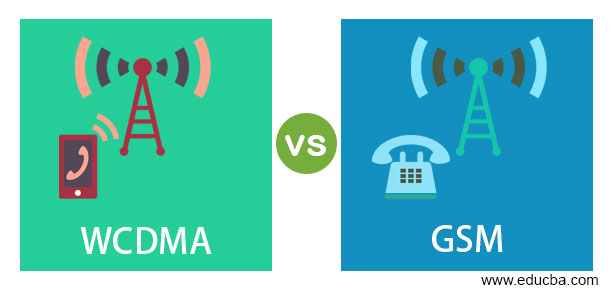 Difference Between WCDMA vs GSM
WCDMA or Wideband Code Division Multiple Access is a mobile communication standard that is used in 3G mobile networks to support all the communication between the mobiles. The communication can be voice calls, text messages, and even the transferring of data. Radio Access Technology is used in WCDMA as an interface for the transfer of any kind of data. GSM or Global System for Mobile communication is a protocol used in Europe that has a different style of working. The data received is compressed and sent to a channel with a time slot. This time slot has different user data and processes the data to be forwarded.
Head to Head Comparisons Between WCDMA vs GSM (Infographics)
Below are the top comparisons between WCDMA and GSM:
Key Differences Between WCDMA vs GSM
Let us discuss some of the major key differences between WCDMA and GSM:
Though both are developed for mobile communications, GSM is used in 2G networks and WCDMA is used in 3G networks. Most people prefer WCDMA to be used as it is newer and transfers 3G data that is faster than 2G data. It is covering the area of GSM and GSM is not being used much nowadays.
The phones are developed based on the network. Some phones are developed to support only GSM networks whereas some support only WCDMA. Hence, it becomes difficult for these phones to support any other networks in their devices. Nowadays, newer phones are developed to support both the networks so that it is easy to switch from one network to another. Compatibility is offered in phones nowadays so that phones can switch between one network to another. While selecting a mobile phone, it is important to check the specifications to know whether it is compatible with any networks.
After the 3G is developed GSM is in an improvised version and the advantages are more while we use GSM. Though it was developed to support 2G, 3G settings help GSM to improve itself. Code division is not used in GSM as there would not be many complications in the system. While in WCDMA, code divisions are used to divide the channels so that proper understanding of all the channels and the networks are made by the user. WCDMA is also used along with GSM so that 2G and 3G supports can be made in the phones.
GSM has the frequency bands of 900, 1800, 1900, and 2100 MHz but the data transfer is not faster and compatible when compared with WCDMA. It was developed during the 1990s when mobile phones became a trend to set a list of protocols so that all the rules are being met while using GSM phones. Now, when considering WCDMA, it has frequency bands and it differs in different places. In Europe and Asia, it has a higher frequency of 2100MHz while in America it has a lesser frequency of 1900MHz. The frequency difference does not affect the speed and it works well in all the places.
As GSM is a list of protocols in the networking system, freedom in the network is not offered as much as WCDMA. In WCDMA, a complete network system is offered without depending on any other networks so that efficiency and bandwidth are more than GSM in the network. WCDMA is a protocol followed worldwide which is also called a Universal Mobile Telecommunications System or UMTS.
Comparison Table of WCDMA vs GSM
Let's look at the top comparisons between WCDMA and GSM
| | |
| --- | --- |
| WCDMA | GSM |
| WCDMA is the 3G network that uses radiofrequency to transfer data in the form of calls, messages, or the internet which is also called UMTS. | GSM represents 2G networks that were developed way before WCDMA and helps to transfer data through radio technology in the system. |
| The efficiency and speed are better in WCDMA due to the technology used in the network and the coding channel separating the data columns in the system. This helps to manage the communication channel well in the network and the communication is done faster than GSM. | The efficiency and speed are less in GSM. This is developed as a set of protocols which later became the standard for 2G networks in the system. However, GSM helps to maintain communication properly in the system so that voice calls and messages are transferred properly. |
| WCDMA is a set of protocols used worldwide and hence it will not be a problem to use the mobile phone or to switch from one network to another if we are using a mobile phone with WCDMA support. | GSM is a protocol developed for European countries and hence the phones that support GSM may not be compatible in other areas. It is good to check the specifications and frequency before buying any mobile phones to know their way of working. |
| If a WCDMA phone has a sim slot and a GSM arena, we can say that the phone supports both GSM And WCDMA. | GSM phones do not support WCDMA as it is not compatible and upgradable to any other networks. GSM phones were developed way earlier than WCDMA. |
| CDMA is used as a basic channel in WCDMA to support the communication and to be efficient in the network. | The basic channel is not CDMA and there are no specific channels used in this network. The main concern is to follow the protocols which are being done. |
| The signal can be handled easily in any paths and this explains the efficiency of the system. CDMA uses radio technology to transfer data. | The signals are not handled easily and in some cases, can be in different paths. This makes communication difficult though it is done. This is the reason that the network is slower. |
| The area of coverage is more for WCDMA. | The area of coverage is less but if it is combined with WCDMA, it is more. |
| WCDMA is mostly used in all the phones and in some cases it is combined with GSM. | GSM is not used much nowadays in the phones. |
Conclusion
All the phones are WCDMA compatible and hence the phones support the network with efficiency and bandwidth. Also, there are phones that support both WCDMA and GSM. It is good to have an understanding of both to know the network speed and the working of the system.
Recommended Articles
This is a guide to WCDMA vs GSM. Here we discuss the difference between WCDMA vs GSM, comparison table with infographics, and key differences in detail. You can also go through our other related articles to learn more –