Updated July 3, 2023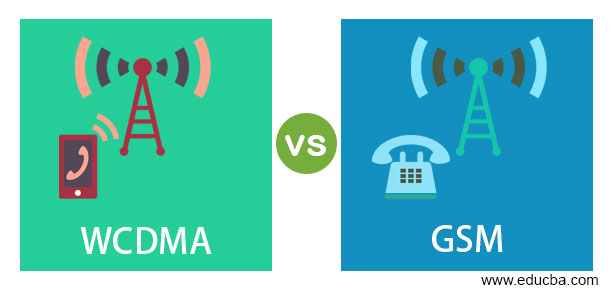 Difference Between WCDMA vs GSM
WCDMA, or Wideband Code Division Multiple Access, is a mobile communication standard employed in 3G networks. It enables diverse forms of communication among mobile devices, encompassing voice calls, text messaging, and data transfer. WCDMA utilizes Radio Access Technology as an interface for effective data transmission. Conversely, GSM (Global System for Mobile Communication) is a protocol predominantly utilized in Europe, characterized by its unique operational methodology. In GSM, incoming data is compressed and transmitted through designated time slots on dedicated channels. These time slots accommodate different user data and process it for onward transmission.
Head to Head Comparisons Between WCDMA vs GSM (Infographics)
Below are the top comparisons between WCDMA and GSM:
Key Differences Between WCDMA vs GSM
Let us discuss some of the major key differences between WCDMA and GSM:
Users generally prefer WCDMA over GSM due to its association with 3G networks, which offer faster data transfer than 2G networks. WCDMA covers the same area as GSM but provides enhanced capabilities. As a result, GSM is not widely used anymore.
Phone developers tailor their devices to specific networks, designing some phones exclusively for GSM networks and ensuring compatibility with WCDMA for others. This design limitation restricts the functionality of these phones on different network types. However, advancements in phone technology have resulted in the development of newer models that actively support both GSM and WCDMA networks. As a result, these phones offer enhanced compatibility, allowing users to switch between the two network standards seamlessly. Compatibility is a key feature in modern phones, enabling users to transition effortlessly between different network technologies.
While selecting a mobile phone, it is important to check the specifications to know whether it is compatible with any network.
After the development of 3G, GSM has undergone improvements and offers several advantages. While GSM was originally designed to support 2G networks, the introduction of 3G technology has allowed GSM to enhance its capabilities. Unlike WCDMA, GSM does not utilize code division for channel allocation, resulting in a simpler system. However, in WCDMA, code division divides channels and provides better network coverage. It is common to find phones supporting GSM and WCDMA, allowing seamless transitions between 2G and 3G networks.
Now, when considering WCDMA, it has frequency bands and differs in different places. In Europe and Asia, it has a higher frequency of 2100MHz, while in America, it has a lesser frequency of 1900MHz. The frequency difference does not affect the speed and works well in all places.
Comparison Table of WCDMA vs GSM
Let's look at the top comparisons between WCDMA and GSM
| | |
| --- | --- |
| WCDMA | GSM |
| WCDMA is the 3G network that uses radiofrequency to transfer data in the form of calls, messages, or the internet which is also called UMTS. | GSM, which stands for Global System for Mobile Communication, is a mobile communication standard that represents 2G networks. |
| The efficiency and speed are better in WCDMA due to the technology used in the network and the coding channel separating the data columns in the system. | Despite its limitations, GSM ensures proper communication by facilitating voice calls and messages in the system, allowing for the reliable transfer of these services. |
| WCDMA is a set of protocols used worldwide; hence, it will not be a problem to use a mobile phone or switch from one network to another if we use a mobile phone with WCDMA support. | It is good to check the specifications and frequency before buying any mobile phones to know their way of working. |
| If a WCDMA phone has a sim slot and a GSM arena, we can say that the phone supports both GSM And WCDMA. | GSM phones do not support WCDMA as it is not compatible and upgradable to any other networks. |
| CDMA is a basic channel in WCDMA to support communication and be efficient in the network. | CDMA is not the fundamental technology used in this network, and there are no dedicated channels utilized. |
| The signal can be handled easily in any path, and this explains the efficiency of the system. CDMA uses radio technology to transfer data. | The signals are not handled easily and, in some cases, can be in different paths. This makes communication difficult though it is done. This is the reason that the network is slower. |
| The area of coverage is more for WCDMA. | Combining GSM with WCDMA increases the area of cover. |
| WCDMA is mostly used in all phones, and in some cases, it is combined with GSM. | Nowadays, phones do not commonly use GSM. |
Conclusion
All the phones are WCDMA compatible, and hence the phones support the network with efficiency and bandwidth. Also, there are phones that support both WCDMA and GSM. It is good to have an understanding of both to know the network speed and the working of the system.
Recommended Articles
This is a guide to WCDMA vs GSM. Here we discuss the difference between WCDMA vs GSM, comparison table with infographics, and key differences in detail. You can also go through our other related articles to learn more –