Updated June 15, 2023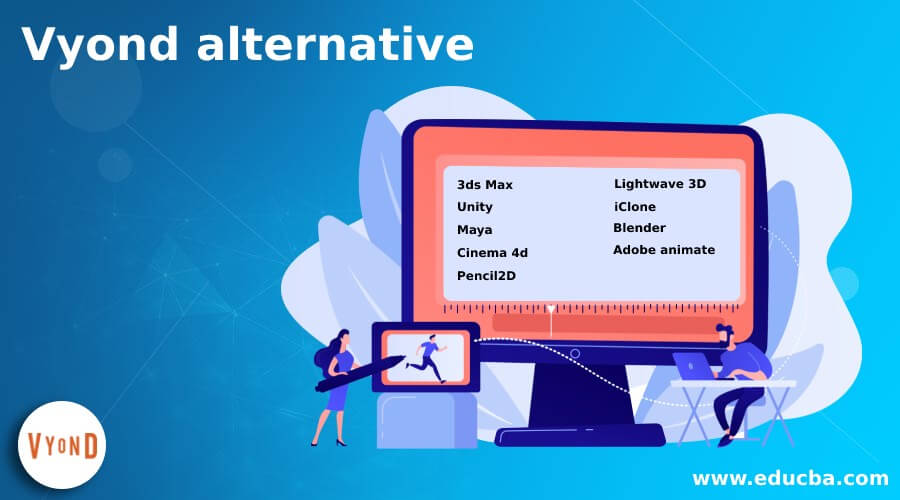 Introduction to Vyond Alternative
Vyond is an online animation software that allows users to create professional animation videos for all industries in various areas like marketing, training, e-learning, etc. Vyond provides various features such as templates, sounds, props, and more to create an attractive video. Other alternatives are also available in the market, providing the same functionality as Vyond. Here in this article, we are going to discuss the Vyond alternative.
List of Vyond Alternatives
Below is the list of Vyond alternatives:
1. 3ds Max
3ds Max is the best alternative for Vyond. Autodesk developed and designed a computer graphics program called it to create 3D animation, models, and games. Its modeling capabilities, and Flexible plugins make it more popular. Mostly video game developers and TV studios use this to create visual effects. Filmmakers also make use of this software. People use Maxscript, a built-in scripting language, to automate repetitive tasks. It provides various plugins such as character studio, DWG Import, Scene Explorer, Texture Editing, Keyframe, Skinning, animation, Skeletons, Integrated Cloth Solver, etc.
2. Unity
Another alternative for Vyond is unity. It is a Game engine platform developed by unity technologies. It is used to create two-dimensional, three-dimensional, virtual reality, and augmented reality games. It is used by film industries, architecture, construction, and automation. For example, Automotive uses unity technology to create full-scale models of vehicles in virtual reality, train workers, and build virtual assembly lines. It allows users to create both 2D and 3D games. The engine offers primary Scripting API in C# for unity editors in plugins and games and drags and drop functionality.
3. Maya
Another Vyond alternative is Maya, a 3D graphics application that creates 3D-related applications and video games, animated games and films, and visual effects. It supports operating systems like Windows, Linux, and macOS. The film industry, TV industry, game development, and architecture sectors utilize it. It provides scenes for users where they create scenes to implement and edit media or a particular project. These scenes can be saved in various formats. The default format of Maya is .mb. Maya exposes node graph architecture.
4. Cinema 4d
Cinema 4d is another alternative for Vyond. It is a 3D software suite developed by the Maxon company. It supports operating systems like Windows, Linux, MacOS, and AmigaOS. It provides various modules such as advanced render, dynamics, hair, Bodypaint 3D, MOCCA, MoGraph, Net render, prime, broadcast, visualizes, and studio. It is used to create advanced 3D graphics. Users can create Jaw-dropping graphics easily and creatively. Its GPU rendered requires NVIDIA and a graphics card.
5. Pencil2D
Another Vyond alternative is Pencil2D. It creates 2D animations and cartoons using traditional techniques such as tracing drawings, onion skinning, etc. It is also used to manage vector and bitmap drawings. It allows users to save their files in their native file formats. It also the export sequence of images in various formats such as PNG, BMP, JPEG, and TFTT format and export video in MP4, GIF, AVI, WebM, and APNG formats. Supports operating systems like Windows, Unix, and macOS.
6. Lightwave 3D
Lightwave 3D is the best alternative for Vyond. It is a 3D computer graphics program for creating 3D animation and effects. It is used for motion graphics, visual effects,  video game development, music videos, and architectural visualizations. It supports operating systems Windows, macOS, and AmigaOS. It provides a dynamics physics system supporting hard and soft body motion, environment, particles, and constraints. In addition, it interacts with 3D object models, bones, and hair.
7. iClone
iClone is a real-time 3D animation and rendering software program. It provides functionality such as full facial and skeletal animation of human and animal figures, Python API and scripting language for character interaction, and lip-syncing. It can import models from Google 3D warehouse. It provides various features such as production, actor, animation, stage, props, camera, video effects, and rendering.
8. Blender
It is another best alternative for Vyond. Users utilize Adobe Animate, a 3D graphics computer software, to create 3D printed models, 3D applications, visual effects, art, animation films, computer games, and virtual reality. It provides various features such as 3D modeling, UV unwrapping, raster graphics editor, texturing, rigging, skinning, sculpting,  rendering, motion graphics, match moving, fluid and smoke simulation, video editing, and composition. Supports operating systems like Windows, Linux, macOS, Android, BSD, FreeBSD, and NetBSD.
9. Adobe Animate
Adobe developed the computer animation program called Adobe Animate. It creates animation and vector graphics, raster graphics, rich text, and audio-video embedding. Supports operating systems like Windows and macOS. Supports various formats like  HTML5, scalable vector graphics, legacy Flash player, and Adobe AIR format.
Recommended Articles
This is a guide to the Vyond Alternative. Here we discuss the introduction and the list of Vyond alternatives in detail. You may also have a look at the following articles to learn more –