Updated July 7, 2023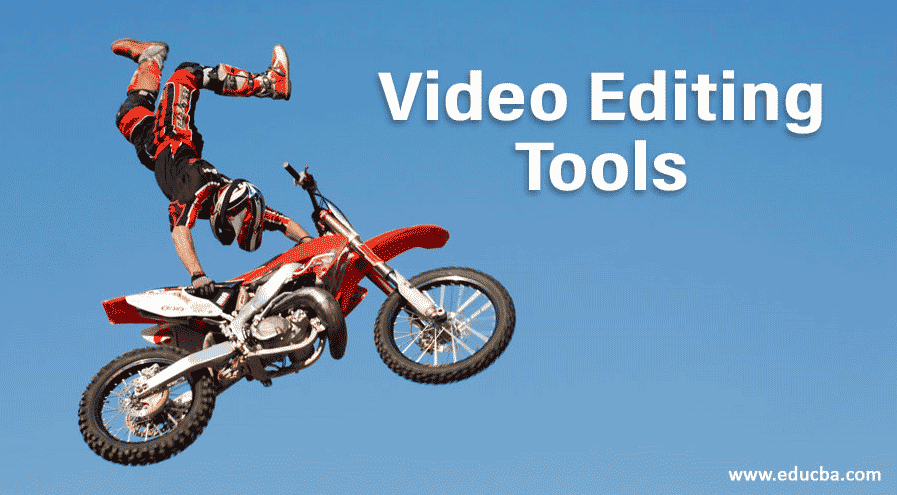 What is Video Editing?
Video Editing is a basic part of today's digital media platform. Video Editing means making changes or manipulating any pre-produced product of videography to get the desired result in your project. For video editing, we used a different type of Video Editing tool. These tools help in a different post-production work of video editing, such as colorization according to the environment, adding and removing sound, adding effects to your video, etc. Here in this article, we will see some top-rated video editing tools or software such as Nero Vision, Corel Video Studio video editing software, Power Direction video editing software, Adobe Premiere Elements video editing software, Final Cut Pro X video editing software and much other video editing software.
Top Rated Video Editing Tools
Here we will get familiar with some top-rated video editing tools available in the market in a very simple and attractive manner. Video editing tools are simple and interesting tools for video editing; they will become very useful once you have a good command of them. So let's start our article with these tools in a very interesting way.
1. Nero Vision
It was Nero Vision until 15 October 2011, but now it is called Nero Video and works as video editing software. It was developed by the Nero AD in April 2010 and is used for simple video editing as well as high-level video editing work. Its latest version is Nero Video 2016, which was released in 2015 and is compatible with Windows 10 operating software, Windows 7 operating software, Windows 8 operating software, Windows 8.1 operating software. This software is available in multiple languages. You can find this software from the www.nero.com website. It will help you in video editing in a very effective way. It helps in changing the playback speed and modifying saturation etc.
You can use this video editing software as a tool of video editing tool for your project because it provides you with a user-friendly workspace for their users.
2. Corel Video Studio
It was devolved by Ulead Systems (Corel) for video editing purposes and performs its work very well. The latest version is Video Studio Pro 2018, and it is also compatible with Microsoft Windows. This software allows you to use different features for video editing and gives you a wide range of editing manners. By visiting Corel Video Studio's official website, you can find this software. In Corel video studio software, resulting video can be exported to HD-DVD, AVI format, DVD, etc., and also provide 3d transition effects to your clips.
Use Corel Video Studio editor software for our video editing purpose provides a verities of feature in editing techniques, and getting familiar with it is not very difficult once you have good knowledge about it.
3. Visme
Visme is the right fit for both newbies without any video editing experience and pros who need to speed up the whole process. This online video editor provides an intuitive, browser-based dashboard with drag-and-drop functionalities, pre-designed visuals, and lots of customization options to give your upcoming video a unique look and feel. You can add suitable typography, color scheme, voiceover, animations, transition effects, graphs, charts, 3D elements, and many other creative assets, all within one tool. To put the finishing touches, feel free to browse through Visme's media library and use any royalty-free stock clip that would work best for your visual storytelling strategy.
No matter what niche you're in or what purpose you have, Visme has a ready-to-use video template for anything. Whether you need a business intro or outro, product overview, giveaway ad for social media, event promo, or webinar, it's all available.
4. Power Director
This video editing software was developed by Cyber Link and compatible with Windows 10 and Windows 7 operating software. 64-bit versions of these windows software are recommended. www.cyberlink.com is the official website for Power Director Studio software. You can visit this software on this website. Its latest version was released in September 2019 and available in different languages.
This video software provides us with a very interesting environment for learning it in a simple way and easily becomes familiar with us. Using its video editing techniques is very simple, and anyone can get command of it.
5. iMovie
It is developed for macOS and iOS devices by Apple Inc. and is one of the good video editing software of Apply Inc. iMovie, initial release in 1999, and the latest version was released in October 2019. Visit www.apple.com for iMovie software. It is featured with enhancing color settings, enhancing video transitions, managing the speed of video clips, etc. It works on High-definition video and compressed video also with its exciting features. It gives effects; replace the background with images or clips etc.
6. Adobe Premiere Elements
Adobe Systems developed adobe Premiere Elements in September 2004, and its latest release was published in October 2018. It is compatible with 64 – bit windows – windows 7 and its later versions, Mac OS X and its later versions. It is also available in many different languages. It is good video editing software, and you can get it from the Creative Cloud Suit of Adobe Systems. It can handle multiple keyframes assigned to each and every clip on unlimited video and audio tracks. It also provides third-party plug-ins for many other additional features.
7. Final Cut Pro X
It is a video editing software of the Pro Apps family of Apple Inc. and released in June 2011. Recently it was released in March 2019 and written in Cocoa computer language. You can use macOS as an operating system for it and find it by visiting on www.apple.com website. It is featured with Auto analyzing of content, helps in synchronizing clips, give compound clips, and provide multi Cam for multi-directional editing. It also has an advanced color grading system.
This article will have knowledge about the different types of video editing software, and you can now edit your video clips for video editing purposes.
Conclusion
In this way, now you have good knowledge about the video editing tool for video editing. Now you can choose any one of them which suits your project and make your work easy for different purposes. This software provides you with a wide range of video editing techniques and working areas for making your project user-friendly.
Recommended Articles
This is a guide to Video Editing Tools. Here we discuss the different types of video editing software that will help us to edit our video clip. You can also go through our other related articles to learn more –