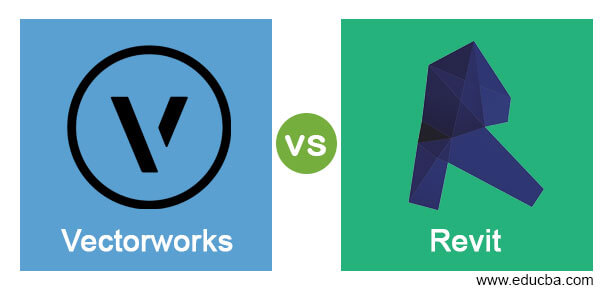 Difference Between Vectorworks vs Revit
Vectorwokrs vs Revit will be center of attraction today in my this article and you can have an idea about Vectorworks by this that it is a company which focused on CAD and BIM software and these software deals with 2d drafting and 3d modeling of elements and component of engineering, architecture, construction, and many other industries. Revit is not a company it is part of Autodesk which deals as building information modeling software. Not only building information modeling but it can also work for electrical, Mechanical, and plumbing industries. So let us clear your all doubt for both of the software.
I will take you through some subheadings in this article for explaining your important facts of both software so that you can get information about the main features and requirements of them. First, we will include a comparison table then move to Key differences in our following steps.
Head to Head Comparison between Vectorworks vs Revit (Infographics)
Below are the top 6 differences between Vectorworks vs Revit:

Key Differences between Vectorworks vs Revit
You may find a number of differences between this two software but here I will take you through some of the important facts of this software through which you can easily differentiate them.
Pricing of this software must be the first difference of them and if you go with Vectorworks then you have to pay $ 200 monthly for its subscription and also have some good features of it in this package whereas Revit can afford in $ 290 with a monthly payment which is more than Vectorworks pricing but there is a plus point in both of the software that both are free for students. If you want to understand their working and user interface before going with any one of them then you can go with 30 days free trials in both software and then it will be your choice to with which you will go.
Vectorworks also offers a cheaper rate if you go with a multiple-user license in comparison with Revit and have the capacity to run with multi-devices.
Vectorworks can operate on Windows, Mac OS as well as on the web you can use it according to your requirement but Revit can only work on Windows systems. Both of the software supports Email, Training features, Phone but Live support only available in Revit.
With Revit, team collaboration can be built and it offers a flexible environment during teamwork until the final result achieved whereas Vectorworks is less flexible in this term.
Both software has their special plugins and extensions for increasing their working capacity and after additional features, both give the best results for the complex type of task. If you use any one of the software then i will suggest you to try plugins of that software for enhancing that's ability.
Vectorworks has broken their product according to the requirement of different industries such as Vectorworks Landmark is one of its product and offers for architectural landscape design as well as for GIS planning, Vectorworks Spotlight focused on large scale entertainment production but in Revit Autodesk never offers this type of break product it comes in one package for different purposes.
Today i have given you the most accessible information about Vectorworks and Revit software so that you can get an idea about both the software.
Vectorworks vs Revit Comparison Table
I will give you an idea about the basic requirements of both software which should you know for having Vectorworks or Revit on your computer without any problem and not only this i will also discuss some other facts here. So let us analyze these facts.
| | | |
| --- | --- | --- |
| Basis | Vectorworks | Revit |
| Definition | Vectorworks is a firm that works as Computer aided design (CAD) and Building Information Models (BIM) software and creates 2d drafts and 3d structures of elements and components of different industries. | Revit also works as BIM software for creating 2d drawings and 3d models of different elements of building structures. We can also explore its features in other Engineering sections because it is multidisciplinary software. |
| Developer | It was developed by Richard Diehl in 1985 as CAD and BIM software and if you want to work with it then you can navigate its official website for downloading it and the website is www.vectorworks.net. | Charles River was the developer of Revit and developed it in 1997. It was made available for public use in 2000. We can download this software from the official website of Autodesk which is www.autodesk.com. |
| Operating system | Vectorworks software can run on both Microsoft Windows and Mac OS operating systems because it has features that can support both operating systems. | We can run this software easily on Microsoft Windows only because it is compatible with it. |
| Latest Release | You can find the latest version of this software with the name Vectorworks 2021 with a number of new features and these features enhance its working ability. | Autodesk Revit 2021 is its latest version and released on April 2020 with new multidisciplinary features. |
| Supported file format | .dwg, .dwf, .dxf, .eps, .py, .3dm, and many more files are supported by this software so you can work on the same project in different software for having your desired result. | Many CAD file are supported by Revit such as .dwg, .dgn, .dxf, .skp, .ifc and .sat which makes it good performer in CAD field. |
| Image file format | .bmp, .jpg, .jpeg, .png, .psd, .mac, .icns, .sgi, .tif and many others can use in it as image file for using them in project work in different manner. | .bmp, .png, .jpeg, .tif can be used as image file format with Revit software. |
Here I have taken facts for the above comparison table which give you knowledge about basic requirement and capacity of both of the software. Now we will move to different sections of both software so that we can get knowledge what are specialties of this software.
Conclusion
Now after this article you can start working with any of the building information modeling software about which we discussed above and enjoy its working in your 2d drafting and 3d modeling work. You may go with the latest versions of this software for having more accuracy in your working with them.
Recommended Articles
This is a guide to Vectorworks vs Revit. Here we also discuss the Vectorworks vs Revit key differences with infographics and comparison tables. You may also have a look at the following articles to learn more –