Updated June 1, 2023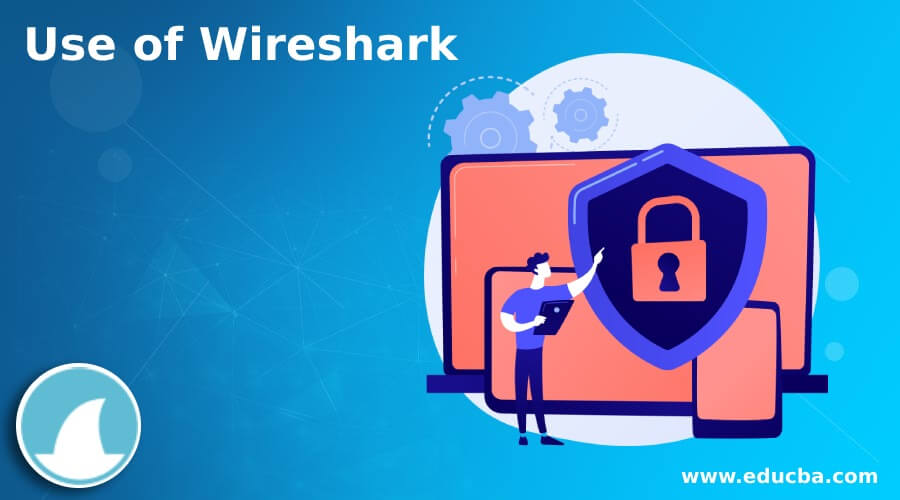 Introduction to Wireshark
Wireshark is a strong networking tool used for traffic analysis over any network. Wireshark is free-of-cost software used mainly by any security professional or admins. Since it is less expensive, it is used for troubleshooting in real life and tries to resolve debugging issues related to the network. Wireshark is mainly used to narrow down the network traffic-related issues and latency issues and make a conclusion for getting the actual root cause. This tool needs to be operated by a user knowing all networking concepts.
Use of Wireshark in Various Areas
Users employ Wireshark, a network analyzer, to capture packets over network connections such as office internet or home networks. The single unit present in the ethernet network is known as a Packet. Wireshark has mainly used packet analyzers for significant functions like packet capturing, visualization, and filtering. Thus, Wireshark has many uses in varied fields, whether related to networking or network security.
The following areas are available for Wireshark:
Usage by network security engineers
Usage by network engineers
Usage by cyber security officials
Usage for analysis of network protocols
Usage in terms of internet and its working for transfer on other systems
Usage in terms of network performance and feasibility of an environment
Usage by system admins
1. Usage by network security engineers
Network security engineers continuously use Wireshark in terms of a network, as each network deals with packets as a single discrete unit for transmission. It also uses the Ethernet layer, which lies in TCP/IP protocol stack, for its major working and functioning. Network security engineers constantly check the network to resolve all security-related issues.
They try to check whether or not any types of sniffing or spoofing activities are going on over the network. In that case, we must apply the color coding technique to certain malformed packets within the network or those intentionally created by intruders. Still, it needs to improvise in this situation as it does not provide actual alerts for alarming as an alert.
2. Usage by network engineers
Unlike network security engineers, whose primary concern is related to the security aspect of a network to keep a check on intrusion activities, network engineers mainly deal with the troubleshooting and latency aspects of the network using the Wireshark tool. This transfer is also related to some of the other ways with a transfer of the packets from source to destination. The Performance issues or any troubleshooting related to the network in the infrastructure or the TCP/IP stack works and uses Wireshark religiously.
3. Usage by cyber security officials
All the major Cybersecurity-related institutes or organizations depend greatly on this network analysis tool. It helps check the cyber crimes and the intrusion or sniffing activities performed over the network and fool the end-user somewhat like the network security engineers.
Cybersecurity and network experts use this Wireshark as it has many security-level protocols working in the background to make the entire processing of network analysis more reliable regarding security and threat. Sometimes using Wireshark by Cybersecurity cannot provide appropriate results in deciphering the cyber key as it does not gel well with decryption concerning encrypted traffic.
4. Usage for analysis of network protocols
Although Wireshark has some inbuild protocols that are reliable and smart enough to perform the majority of network tasks, if some issue arises within the system related to a network, then troubleshooting the system with issues using network protocols like TCP, UDP, ICMP, and DHCP make the entire network more flexible and enhanced. Even in terms of bandwidth and latency, these protocols, in some or the other way, make the most use of it.
Wireshark also can provide figures and charts related to the network showing all the attributes and charts related to performance and analysis. The spoofing of IPV4 packets is quite easy when using Wireshark; thus, it is essential to remember whether the particular IP address being captured is actual. The System Admin, i.e., the IT team and network engineers, should thoroughly understand the concepts of networking and command over the Wireshark tool as it will be an add-on.
5. Usage in terms of the internet and its working for transfer on other systems
Wireshark alone cannot withstand and take all the traffic from other systems; modern computers use networks that use a device like switches that can only simultaneously sense the traffic between the remote system and the local system. They communicate with each other with the set of protocols mentioned earlier.
6. Usage in terms of network performance and feasibility in an environment
Wireshark gives a perfect overview of a network using reporting and analysis tools or plugins as part of the software. It helps determine the overall performance and latency, which either exists in the created network or is present in the original network where the transfer of packets occurs explicitly in and out of the network.
7. Usage by system admins
As part of the network team in organizations, system admins also play an important link with the network engineers for setting up environments by arranging and synchronizing the hardware and network with the indulgence of Wireshark, as evident for network analysis of the environment after set up. System admins with network engineers can perform pair programming to solve the issues caused so far.
Conclusion
The use of Wireshark is numerous, ranging from its flexibility to versatility in the network analysis aspect. Each packet as part of a network is sensed by the tool and helps the network professionals in various ways to tackle and troubleshoot the relevant issues quickly. Wireshark has many advantages for network security and cybersecurity professionals and simultaneously increases its wave in every other domain related to the network.
Recommended Articles
This is a guide to Use of Wireshark. Here we discuss the introduction and use of Wireshark in various areas for better understanding. You may also have a look at the following articles to learn more –