Updated April 13, 2023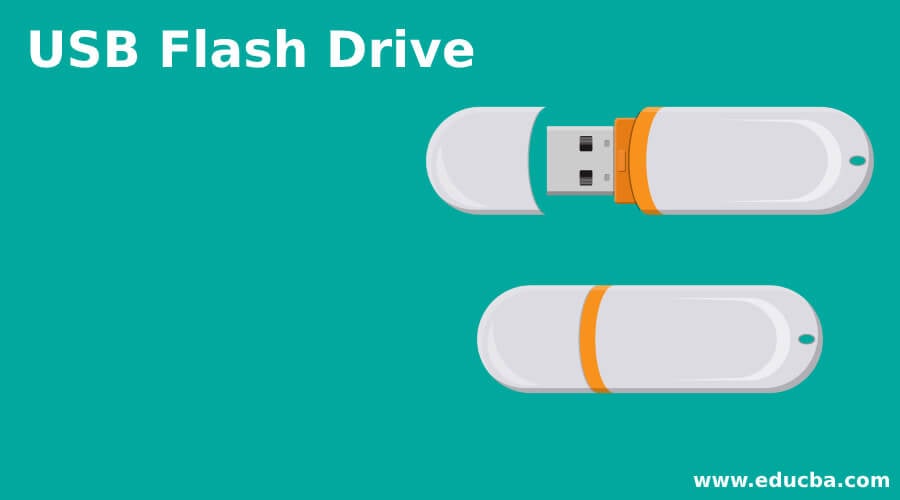 Introduction to USB Flash Drive
USB flash drive is a data storage device that includes flash memory with an integrated USB interface. It is a portable device that is removable, rewritable. It is smaller than the disc. USB flash drive is mostly used for storage, transferring a file from one computer to another, data backup. As compared with disc or CDs, USB flash drives are smaller in size, faster, and more reliable. It uses the USB mass storage device class standards. This standard is supported by operating systems like Windows, Linux, UNIX, macOS, and many BIOS boot ROMs.
How does USB Flash Drive Works?
There are two types of memory available to store the data volatile and non-volatile. USB flash drive comes under the non-volatile category. It has to resort to power to save, transfer, and put the data into it. However, it can also store the data into it without a power supply also. It will transmit the memory command in the form of an electronic signal to the internal circuit.
Even if there is no supply of power, it can store the data without any harm or data loss. It maintains the integrity of the data. It does not have any moving parts. Through USB it can be compatible with all devices. When we plug in the pen drive into a computer USB port, the device starts reading, writing, transferring, storing, and saving the data. The data inside will not be disappeared until we manually remove it or something goes wrong with the memory.
Uses of USB Flash Drives
USB flash drives are used for various reasons in various areas.
Some of them are listed as follows:
For secure storage of data, software, and application files.
Personal data transport.
To update motherboard firmware.
For booting operating systems.
Computer forensics and law enforcement.
Operating system installation media.
To backup the data.
Windows ReadyBoost.
Application carriers.
Media storage and Marketing.
Audio players.
Product or brand promotion.
Arcades.
Features of USB Flash Drive
Some of the features are given below:
It uses less power and does not have any fragile moving parts.
Data storage on this device is impervious to mechanical shock, magnetic field, and dust. These properties of USB flash drive make them suitable to move from one place to another.
It can store more data compared to other devices.
Some USB flash drives are specially manufactured suing rough rubber and metal to provide the waterproof feature and make it hard. This type of drive does not lose their memory after hung submerged in the water.
Types of USB Flash Drive
USB flash drive can be classified into various types based on its properties like usage, size, appearance, etc.
1. Security Flash Drive
A security flash drive is a type of USB device which comes with a major twist in order to protect the data. It is designed in security ways to ensure that the privacy of the data will not be compromised. For example a flash drive from cryptex. It has a combination of lock which restricts the unauthorized user to access the data. Other security devices are also available like password protection, encryption protected. The aim of this device is to add security for accessing the data.
2. Credit Card Hard Drive
As the name suggests, this type of USB drive is designed to look like a credit card. This type of flash drive can be tailored to display the name of the holder with a fake credit card number. One can fit this drive into the wallet also.
3. Keychain USB Flash Drive
This flash drive is designed to be carried around like a typical key chain. This type comes in handy. It is useful especially for people who are forgettable and lose their drive frequently.
4. Wristband Flash Drive
As the name suggests, this type of USB drive is designed to look like a wristband. We can wear it around the wrist like a watch or any other band. This USB drive may not be waterproof.
5. Music Flash Drive
These types of flash drives are used to save and transfer music from one device to another. It comes in various fancy designs and different flash drive types.
6. Different Size
This types of flash drives are classified based on their size. Size may varies, in like 128 MB, 256 MB, 512 MB, 1GB, 2 GB, 4 GB, 8 GB, 16 GB, 32 GB, 64 GB, 128 GB, 256 GB, 512 GB, 1 TB, 2 TB.
There are various types based on their size, functionality, and security. Some people move to use the cloud for storage. Users can get a personalized flash drive for offline use also.
Recommended Articles
This is a guide to USB Flash Drive. Here we discuss the introduction and how USB flash drive works along with features and types. You may also have a look at the following articles to learn more –