Updated September 16, 2023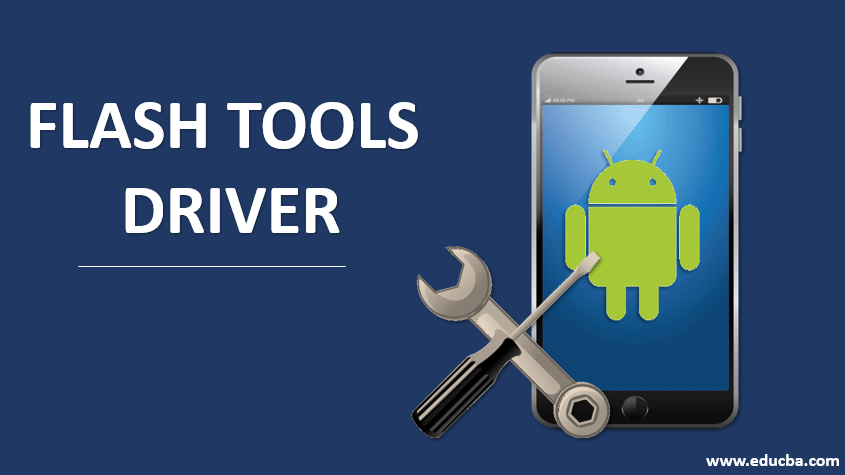 Introduction to Flash Tools Driver
In this article, we will learn about Flash Tools Driver. SP Flash Tool which can be considered the abbreviated form of smartphone flash Tool is a Windows-based software. This application helps to make a bridge or an interconnection between your PC and the Android Device. It is a cross-platform software which can be utilized to scoot a custom recovery, to rectify the hard brick gadget, and stock ROM. SP flash tool can be considered as a very user-friendly application and it flashes the stock gadgets such as Coolpad, Tecno, Gionee, Micromax, etc. The vital fact to take into consideration is the SP flash tool can only flash smartphones that are MTK(MediaTek) based.
In certainty, the SP flash tool is computer software with the help of which you can acquire the total authority of your Android device. You have the command to manage and adjust the internal files and you can preserve the complete Android system if there is an issue with your Android operating system. In addition to this, the SP flash tool provides you with so many advantageous facts that can be utilized whenever you utilize your android device.
What are Flash Tools in Driver?
SP Flash Tool is an exceptional tool amidst the most precious equipment which authorizes you to fleck your stock read-only memory, custom recovery and some of the time can also be used to execute countless other important functions like invigorating your phone's working structure and unbrick your phone. This smartphone or SP flash device operates just on MediaTek based Android devices so make sure that you have a device in perspective of this working structure before downloading and venturing to use this product.
Features of Flash Tools
Flash Tools like the Sp Flash Tool helps you with the following features:
It permits you to flash the firmware that is scatter based on an Android device that is MTK based. It also permits you to upgrade or downgrade your device firmware in a short period of time with hardly any clicks.
It permits you to flash custom recuperation to your device that is MTK based. Merely, append the scatter file in the SP flash tool and discover the recovery.img file and flash it.
It permits consumers to inspect and corroborate the random access memory(RAM) on external memory and the NAND Flash on the gadget.
It permits consumers to read and write the parameter on gadgets. For example, consumers can simply read and write function information for a one-time programming area.
It permits consumers to format an Android cellphone that runs on the MediaTek chipset. Merely heap the scatter file and link your cellphone to the computer and hit on the format button.
To have an absolute backup is always required in case you face any issue with your android system. So the SP flash tool provides you with the capability to take an absolute backup of your gadget and then you can reinstall them whenever you wish to get your cellphone functioning like before.
There are numerous latest versions of your android system which are released unofficially out in the market and how can you receive that update on your gadget? The simple answer is merely by having an SP flash tool on your gadget, you can get those off the record released updates for your a
When you are taking in with just about everything on your gadget, there is a possibility of bricking your gadget with one incorrect move. So to avoid that SP flash tool assists you with that and you will be able to unbrick your gadget by downloading and installing the authorized firmware of your android gadget if the device is bricked.
It is very easy, quick, and straightforward to use.
To use it, you don't require any additional hardware.
It is supported on Linux and Windows.
It requires very low resources
How to Use the SP Flash Tool?
SP flash tool is considered to be a very user-friendly application which makes it an easy application to utilize. It generally does not concentrate on the extremely qualified segment and therefore you don't have to be an expert to know the tool and the process. You can get going with the process with a straightforward understanding of the tool and below are the guidelines to utilize the SP flash tool:
The first thing to do is to download all the required files in a zip format.
After downloading the files, open the .exe file of the SP flash tool, stack the scatter file and make sure all the boxes are unchecked.
Next, you have to click the recovery box from the list and stack the recovery image on your gadget.
Once you do this, you will get a notification about inspecting the recovery box rightly. After this, the location of the recovery image will also be perceived.
The next step is to turn off your gadget, link your gadget and hit the download button. Once it is done then the SP flash tool will begin its procedure and will carry on with the rest of the task for you.
Things Required to Use Flash Tool
Below is the requirement to use the flash tool:
You need a Laptop or a PC which is the basic requirement.
Another requirement is the USB data cable for the gadget.
You need drivers like USB-VCOM, MediaTek.
You will need the scatter files and other files to be flashed.
A very important thing required is to backup the gadget.
The last thing is to download the SP flash tool from a reliable resource.
Conclusion
SP flash tool is well suited with an android CDC driver. If the android CDC driver does not function for you then you can go for an android VCOM driver which also aids all MediaTek gadgets. SP MDT tool is the best substitute for the SP flash tool. Both are formally delivered by MediaTek Inc and aids all MediaTek tablets and smartphones. SP FlashTool is the top suggestion for MediaTek android flash that aids all of the MediaTek ROM revised versions. So it is an entirely free tool that is a hundred percent secure to download and process for the cause.
Recommended Articles
This is a guide to Flash Tools Driver. Here we discuss What are Flash Tools in Driver, Features, and the requirement to use it. You can also go through our other related articles to learn more –