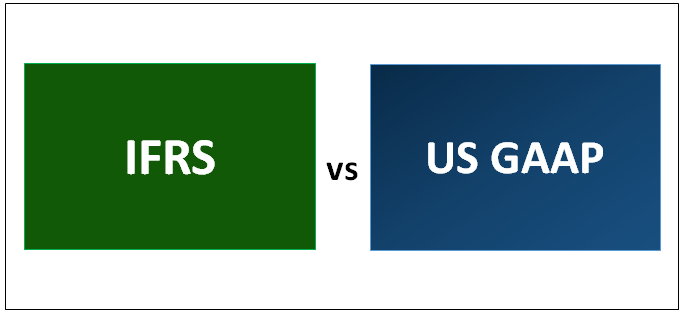 Difference Between US GAAP vs IFRS
Used by many corporations around the world, US GAAP vs IFRS are the two most dominant systems of accounting. The International Financial Reporting Standards or IFRS are used by international companies while companies use the GAAP in the U.S.
Treatment of revenue recognition is one of the few important difference between US GAAP and IFRS systems. However, there are many other difference between US GAAP and IFRS which will be covered in this article going forward.
IFRSs – With respect to revenue recognition, the IFRS framework is general in nature in their requirements, if compared to the GAAP. IFRS, on the other hand, is governed by four general interpretations and two primary standards. On the other hand, organized for various industries on an entity-by-entity basis, GAAP has highly specific procedures and rules.
For example, an infrastructure company can choose to defer the revenue recognition until a dividend is declared on completion of a project, under GAAP. This can allow them to delay declare any revenue in this period of time, which is specific to infrastructure companies, in which they are adding value.
But this is not allowed under IFRS rules;
Over the specified period, revenue to be recognized as the recoverable costs spent.
The revenue recognition is proportional to the completion of the project
IFRS requirements for an income statement are listed below:
It must include Method, Loss or gain after taxes, finance costs, expenses of tax, periodical profit or loss, shared results for joint ventures and associates which used the equity.
GAAP uses income statements as follows:
Single step format – which factors in all the expenses and categorise them by function and multiple step format – to show the gross profit, the expense of sales is deducted from the sales along with other income and expenses.
Popular Course in this category
Finance for Non Finance Managers Training Course
7 Online Courses | 25+ Hours | Verifiable Certificate of Completion | Lifetime Access
4.5 (1,061 ratings)
---
Related Courses
Cost Accounting Course
US GAAP Course
US GAAP vs IFRS Infographics
Below is the top 6 difference between US GAAP vs IFRS

Key Differences between US GAAP vs IFRS
Both US GAAP vs IFRS are popular choices in the market; let us discuss some of the major Differences Between US GAAP vs IFRS:
IFRS is keener on the model is used to review the facts while the GAAP focuses more on the kind of narrative that is used.
The US GAAP allows a high risk and reward model while IFRS provides a platform for the search of a singular model of financial reporting.
The use of LIFO methodology of costing is not allowed by the IFRS while the use of LIFO costing methodology is allowed by the US GAAP.
IFRS focuses on control; an investor can control the business. While the US GAAP are exposed to variable interest entity and voting interest model, which allows the entity to have control of the financial interests and financial processes respectively.
GAAP shows the items right under the net income while the IFRS does not allow item's segregation.
IFRS has no particular format while preparing an income statement, whereas US GAAP represents the income statements in two ways i.e. single-step format and multiple step formats.
IFRS shows how companies should prepare and disclose their financial statements and serves to provide a worldwide framework but does not dictate how the reporting should be done specifically. GAAP combines acceptable ways of recording and reporting monetary data and authoritative principles set by policy boards.
The IFRS exists to simplify the whole process of accounting while the GAAP is to ensure financial reports of the company should have the least inconsistency and to use a style of reporting all via the accounts reporting.
In IFRS without the small differences caused by different reporting styles, the single standards also enable investors and auditors to have a more direct view of finance
GAAP's main function is to limit the inconsistency in financial reports to enable easy analysis and evaluation of information by investors of a company which is significant in initiating the comparison of financial data in different business entities or corporations.
 Head to Head comparison between US GAAP vs IFRS
Below is the topmost comparison between US GAAP vs IFRS
| | | |
| --- | --- | --- |
| The basis Of Comparison between US GAAP vs IFRS | IFRS | US GAAP |
| Related to | Specific procedures are followed by the entity | General Interpretations are laid out for the entities |
| Meaning | The IFRSs provides principles that are followed by the judgment of the entity or the corporation. | US GAAP, on the other hand, specifies the practices as rules to prevent luring measures by corporations to maximize their profits. |
| Asset Valuation | When an active market is existent for what is abstract, assets can be re-evaluated upwards. It also allows the E and PP to be revalued to a more fair value. | Assets cannot be written up but can only be written down. The E and PP use history cost for valuation. |
| Inventory Valuation | Inventory is carried out at the market or lower cost. | Inventory is carried at the net value that is realizable or lower cost. |
| Revenue recognition | No clarity on how revenue should be timed or measured | Proper guidance is provided on what specifically revenue is and how it should be measured. |
| Development Costs | Some costs can be repaid over multiple periods | As they have been sustained they can be charged to expenses. |
US GAAP vs IFRS – Final Thought
Why the US GAAP vs IFRS question matters overtime in recent years, U.S. and accounting policymakers and international regulators aim two merge the two systems together for a better outcome.
The US GAAP vs IFRS frameworks both have their own importance. While to assess the accounting world on various capacities, the two entities help, a notable difference between US GAAP and IFRS prove as extension and limitations of the systems. The union of the two frameworks could enhance both the results and process of accounting.
Difference between US GAAP and IFRS could impact important financial measures and a host of other metrics like financial ratios, balance sheet, taxes and loan covenants. The difference between US GAAP vs IFRS may look simple but they are enough to derive meaningful effects on investors and business to get the best results all over the world.
Recommended Article
This has a been a guide to the top differences between US GAAP vs IFRS. Here we also discuss the US GAAP vs IFRS key differences with infographics, and comparison table. You may also have a look at the following articles –
Financial Analyst Course- All in One Bundle
250+ Online Courses
1000+ Hours
Verifiable Certificates
Lifetime Access
Investment Banking Course

Financial Modeling Course

Business Valuation Course