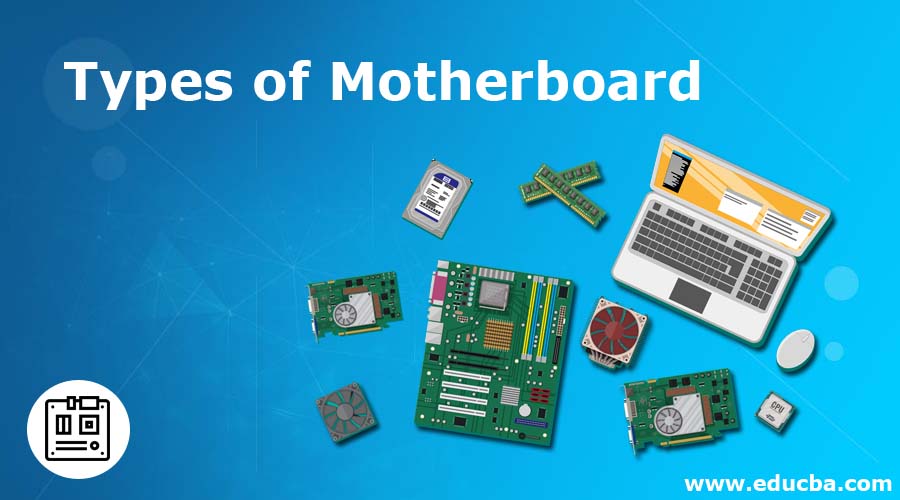 Introduction to Motherboard
The motherboard is also known as logic board, baseboard, system board, mainboard, main circuit board, planar board, and mobo in a short way. It is a nonconductive plastic sheet that has the necessary circuit and place holders like sockets/slots to connect components and provide logistics for all the components to work in a coordinated manner. Thin narrow layers of Aluminum or Copper printed on the plastic sheet of the board acts like a circuit that connects various components. It is a chassis in which all the components are fitted in the designated place and they are all powered and well interfaced with each other.
A typical Motherboard contains the following interfaces and components:
CPU socket
Memory slots
SATA connector (Storage)
Power connector
Chipset
Floppy connector
IO Chip
Rear fan connector
Chassis fan connector
IO connectors
USB ports
Audio connector
IDE connector
CMOS battery header
PCI peripheral component interconnect slots
Nonvolatile memory (ROM) to hold the Boot program
Clock generator to synchronize with components
Expansion card slot
The motherboard is comprehensive in all aspects and it contains provisions to connect any kind of components to meet application requirements. The motherboard is self-sufficient to meet all requirements and it is a single board to manage all the functions, unlike backplane which has provision to connect to multiple extension boards to hold more components. The name mother in the motherboard is attributed to its character as it takes a leadership role to manage all the components connected to it.
Mouse, keypads are connected to USB ports on the motherboard. Apple computers motherboard has minimum provisions to connect to peripheral devices. Many boards have a provision of expansion to connect to additional devices. Heat sinks and fan points are available in the modern motherboard to transfer excess heat.
Types of Motherboard
Motherboards are present in Desktop, Laptop, Tablet, and Smartphone and the components and functionalities are the same. But the size of the components and the way they are accommodated on the board varies due to space availability. In desktops, most of the components are fitted inside the sockets provided on the board and it is easy to replace each of them separately, whereas in Laptops/Smartphones some components are soldered on the board, hence it is difficult to replace/upgrade.
Though different motherboards have varying capabilities, limitations, features, Physical size/shapes (form factor), they are identified/grouped/categorized mostly by their form factors. Each manufacturer has come out with its form factor to suit the design of computers. Motherboard manufactured to suit IBM and its compatible computers fit into other case sizes as well. Motherboards built using ATX form factors were used in most of the computers manufactured in 2005 including IBM and Apple.
Below are the six different types of Motherboards:
1. AT Motherboard
These motherboards have bigger physical dimensions of hundreds of millimeters and hence they are not the right fit for the mini desktop category of computers. Bigger physical size also inhibits installing new drivers. Sockets and six-pin plugs are used as power connectors in these motherboards. These power connectors are not that easily identifiable and hence users face difficulties in connecting and using it.
This type of motherboard was in vogue in the 1980s and it enjoyed a substantial self-life.
2. ATX Motherboard
ATX denotes Advanced technology extended, it was developed by Intel during the 1990s and it was an improved version over an earlier version of AT motherboard. It is smaller in size when compared to AT and it provides interchangeability of the connected components. There is a marked improvement in the connector aspects.
3. LPX Motherboard
This board had two improvements over earlier versions. The first one is Input and Output ports were taken to backside and the second one was the introduction of Riser card to facilitate more slots and easier connection. Some of these features were deployed in the AT motherboard. The main disadvantage in this board is the lack of Accelerated Graphic Port (AGP) slots which led to a direct connection to PCI. Issues in these motherboards were addressed in NLX boards.
4. BTX Motherboard
BTX denotes Balanced Technology Extended, intended to manage demands of new technologies in terms of more power requirements hence generation of more heat. Intel stopped further development of BTX boards during the mid-2000s to concentrate on low power CPU.
5. Pico BTX motherboard
These boards are smaller in size and hence the word Pico. Two expansion slots are supported in spite of being sharing the top half of BTX. Half-height or riser cards are its unique features and it supports the demands of digital applications.
6. Mini ITX motherboard
It's a miniature version of motherboard over its earlier versions. Designed in the early 2000s and its dimension is 17 x 17 cm. Mainly used in small form factor (SFF) computer due to its lower power consumption and faster cooling ability. This motherboard is the most preferred in the home theater domain due to its lower level of fan noise that will improve the quality of the theatre system.
Conclusion – Types of Motherboard
Form factor plays an important role as the computer takes many shapes due to digital application needs where computers need to be inbuilt in the machines, moving vehicles, and in any equipment on the earth. The nature and size of the motherboard will undergo continuous changes in the days to come.
Recommended Articles
This is a guide to Types of Motherboard. Here we discuss the Introduction and different types of motherboards i.e. AT, ATX, LPX, BTX, etc in detail. You can also go through our other related articles to learn more –