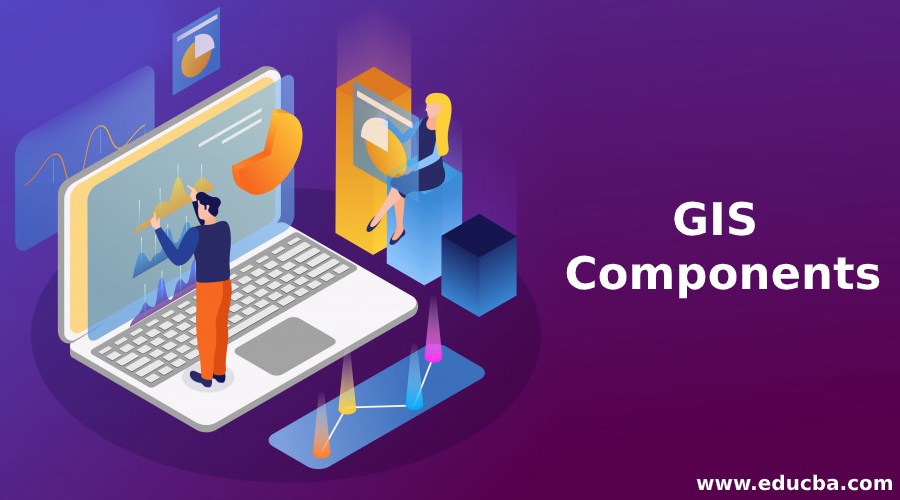 Introduction to GIS Components
Like any other System, Geographic Information Systems is also an integration of various components. Software, Hardware, People, Method and Data are the 5 components. This 5 crucial components are brought together to build a robust and powerful system. Every System integration requires a powerful and synchronous amalgamation between all the primary and crucial components. Software and Hardware are important to handle a large amount of geospatial data, databases, visualizations and even complex process inputs or outputs. The rest of the things are completed by People, Method and Data. In a nutshell, GIS Components are the crucial factors for forming or building a system that can handle all kinds of GIS-related tasks.
Components of GIS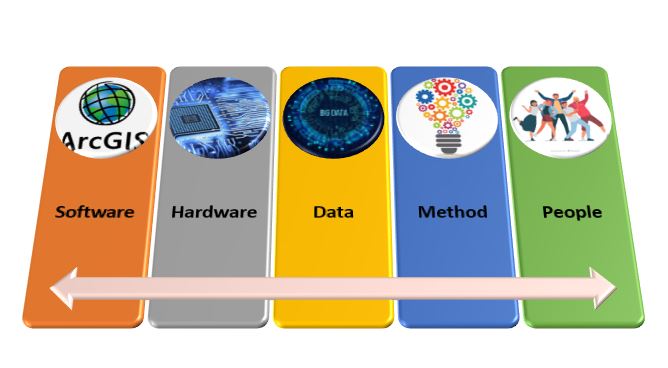 Source Links of 5 images used in the infographic
ArcGIS Software logo: https://en.wikipedia.org/wiki/ArcGIS
Hardware: https://giveuselife.org/diagnose-gadget-mistakes-hardware-or-software-program/
Data: https://www.analyticsinsight.net/10-parameters-for-big-data-assessment/
Method: https://www.salesoptimize.com/business-processes/
People: https://www.freepik.com/free-photos-vectors/people
1. Software
Software is the primary focus while setting up any of the systems.There are many GIS software available that are readily available to start the work, but only the right ones suffice the need for tackling business problems. The software can be classified into two main types, Licensed and Freeware.
Licensed software requires heavy investments and have business subscriptions attached to it, while Freeware is easily available on the internet marketplace with minimum or no fees.
Good software that handles a large amount of geospatial data, GUI for manipulating data and querying environment for analyzing and visualizing large data sets is a perfect fit for GIS.
Screenshots of Software: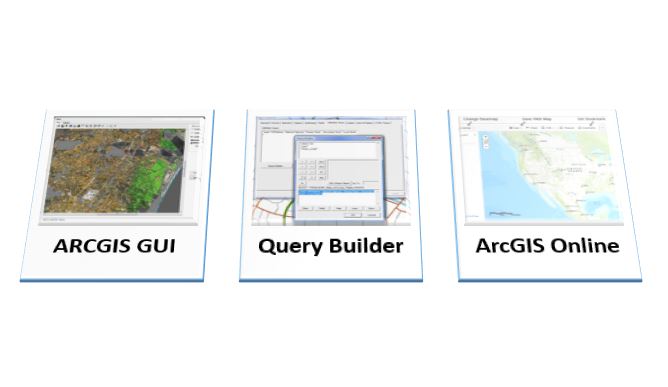 Source links used for 3 images
Software GUI: https://www.researchgate.net/figure/Main-menu-of-the-Graphical-User-Interface-GUI-of-the-GIS-SALTIRSOIL-linkage_fig1_268807864
Query Builder: https://www.geoplanit.co.uk/?p=100
ArcGIS Online: https://gisgeography.com/esri-arcgis-online-agol/
2. Hardware
Hardware is the second most important part of any GIS Components. Software and Hardware complement each other when they are deployed correctly looking at the compatibility. If there is any mismatch in any of the two components, then the functionality effects and results are not approximate.
Some organizations have moved over to cloud services like AWS and Azure for creating a virtual environment and balancing the load on physical servers.It requires huge server stations and command centres to handle a large amount of geospatial data and even to keep everything ongoing in a live environment
Hardware should be robust and should have future potential to deal with heavy software patches and updates. Latest high chip and AI-based processors, Motherboards and even GPUs are needed in today's world to handle GIS software and data.
3. Data
Geospatial data is like the blood of any GIS Components. Field workers, Drones, Satellites and SONAR – LIDAR Technology are used to collect geospatial data. The format of this data varies from tool to tool and depends upon the source from where the data is extracted.Primarily the geospatial data is classified into Raster data and Vector data. Raster Data is the imagery files from different camera-enabled sources. They form like a sheet covering of different layers that portray longitudinal, latitudinal and even topographical visual of the maps.
Vector Data, on the other hand, deals with address points, Graphs and Datascience and Machine Learning models are further used to analyze and work on the data sets. With the analysis of past data, organizations can perform analytics and showcase various future trends.
Geospatial RDBMS is used to handle these data sets. Analysts and Database administrators work together to handle the databases and even sanitizing the irrelevant parts of imported data.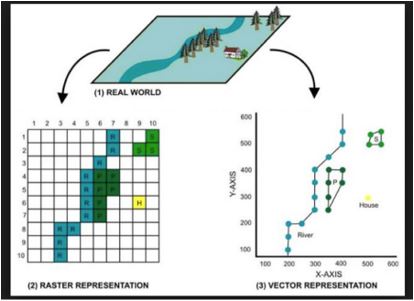 Source Link:https://gis.stackexchange.com/questions/7077/what-are-raster-and-vector-data-in-gis-and-when-to-use
4. People
People is an important catalyst in doing a GIS Components setup. With the help of proper management and technical expertise, all the known-unknown problem areas can be addressed. Project-Program Management is then used to understand any scope of a GIS project.
People with the right level of geology, information systems and statistics knowledge participate in the technical aspects of the project setup, while the ones with strong management and business knowledge concentrate on handling the projects and the business. GIS projects require strong workforce as well as inventory management and hence people also concentrate more on the overall project development lifecycle techniques.
GIS Analysts and Technicians play along with the GIS data to analyze and monitor various forms of data sets. GIS developers and database administrators look after the frontend and the backend part of the setup. Project Managers and Architects deal with architecture and project planning by keeping the actionable scope in the picture.
Organizations are also taking the help of ML/AI engineers to build strong models for solving business issues. Data scientists with strong analytical and programming skills are also targeted by GIS organization to work on complex geospatial data sets and trends.
5. Method and Processes
For any system to function efficiently, there should be a defined business process set so that the desired results are approximate. Organizations nowadays use various standardized process models to build a system that is still in a transition phase.
Total Quality Management, LEAN, SIX SIGMA and KAIZEN are some of the standardized models followed by organizations to make sure the business process doesn't become an unsolved puzzle.Audits are performed internally and externally to understand if the setting process is being followed accurately without any anomalies.
ISO Audits and certifications give an organization a certain benchmark to portray their work at a wider audience. Due to these certifications and audit trails, organizations trust the authenticity and integrity of the system that is used. Methods are not only used until the process is set up perfectly but also to maintain it. Some organizations keep on evolving ambitiously by deploying new processes.
Process reengineering is followed in understanding the AS-IS part of the business process and to define the TO-BE part of the process.This allows organizations and LEAN experts to remove nonproductive parts of the process so that further time and cost of the company can be saved.
Conclusion
Above mentioned 5 components are the crucial ingredients to setup a GIS. As the organization grows the components acting as pillars for GIS also grows. Giants like Google, ESRI and HERE will have their set of crucial components.More importantly, the setup of GIS is not easily done in overnight even if any organization is privileged with all the crucial components.Even if the absence of one of the above components can lead to failure in setting up the right system.
Recommended Article
This is a guide to GIS Components. Here we discuss the introduction to GIS Components and top 5 Components of Geographic Information System in detail. You can also go through our other related articles to learn more –