Updated July 21, 2023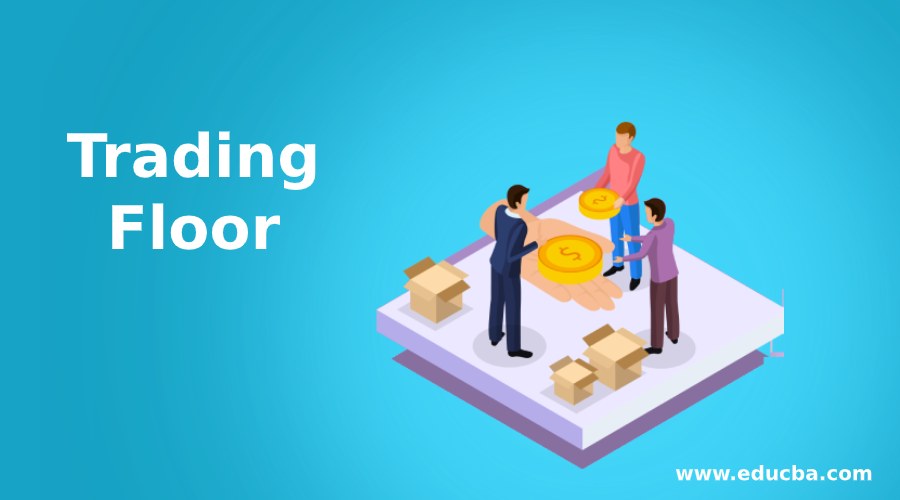 Introduction of Trading Floor
The Trading floor, also known as the open outcry is the area of business or stock exchange where financial assets like shares, options, futures, etc. are bought and sold and this trading floor sit in the building of the various exchanges to trade.
An area of the stock exchange where securities like equities, debt, derivatives, bonds, futures, options, etc. are traded by dealers of financial instruments by shouting or hand signals buying and selling orders are called as a trading floor. But modern exchange trades are now made through online trading or telephonic trading through brokers. Trading floors take place in various stock exchanges like the New York Stock Exchange, Chicago Board of Trade, Bombay Stock Exchange, etc.
How Does Trading Floor Work?
Under the Trading Floor method of Trading, the Traders scream, offer hand gestures to attract attention. On the floor area called a pit, an environment is similar to an auction where floor brokers and floor traders trade and negotiate prices until they arrive at an amount.  In this method, trader raise hands to raise their bid. If the trader announces that he wants to sell a certain number of shares at the announced price and another trader agrees to buy the shares then it will be called an informal contract and the basis of it is the integrity of traders.
When two traders agree to the certain deal, they inform the clearing house about the particular deal, and clearing house will try to match the deal from both sides if deal matches then traders get the acknowledgment on that particular deal. And if clearing house unable to match the deal this might happen because of misunderstanding or error between traders the clearing house declares deal as out trade and traders have to sort out the trade by the start of the next trading day.
Types of Traders on Trading Floor
There are many types of traders on the trading floor some of them are as under:
Floor Brokers: Floor brokers trade on behalf of their clients. a floor broker can also be an employee of a company or independent investor or consultant. They most probably do not have decision making freedom as compared to other professionals.
Scalper: Scalper is the person who looks for temporary imbalances by which they can buy or sell. They trade for themselves to earn a profit. They usually cover the risk by holding positions of limited size. Scalpers purchase at the bid price and sell at the asking price.
Position Trader: Position trader holds a position for a longer period i.e. he buys now and sells after a long period hence the risk increases and he has to ensure that he earns a higher profit.
Spreader: Spreader takes opposite positions in two or more commodities that are related to each other and as a result trading pressure in one market affects the position and price in another market.
Hedger: Hedging is the act of reducing risk by taking a position in one market which is opposite of position in another market. Hedger floor traders represent the commercial firm.
Specialist: A specialist is the floor brokers' broker or dealer who executes orders for trading at a specific remote location.
Floor Trader Requirements
A floor trader is the exchange member who executes transactions from the floor of exchange To become a floor trader Bachelor's degree is required for entry-level jobs and a master's degree is required for advancement. Studies in accounting, finance, business, or economics are important to get entry-level jobs in larger firms and for larger positions Master's degrees in Business Administration i.e. MBA is required. Then firms or as per norms of relevant courses training is required to train the employees/ students/ professionals for a particular job and to give them a broad understanding of securities business.
After training brokers and the investment bankers have to get themselves register as their firm's representative with the FINRA in order to obtain a license after they pass a certain series of the examination.
In order to be a floor trader, the trader must have its own account on stock exchange i.e. someone who is a member of stock exchange along with criteria of degree and training mentioned above and has good experience of trading on the exchange. Important qualities are analytical skills, decision-making skills, initiative, customer service skills, detail-oriented, and expert in his work.
Structure of the Trading Floor
The trading floor consists of a large room with several circular areas known as pits. These pits have broad steps to edge and the flat center with the aim that traders sitting there can see other traders. Traders stand in pit's center with the outwards facing or on steps with the inward-facing. The different brokerage firms are then assigned booths which are close to the pits and they are then assigned electronic device so that they can communicate. The booth receives orders from clients or firms, which are transmitted through the means of the messenger to the respective broker firms.
Benefits of Trading Floor
Some of the benefits are:
Deal can be done with ease as compared to online trading.
No Comparison of prices with online trading.
Beneficial for the non-convincible deal also.
Information comes in exact quantitative forms.
The benefit of face to face dealing and knowing each other makes long-lasting relationships and a sense of trust.
Quick decisions can be taken on the basis of the scenario and make the best from the deal.
Conclusion
Trading Floor is the method through which trading of securities can be done on the floor i.e. specified area of stock exchange rather than online and telephonic dealing. It gives the benefit of live trading and the scene is the same as the auction scene where the trader's bid and brokers and investors ask for a deal by negotiations. In-floor trading first informal contract is done by agreeing to the deal then clearing the house after verifying the deal acknowledges the deal. In-floor trading, instant decisions, and profits can be made. There are various types of dealers who do floor trading and earns huge profits. floor trading is sometimes more beneficial than online trading as you can easily convince the potential buyer or seller by speech.
Recommended Articles
This is a guide to the Trading Floor. Here we also discuss the introduction to the trading floor along with the working, the types, and benefits. You may also have a look at the following articles to learn more –