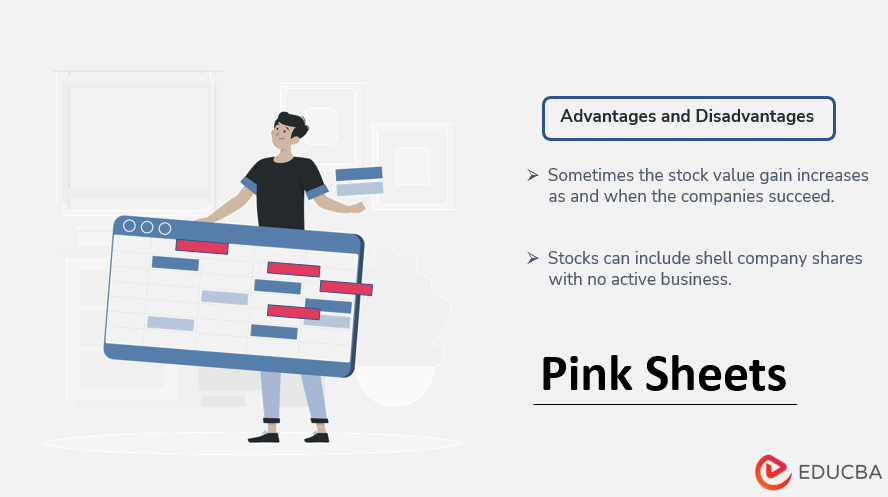 Introduction to Pink Sheets
Pink Sheets is a stock quotation system for small, private companies whose stocks are not listed on major stock exchanges like the New York Stock Exchange (NYSE). They are also known as the counter (OTC) market. The stocks listed on pink sheets are primarily of lower values, and the regulatory body does not cover risks associated with these stocks.
Explanation
Pink sheets or over-the-counter (OTC) market is an American financial market providing quotation service for around 10,000 lower values stocks. This has got its name from the pink color paper on which stock prices were printed in the past. Though now listings are electronically released, the name remains the same.
Companies with their stock listed on pink sheets do not have any obligation to follow financial standards or reporting requirements. They do not need to register with the SEC (Security and Exchange Commission). The stock quotations are published daily; it includes bid and offer prices of listed securities.
Example of Pink Sheets
There are several reasons companies prefer their stocks to be listed on the Pink sheets market instead of major stock exchanges like the NYSE. Let us understand such examples.
Small private companies cannot meet the standards required to trade on the national level stock exchange list their stocks on the markets. Their stock values are primarily of lower values (say less than $5). Trading these kinds of stocks involves a great deal of risk for the buyers.
Many companies choose sheets after getting their stock delisted from the formal stock exchange due to a fall in share values or because they could not pay fees or required penalty.
Some foreign companies' stocks that do not want to fulfill the filing requirement of SEC (Securities and Exchange Commission) go for the pink sheets market; for example, Roche Holding Ltd, a large Swiss pharmaceutical company, is one of the top pink sheets stocks. Volkswagen AG, German Car Company, Telstra Corp. ltd, and Australia-based telecommunication services are a few big names in the world of pink sheets stocks.
How do Companies List on Pink Sheets?
There is not a lot of requirement on companies' end to get their stock listed in the Pink Sheets market. They have to fill and submit form 211 to the OTC compliance unit.
The form details companies' financial information. A statement of financial position for US-based companies should be according to the GAAP requirement. The financial statement can be according to local accounting laws for international companies.
Requirements for Pink Sheets
Pink sheets, or the OTC market, is the least regulated financial market. There is no additional requirement except for the filing of form 211.
The companies can also limit their financial disclosure; there is not much transparency; therefore, It is comprised of penny stock, delinquent companies' stock, companies with limited financial information, etc.
Risks of Pink Sheets
Pink Sheets stocks involve a great deal of risk. Sometimes fraud companies deliberately hide their financial information to get their stock listed on the markets.
And at other times, they do not have any active business or asset, i.e., shell companies; they raise monies through stocks and commit fraud on the investors. Also, since pink sheets stocks are thinly traded, it isn't easy to find a buyer at the right time. Thus, dealing with such stocks involves a significant amount of risk.
Advantages and Disadvantages
Advantages of Pink Sheet stocks are as follows:
This stock can help smaller companies to raise capital by issuing shares without the complexities of listing on the formal stock exchange.
Sometimes the stock value gain increases as and when the companies succeed.
Since these companies do not pay hefty exchange listing fees, the benefit from the increase in the share price exceeds the trade transaction cost.
The disadvantages of Pink Sheet stocks are enumerated as follows.
The stock can belong to fraudulent companies who have deliberately not disclosed their financial information.
Stocks can include shell company shares with no active business.
They are thinly traded stocks, i.e., it is not easy to find a buyer for these stocks, and the seller may have to wait long before the stock can be traded.
Conclusion
Therefore, from the above discussion, it is pretty evident that the Pink sheet market is a blessing for smaller companies who want to raise capital through the issue of shares. These stocks are relatively risky for buyers. Since companies have no obligations to disclose all the financial details; therefore, one has to be very careful before investing in these stocks. Investors should follow the trend of a particular stock; check the company's authenticity and growth trend before actually investing in it.
Recommended Articles
This is a guide to Pink Sheets. Here we discuss an explanation, examples, risks, and how companies List on Pink Sheet with advantages and disadvantages. You can also go through our other related articles to learn more –