Updated May 30, 2023
Sri Lanka Tourism
Sri Lanka, a region of myth, mythology, and history and one of the world's greatest cultures, is one of the hottest vacation destinations, attracting travelers of all kinds. You may enjoy the serenity of nature and long hikes through paths. You may enjoy lounging by the water with the sun on your face and a cool breeze tickling your skin. Local favorites include creamy curries, aromatic polos, and the strange-smelling wood apple.
Top Tourist Places in Sri Lanka
The most popular among the best places to visit in Sri Lanka are as follows:
#1 Sigiriya
Sigiriya, also known as the Mount of Remembrance, is a UNESCO World Heritage Site among the most beautiful places in Sri Lanka. This massive rock formation appears out of nowhere, towering over everything in its path. It was originally known as King Kasyapa's private residence and is now one of the top sites to visit in Sri Lanka. If you're interested in ancient sites, this top tourist destination in Sri Lanka will fascinate you.
#2 Yala National Park
Yala National Park is home to a wide range of wildlife and birds, including elephants swimming in streams, waving their trunks wildly, and leopards resting leisurely on tree branches. You might go on a safari drive or a nature trek through the forest's lush green vegetation. Some visitors tent at Yala and have a BBQ under the stars. Yala is an excellent location for wildlife photography.
#3 Polonnaruwa Sacred City
Walking into this city, which was previously the ancient monarchy of Sri Lanka, gives you a sense of the Golden Age. There are still remnants of palaces, shrines, and stupas inside one of the most renowned Sri Lanka tourist destinations, making it one of the best places to visit in Sri Lanka. Don't miss the statue of Parakramabahu I, who ruled during the golden age.  Along with it, there is a spectacular view of the Lotus Pond, constructed of lotus-shaped petals and erected on four levels.
#4 Nuwara Eliya
The World's End in the Horton Plains is one of the most breathtaking experiences in Sri Lanka. Nuwara Eliya is best known for its tea gardens and scenic beauty. Enjoy a tuk-tuk trip from Nuwara Eliya to the Horton plains, one of the top tourist destinations in Sri Lanka. It is an ideal destination for a romantic holiday or a relaxed vacation. Nuwara Eliya is a highland paradise and another fantastic addition to Sri Lanka's tourist attractions, with foggy clouds, lush green sloping hills, and a railway that seems like it came straight out of the Harry Potter movie.
#5 Temple of Tooth at Kandy
The Sanctuary of the Sacred Tooth Relic is one of Sri Lanka's most prominent shrines. The royal palace of the Kingdom of Kandy houses this shrine, also known as Dalada Maligawa. UNESCO recognizes the temple, which holds the mythical Buddha tooth, as a World Heritage site. The golden fence and spectacular Canadian architecture adorn the temple, providing visitors with a wonderful view. On Wednesdays, the temple attendants give the Relic a holy symbolic wash in scented water, and they offer the water to guests reputed to have healing powers.
#6 Udawalawe National Park
Udawalawe National Park is a must-see for wildlife enthusiasts. It is one of the few sites where elephants are frequently seen. You can see various wildlife, including water buffalo, peacocks, crocodiles, monkeys, jackals, deer, and elephants. The beautiful forest backdrop this National Park provides will captivate you and take you much closer to nature. The government established this National Park to safeguard wild species that the construction of the Udawalawe reservoir had displaced. It is a must-see attraction in Sri Lanka.
#7 Anuradhapura
This is one of the most popular Sri Lanka tourist destinations and a world heritage site. The arrival of the Bodhi Tree, often known as the "Tree of enlightenment," increased the importance of the location. Sanghamitta brought this tree-cutting to Sri Lanka, and it is likewise one of the most famous sites to visit in Sri Lanka. During King Kirthi Sri Rangasingha's reign, the location protected the tree by keeping it safe from wild elephants. Aside from the Bodhi tree, you may see the Ruwanwelisaya, one of the finest stupas.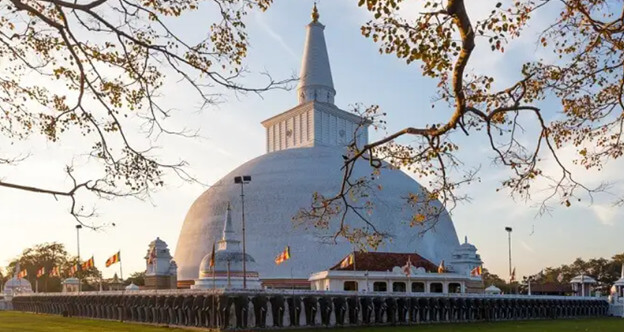 Best Time To Visit Sri Lanka
When it comes to weather, Sri Lanka does not encounter extremes. The best time to visit Sri Lanka is determined by the region you wish to visit. Most of the region is best visited between December and March. The months of May through September are great for visiting the Eastern Coasts.
Recommended Article
We hope that this EDUCBA information on "Top Tourist Places in Sri Lanka" was beneficial to you. You can view EDUCBA's recommended articles for more information.