Updated November 8, 2023
About Places in Iran
Iran, often known as the Islamic Republic of Iran, is a Western Asian country. It is bounded to the north by Armenia, Turkmenistan, Azerbaijan, and the Caspian Sea, to the east by Afghanistan and Pakistan, to the west by Iraq, and to the south by the Persian Gulf and the Gulf of Oman. The country has a rich history and is famous for its diverse culture, historical heritage, and breathtaking natural landscapes. Persian culture, with its poetry, calligraphy, and traditional music, is a significant part of Iran's identity and has a significant impact on the world's art, literature, and science. The majority of Iranians practice Shia Islam, and religious festivals and rituals are an essential component of their culture.
Cuisine: Iranian cuisine is famous for its diverse flavors and the use of herbs and spices such as saffron. Kebabs, rice dishes, and stews are some of the staples in their cuisine. Traditional sweets, such as baklava and halva, are also very popular.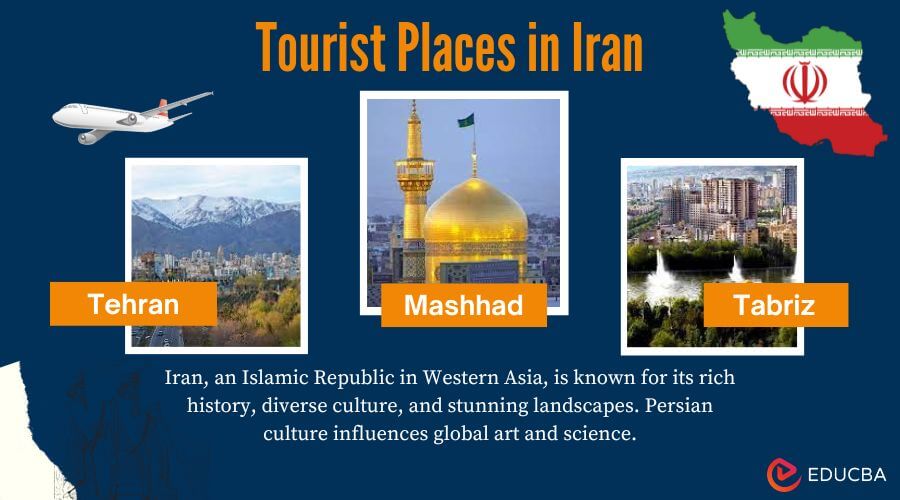 Popular Tourist Attraction in Iran
#1. Tehran:
Tehran is Iran's capital and largest city, famous for its bustling streets, historical attractions, and modern culture.
Location: Situated in the northern part of the country, at the foothills of the Alborz Mountains.
Tourist Attractions:
Golestan Palace: This is a UNESCO World Heritage Site that comprises a collection of royal buildings and beautiful gardens. It offers a unique insight into the royal history of Iran.
Niavaran Palace: Another historical complex that once served as the residence of the royal family. It features various museums and well-maintained gardens.
National Museum of Iran: A treasure trove of artifacts and historical objects that trace Iran's long history, from prehistoric times to Islamic eras.
Tehran Grand Bazaar: A busy and historic market where you can find a wide range of goods such as spices, textiles, handicrafts, and jewelry.
Milad Tower: This tower is a significant landmark of Tehran that provides panoramic city views. It also has a revolving restaurant.
Golestan Palace: The National Museum of Iran, the Milad Tower, and the Grand Bazaar.
Best Time to Visit: Spring (March to May) and early autumn  (September to October), when the weather is favorable.
Places to Stay: Espinas Palace Hotel, the Parsian Azadi Hotel, and the Espinas Hotel.
#2. Tabriz:
Tabriz, the capital of East Azerbaijan Province, is known for its bazaars, historical sites, and culture.
Location: Located in the northwest of Iran
Tourist Attractions:
Tabriz Historic Bazaar Complex: This extensive bazaar is one of the oldest and largest in the world, with a labyrinth of covered corridors, shops, and caravanserais. It's a hub of traditional Persian commerce and craftsmanship.
Tabriz Historic Houses: Many of Tabriz's old houses have been turned into museums or boutique hotels, providing visitors with an insight into the city's architectural legacy and history.
Blue Mosque (Kabud Mosque): An impressive 15th-century mosque known for its stunning blue-tiled interior and intricate geometric patterns.
Tabriz Municipal Palace: A historic building now serving as the Tabriz City Hall, featuring traditional and modern architectural elements.
Best Time to Visit: Spring and early autumn when the weather is pleasant.
Places to Stay: Kaya Laleh Park Hotel and Shahryar International Hotel.
#3. Isfahan (Esfahan):
Isfahan, also known as Esfahan, is one of the most attractive cities in Iran, known for its spectacular architecture and vibrant culture.
Location: Isfahan, often called "Half of the World," is a city in central Iran
Tourist Attractions:
Naqsh-e Jahan Square: A World Heritage Site of UNESCO, this square is one of the largest in the world and is surrounded by magnificent structures, including the Imam Mosque, Sheikh Lotfollah Mosque, Ali Qapu Palace, and the Qeysarieh Portal. The square is a hub of activity and a central point for exploring the city.
Imam Mosque (Shah Mosque): Renowned for its beautiful blue-tiled domes and intricate calligraphy, it is one of the most exquisite examples of Persian Islamic architecture. The mosque's grandeur and craftsmanship are truly awe-inspiring.
Sheikh Lotfollah Mosque: This mosque is celebrated for its delicate and unique architecture, impressive dome, and stunning tilework. It's a masterpiece of Safavid-era architecture.
Chehel Sotoun Palace: A historic pavilion with a reflecting pool known for its frescoes and beautiful gardens. It served as a reception hall for foreign dignitaries and has a rich history.
Vank Cathedral: Located in Isfahan's Armenian quarter, this cathedral is a masterpiece of Armenian architecture. It features stunning frescoes, a museum with historical artifacts, and is a testament to Iran's diverse cultural heritage.
Best Time to Visit: Spring and early autumn when the weather is mild.
Places to Stay: Abbasi Hotel, Kowsar Hotel, and Aseman Hotel.
#4. Shiraz:
Shiraz, located in southwest Iran, is a city of poetry, literature, and gardens.
Location: Shiraz is a city in southwestern Iran, located in the province of Fars, known for its rich history and cultural heritage.
Tourist Attractions:
Hafez Tomb: The tomb of Hafez, one of Iran's most celebrated poets. It's a place of deep cultural significance and features beautifully designed gardens.
Saadi Mausoleum: Another significant mausoleum in Shiraz, dedicated to the renowned Persian poet Saadi. The garden and the tomb area provide a peaceful setting for reflection.
Eram Garden: A UNESCO World Heritage Site, Eram Garden is famous for its lush greenery, Persian architecture, and reflective pool. It's a serene and picturesque location.
Persepolis: While Persepolis is not within Shiraz, it's a must-visit site that is relatively close by. This ancient archaeological site was the capital of the Achaemenid Empire and is a UNESCO World Heritage Site.
Nasir ol-Molk Mosque (Pink Mosque): Known for its stunning stained glass windows that create a colorful play of light and patterns on the mosque's interior, particularly in the morning.
Best Time to Visit: Spring and fall for pleasant weather.
Places to Stay: Karimkhan Hotel, Chamran Grand Hotel, and Zandiyeh Hotel.
#5. Mashhad:
Mashhad is Iran's holiest city and a major pilgrimage destination, home to the Imam Reza Holy Shrine.
Location: Mashhad is the capital of Razavi Khorasan Province in northeastern Iran.
Tourist Attractions:
Imam Reza Holy Shrine: The most significant and revered attraction in Mashhad, the Imam Reza Shrine is the final resting place of the eighth Imam of Shia Islam, Imam Reza. It is a grand and awe-inspiring complex that includes the shrine, courtyards, mosques, and museums.
Goharshad Mosque: Located within the Imam Reza Holy Shrine complex, this mosque is known for its exquisite tilework, Persian architecture, and historical significance.
Nader Shah Museum: This museum is dedicated to Nader Shah, a prominent Iranian military leader and ruler of the 18th century. It showcases his personal items, weapons, and historical artifacts.
Best Time to Visit: Year-round, but spring and autumn are ideal.
Places to Stay: Darvishi Hotel, Homa Hotel, and Ferdowsi Grand Hotel.
#6. Yazd:
Yazd is known for its well-preserved desert architecture and unique historical sites.
Location: Located in the heart of Iran, in the central desert region
Tourist Attractions:
Yazd Old Town: The heart of the city, Yazd's old town is a UNESCO World Heritage Site. It's characterized by winding alleyways, clay-brick buildings, and traditional wind towers, which provide natural ventilation. Strolling through this area is like stepping back in time.
Amir Chakhmaq Complex: This impressive complex features a grand square surrounded by historical buildings, including a mosque and a caravanserai. The Amir Chakhmaq Mosque, with its beautifully adorned facade, is the central attraction.
Zoroastrian Fire Temple (Ateshkadeh): Yazd is home to a significant Zoroastrian community, and the Fire Temple houses an eternal flame that has been burning for over 1,500 years. Visitors can learn about the Zoroastrian religion and its history.
Yazd Atash Behram: This is one of the highest-ranking Zoroastrian fire temples and holds the Atash Bahram, a sacred fire that is one of the most important in the Zoroastrian faith.
Best Time to Visit: Spring and early autumn when it's not too hot.
Places to Stay: Silk Road Hotel, Dad Hotel, and Moshir Garden Hotel.
#7. Kashan:
Kashan is a desert city with a rich historical heritage, famous for its traditional houses and lush gardens.
Location: Desert city located in central Iran, in the Isfahan Province
Tourist Attractions:
Fin Garden (Bagh-e Fin): A UNESCO World Heritage Site, one of Iran's most famous gardens. It features lush greenery, water channels, and a historical pavilion. The garden provides a tranquil setting for visitors.
Tabatabaei House: This historic house is a prime example of traditional Persian architecture. It features stunning stucco work, decorative windows, and an intricately designed courtyard.
Borujerdi House: Another magnificent historical house in Kashan, the Borujerdi House is known for its fine architecture, including a windcatcher and an elegant courtyard.
Agha Bozorg Mosque and Madrasa: A beautiful mosque and religious school with impressive brickwork and symmetrical design. It is an architectural marvel of the Qajar era.
Best Time to Visit: Spring and autumn for milder temperatures.
Places to Stay: Saraye Ameriha Boutique Hotel, Manouchehri House, and Negin Traditional Hotel.
#8. Ahvaz:
Ahvaz is the capital of Khuzestan Province and is known for its connection to the oil industry and its historical and cultural heritage.
Location: Ahvaz is a city located in southwestern Iran. It is a significant urban center in the country.
Tourist Attractions:
White Bridge (Pol-e Sefid): Also known as the Ahvaz Bridge, it's an iconic landmark in the city. The bridge spans the Karun River and offers a picturesque view, especially at sunset.
Pol-e Siah (Black Bridge): Another historic bridge in Ahvaz that crosses the Karun River. It's known for its architecture and serves as a connection between different parts of the city.
Karun River: The Karun River is the most crucial in Iran, and it flows through Ahvaz. The riverbanks provide a place for locals and visitors to relax and enjoy the scenic surroundings.
Susa (Shush) Archaeological Site: Not far from Ahvaz, the ancient city of Susa is an important archaeological site with historical significance. It includes the ruins of Elamite, Achaemenid, and Parthian structures.
Best Time to Visit: Fall and winter for more comfortable weather.
Places to Stay: Pars Hotel, Atlas Hotel, and Ahvaz Pars International Hotel.
#9. Babak Castle:
A historic mountain fortress located in East Azerbaijan Province.
Location: Babak Castle is perched on the cliffs of the Arasbaran forests and mountains near the modern town of Kalibar. Its elevated location provides a natural defensive advantage and picturesque views of the surrounding landscape.
Tourist Attraction:
Historical Significance: The fortress holds a pivotal place in Iranian history as the base of operations for a significant resistance movement against the ruling caliphs.
Scenic Beauty: The castle's location on the mountain cliffs provides visitors with breathtaking views of the surrounding natural landscapes and the Arasbaran forest.
Architectural Wonder: The clever design of the fortress, blending with the natural rock formations, showcases ancient engineering and architectural expertise.
Hiking and Exploration: Accessing the fortress often involves a hike through scenic trails, offering outdoor enthusiasts an exciting adventure.
Best Time to Visit: Spring and early summer when the weather is more moderate.
Places to Stay: Limited accommodation options nearby; consider staying in Tabriz.
#10. Anzali Lagoon:
A coastal lagoon in the northern Gilan Province.
Location: Anzali Lagoon is situated along the southern coast of the Caspian Sea, near the city of Bandar-e Anzali. It is connected to the Caspian Sea by a narrow inlet, and it covers a vast area of about 19,000 hectares.
Tourist Attraction:
Scenic Beauty: The lagoon is known for its serene and breathtaking natural beauty, calm waters, lush reed beds, and surrounding greenery.
Birdwatching: It is a haven for birdwatchers, as numerous migratory and resident bird species, such as flamingos, herons, and ducks, can be spotted in the area.
Boat Tours: Visitors can take boat tours on the lagoon to explore its tranquil waters, observe the wildlife, and immerse themselves in the natural surroundings.
Nature Photography: The lagoon provides ample opportunities for nature photographers to capture the stunning landscapes and the diverse birdlife.
Best Time to Visit: Spring and early summer for birdwatching and pleasant weather.
Places to Stay: Look for hotels in Rasht or Bandar Anzali.
#11. Rudkhan Castle:
A medieval fortress situated on the slopes of the Alborz Mountains and stands as a testament to medieval Persian architecture and defense.
Location: Rudkhan Castle is strategically located in the heart of the dense forests of the Alborz Mountains, near the village of Rudkhan and the town of Fuman. Its elevation and mountainous surroundings make it a remarkable site.
Tourist Attraction:
Historical Significance: The castle is a window into Iran's medieval history and architecture, offering insights into the defensive structures of the time.
Scenic Hike: Accessing the castle involves a rewarding hike through the lush forest and picturesque trails, providing hikers with adventure and beautiful scenery.
Panoramic Views: Visitors are rewarded with beautiful panoramic views of the surrounding forests, valleys, and the Caspian Sea in the distance once they get to the castle.
Photography: The castle's historical charm and the surrounding natural beauty make it a popular spot for photographers.
Best Time to Visit: Spring and early summer for trekking and pleasant weather.
Places to Stay: Accommodation is limited, so consider nearby towns.
#12. Lut Desert:
One of the world's hottest and driest deserts is in the southeast.
Location: The Lut Desert covers a substantial part of southeastern Iran, extending into Kerman, Sistan and Baluchestan, and South Khorasan provinces. It's situated in a remote and arid region.
Tourist Attraction:
Natural Wonder: It offers an unparalleled realistic experience, showcasing the raw beauty and harshness of the desert environment.
Stargazing: The desert's remote location and minimal light pollution make it an exceptional place for stargazing and astrophotography.
Photography: The surreal landscapes, sand dunes, and salt flats provide endless opportunities for photographers seeking to capture the desert's stark beauty.
Adventure: Visitors can partake in desert treks, dune bashing, and exploration, immersing themselves in the solitude and vastness of the desert.
Best Time to Visit: Cooler months, typically late autumn and winter.
Places to Stay: Limited options; consider accommodations in nearby cities like Kerman.
#13. Bisotun and Taq-e Bostan:
Historical sites in Kermanshah Province.
Location: Bisotun is an archaeological site located on the ancient Silk Road, approximately 30 kilometers east of Kermanshah city. Taq-e Bostan is situated near Kermanshah, making it easily accessible from the city.
Tourist Attractions:
Historical Significance: Both sites are rich in historical importance, providing insights into the ancient empires that once ruled Iran.
Archaeological Interest: Archaeology enthusiasts and history buffs will find these sites captivating, with their inscriptions, reliefs, and the stories they tell.
Scenic Beauty: The surrounding landscapes, including the natural rock formations and water features, add to the visual appeal of the sites.
Cultural Experience: The rich cultural and historical heritage of Iran gives a deeper appreciation of the country's past.
Best Time to Visit: Spring and autumn for comfortable weather.
Places to Stay: Find lodging in Kermanshah or nearby towns.
Travel Tips
Research: Research your destination, including culture, customs, and visa requirements.
Pack Smart: Pack light, but remember essentials like travel documents and medications.
Health Precautions: Check vaccination requirements and carry a basic first-aid kit.
Safety: Be aware of local safety and emergency procedures. Use reliable transportation and accommodations.
Money Matters: Inform your bank about travel plans, carry local currency, and use ATMs wisely.
Stay Connected: Have a SIM card, know local emergency numbers, and use maps and translation apps.
Respect Local Culture: Dress modestly, be aware of cultural norms, and be respectful to locals.
Travel Insurance: Get comprehensive travel insurance covering medical and trip cancellations.
Stay Informed: Check the news, embassy advice, and weather forecasts.
Document Memories: Take photos and keep a travel journal to remember your journey.
Conclusion
Iran is a diverse country where ancient history and modernity coexist in harmony. With rich cultural heritage, stunning architecture, breathtaking landscapes, and warm hospitality, Iran offers a unique and enriching experience for travelers. While traveling in Iran, respect local customs, take safety precautions, and maintain an adventurous spirit. Explore this land of history, culture, and natural beauty with proper planning for an unforgettable journey.
Recommended Articles
We hope that this EDUCBA information on "Tourist Places in Iran" was beneficial to you. You can view EDUCBA's recommended articles for more information,