Updated May 26, 2023
Gorgeous Places To Visit in Andaman
The Andaman Islands are a tropical paradise for tourists looking for a unique vacation experience. Located in the Bay of Bengal, this remote archipelago is full of stunning beaches, lush jungles, and beautiful coral reefs. There's something for everyone to discover in the Andamans, such as water sports and peaceful bird watching.
Top 4 Tourist Places To Visit In Andaman
The Andaman Islands contain some of India's most magnificent tourist destinations. Here are the top 4 tourist places in Andaman that you must visit.
#1 Havelock Island
Havelock Island is an untouched paradise that will take your breath away. Located in the Andaman Sea, this secluded island is a hidden gem surrounded by crystal-clear waters and lush jungles. Havelock Island is the perfect destination for those searching to escape the hustle and bustle of everyday life!
Things To Do
Havelock Island is one of the best destinations in the Andamans because of its beautiful water, corals, and white sand beaches. It is a popular location for thrill-seekers who wish to do deep-sea diving, scuba diving, and snorkeling. Tourists can also marvel at the diverse wildlife on land and sea, spot some rare birds native to the area, or even explore an ancient limestone cave from centuries past.
Best Time To Visit
The best time to explore Havelock Island is October through May if you're searching for calm waters and sunny skies. This period is when the island experiences its driest months and warmest temperatures. Visitors can also enjoy some of the most beautiful sunsets during these months.
#2 Port Blair
Port Blair is the Andaman and Nicobar Islands' capital and one of the best tourist places in Andaman. This bustling city offers visitors a bustling town offering adventure and culture. Port Blair's history is evident everywhere, and the breathtakingly beautiful beaches along the coast are especially inviting.
Things To Do
From exploring historical sites like Cellular Jail to taking a boat ride through mangrove creeks, there is something for everyone. You can. Visit Corbyn's Cove beach for sunbathing, or take a dip at Chidiya Tapu beach, renowned as one of the best sunset spots in Asia. You must visit Aberdeen Bazaar and indulge in wood artifacts, shell décor accessories, and pearl jewelry.
Best Time To Visit
The best time to explore Port Blair is from October to May when the weather is warm and sunny – perfect for exploring everything this stunning destination offers.
#3 Neil Island
Neil Island should be on your must-visit list if you have to take a vacation package to the Andaman Islands. The island is ideal for a pleasant vacation with friends and family because of its lush green surroundings, peaceful atmosphere, and serenity. It is sometimes referred to as the "Andaman vegetable bowl" because of its climate for growing vegetables and fruits.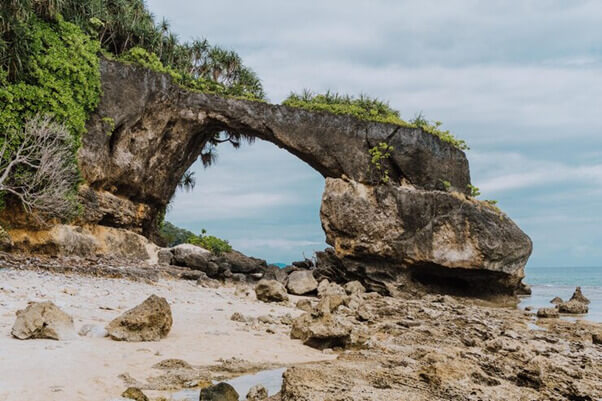 Things To Do
From scuba diving to snorkeling and glass-bottom boat rides, there's something for everyone at Neil Island. If you're an adventure seeker, sign up for a jungle trekking tour or take a guided walk through the dense rainforest, which is home to numerous rare species of birds and animals. For those looking to relax and unwind, take a stroll on Neil Island's many pristine beaches or explore the charming villages nearby, where locals will welcome you with open arms.
Best Time To Visit
The best time to explore Neil Island is during the winter, between November and February, due to pleasant weather conditions with temperatures ranging from 30-20 Celsius.
#4 RadhaNagar Beach
Radhanagar Beach is one of the most stunning beaches in the world. Located on India's Havelock Island, Radhanagar Beach provides a breathtaking and unforgettable experience for travelers and beach lovers alike. With its pristine white sand, crystal clear turquoise waters, and lush green surroundings, it is no wonder this beach was voted one of Asia's best beaches by Time Magazine.
Things To Do
For the adventurous type, take a boat ride or kayak tour around the surrounding islands. Get close to nature as you explore hidden coves and discover marine animals such as dolphins!
Best Time To Visit
For those wanting to experience its beauty up close, the best time to visit Radhanagar beach is between October and May, between 9 am to 3 pm.
Conclusion
The Andaman Islands are a fantastic destination for those looking to explore and experience something new. From the rich culture, incredible wildlife, and beautiful beaches, there is a lot that this island has to offer. With its varied cuisine and range of activities, it's no wonder why this archipelago has become a favorite tourist spot in recent years. Whether you're looking for a relaxing vacation in Port Blair or an adventure-filled escape in Havelock Island, the Andaman Islands have something for you.
Recommended Articles
We hope that this EDUCBA information on "Tourist Places in Andaman" was beneficial to you. You can view EDUCBA's recommended articles for more information,