Updated March 23, 2023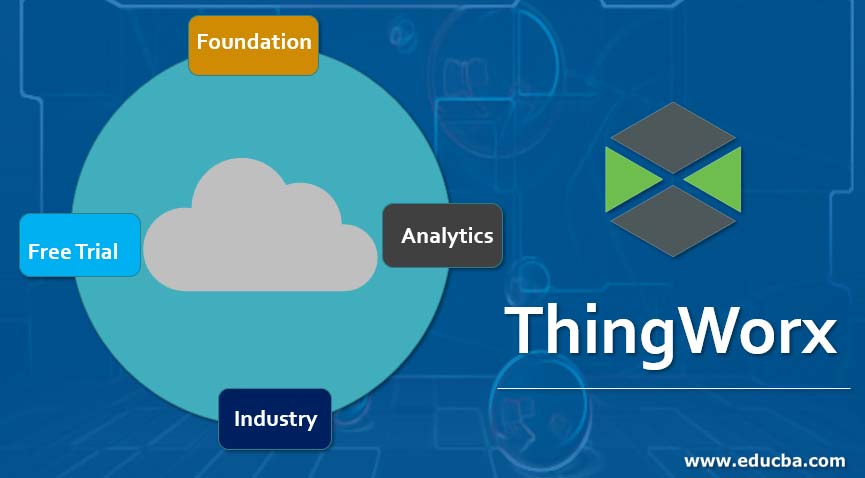 Introduction to ThingWorx
The ThingWorx platform provides a tool to set up and build the Internet of Things (IoT) and augmented reality (AR) based application and helps commercial establishments to take full advantage of the IoT ecosystem. Its platform consists of developed components that are flexible, reliable and agile and can be used by commercial organizations to deploy IoT based applications. This platform is a complete end to end business technology specifically designed for commercial establishments and industrial sector. This is the first platform to connect things, systems, people, products and appliances and is widely used across the world in multiple fields by a commercial establishment.
How ThingWorx Works?
ThingWorx from PTC connects devices with help of KepserverEX which is one of the components available from Kepware. This establishes the connection with the device in multiple ways such as cloud services and APIs. The ThingWorx Edge MicroServer, irrespective of network architecture, offers bi-directional communication between things and the ThingWorx server. Users can choose their favorite public cloud provider, Amazon Web Services or Microsoft's Azure IoT Hub, to connect devices, send data between devices and provide a network automatically.
Performance monitoring and delivery of the connected devices are managed by utilities available within it. The utilities allow non-developers to edit, create and manage the connected device's business processes. Alerts, triggers or pre-defined rules help in activating these processes.
The Analytics offers four primary functions: adapting, optimizing, monitoring and predicting. The analytical tools track devices and provide trend and anomaly identification on real-time data streams; provide predictive modeling and provide information that leads to the desired outcome and provide guidelines on how to change the outcome; and provide users with predictive and simulative knowledge.
Components of ThingWorx
ThingWorx platform is divided into three main components:
Thing Worx Core
Thing Worx Connection Services
ThingWorx Edge
Lets' see the working ThingWorx components
Thing Worx core provides a platform for the users to design and run the Internet of Thing based application. The application is designed to control typical devices such as sensors, equipment or any electronic device. It uses object-based representational architecture.
In this type of architecture, IoT devices are represented by software objects, properties and data are included in the representation. Users can then use the objects to build applications that can track the IoT devices and control them. Users further can build dynamic dashboards, apply business logic, and incorporate applications from third parties.
The core of this system is the ThingWorx Center where users can define behavior and relationships between IoT devices or remote assets in the ThingWorx environment. Its core consists of two main tools that help users to create an IoT solution they are ThingWorx composer and mashup builder.
Composer provides an environment where one can set up business logic, security permissions and storage requirements, whereas the mashup builder is easy to use and drag and drop tool where users with the non-IT background can create dynamic dashboards and user interface without actually writing any code.
Their Connection Services is responsible for communication between the remote assets and the core. Components can use different protocols and network clouds to handle communication. They manage routing messages to and from remote devices as well as translation of messages when needed.
The components of the Connector Services have both a central communication database and an adapter. The documentation of it refers to these two as a Connector. Together they are packaged and installed.
Every Connector supports a specific protocol that translates inbound messages into ThingWorx format and sends them to the Core. Their Foundation's third element consists of two software products that run at the edge of the IoT network. The first one operates on a centralized system as a small server and acts as a hub for transmitting data back to the core unit.
Different Services Provided for ThingWorx
ThingWorx has numerous services available for the users based upon their requirements. One can easily install it on their desktop using 90 days of a free trial.
Let's look at the various services provided :
1. ThingWorx Foundation
ThingWorx Foundation uses the least amount of coding and uses a mash builder which is a drag and drop tool to carry out the operations. Creating a web page or mobile GUI's can be easily accomplished with the help of its foundation. Monitoring and managing connected assets can be easily done with ThingWorx Foundation, moreover accessing critical information and historical data can be quickly accessed.
2. ThingWorx Analytics
ThingWorx Analytics provides a platform for performing complex analytical and mathematical operations without any prior statistical experience. Machine learning and AI technology embedded in this Analytics solution automate most of the complex processes. The predictive modeling algorithm quickly analyses the data obtained from the connected devices to forecast and detect the pattern in the data.
3. ThingWorx for Industry
ThingWorx for Industrial connectivity manages, monitors and machines used in the factories and the software application used to run them.  It is the industrial solution that connects to a large number of devices and systems in a wide range of industries, including manufacturing, power & utilities, and oil & gas. The Industrial Connectivity offers a real-time and historical view of OPC incidents and diagnostics of communications.
4. ThingWorx Free Trial
This service connects devices across a wide range of topology and uses Amazon Web Services IoT SDK to develop IoT solutions rapidly. Free trial service further provides access to monitoring and managing connected assets, further enabling users to access critical and historical data quickly.
Advantages of ThingWorx
Few advantages of using ThingWorx solutions:
To improve customer service and experience
Maximum utilization of IoT eco-system
Increase the revenue of the commercial establishment
Automating and optimizing business process
Conclusion
In this article, we have seen how organizations can utilize the full potential of the IoT ecosystem with the help of the ThingWorx platform. A detailed explanation of how thingWorx works in the real-time situation, its components and advantages have been discussed in this article. It is the first platform to deliver full IoT support and is widely used in commercial establishment and remains one of the top platforms for IoT integration.
Recommended Articles
This is a guide to ThingWorx. Here we discuss the introduction, how it works, components, and different services provided for ThingWorx. You can also go through our other suggested articles to learn more–