Updated April 6, 2023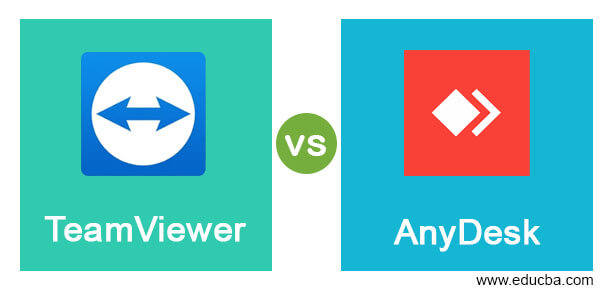 Difference Between TeamViewer Vs AnyDesk
TeamViewer and AnyDesk offer a remote desktop solution that connects desktop or laptop or mobile devices with another remote computer present anywhere in the universe and allows the local computer to take control of the remote computer and perform the operations of a remote computer; these two tools support connecting computers with all operating systems like Macintosh, Windows, IOS and Android; Installation of these tools obviates the need for Maintenance Engineer, visiting the operation site to diagnose issues and provide resolution from his work spot; these tools due to its real-time remote connectivity provides instant solution to any issues and improve business productivity.
A Brief on TeamViewer
This software was released in the year 2005 by Rossmanith GmbH with the intention of installing software remotely and avoiding customer visits. Besides Windows, it supports Linux distributions like Ubuntu, Red Hat, Debian, Raspberry Pi, Fedora Linux, and all mobile applications. AR and VR functionalities are included in this tool to enhance its usage and it is integrated with many Collaboration and CRM platforms. It is free for personal use and licensed for commercial use on the subscription model only.
A Brief on AnyDesk
Released in 2014 by AnyDesk Software GmbH in Germany with branches in the US and China. It got good funding in 2018 and 2020. A proprietary software offers high-quality video, transfer only minimum required data to the other side and hence it is lightweight and fast.
Head to Head Comparison Between TeamViewer vs AnyDesk (Infographics)
Below are the top 12 differences between TeamViewer vs AnyDesk:

TeamViewer Vs AnyDesk Comparison Table
TeamViewer

AnyDesk

Remote Logging in
User logs into the remote computer using the 9 Digit number provided by TeamViewer once this software is installed.
Here also user logs into the remote computer using the ID given by this software.
Remote Functionalities
Mostly used to gain access to the remote machine and to operate the remote computer
Mostly used for Remote server monitoring with interactive dashboards displaying the status of the monitored computers.
Operations like printing, shutting down, rebooting, changes in the settings are carried out in TeamViewer
Transferring files in Local area network and installing software and troubleshooting are the main activities.
It offers efficient Audio, Video, Text communication between host and remote computers. This ensures the seamless exchange of information and other parameters during remote sessions.

It allows access to remote computers through mobile computers and almost all the operations can be performed from the mobile computers. It supports android, IOS mobile devices to be connected to remote devices seamlessly.

.

User Access
Certain users are exempted from two-factor authentications while accessing remote resources
It allows users to use the whitelist option in order to permit a select device/users to freely access a system bypassing authentication
User Interface
It offers drag and drop methods for transferring the files which makes it easy for users to do the file transfer.
In its latest release User interface is upgraded in line with Widget. Workflow is mandated for all the tasks.
Performance
Offers several communication facilities and it is best suited for sharing light files. Large file transfer goes slow and it gets hung sometimes.
Offers better navigational features, user-friendly command interface. Otherwise, the performance level is the same as that of TeamViewer.
Flexibility to integrate
Integration with third-party software can be achieved easily. Integrations with Salesforce, Zendesk, Microsoft intune are available.
Integration with third-party applications is possible through Rest-API with a proper authentication process.
OS Supported
MS Windows, Linux, MacOS, IOS, iPad OS, Raspberry P
MS Windows, Linux, MacOS, IOS, Raspberry P, FreeBSD
Security
Security in TeamViewer's DNA. A big cybersecurity team assures best possible security standards in all their solutions.

Being a German company, General Data Protection Regulation and ISO 27001are being followed strictly.

Connections are encrypted end to end and it is never compromised.

Security is the default feature in AnyDesk.

Uses TLS 1.2 Technology to prevent unauthorized entry into the system.

RSA 2048 key is used to encrypt each and every connection.

Diffie-Hellman Ephemeral Handshake ensures sessions cannot be decrypted so easily.

Password hashing is used to protect passwords.

Sessions
TeamViewer true to its name allows users to add multiple members in a connection.

It also manages multiple sessions to run simultaneously and these connections are shown as Tabs.

Free and light version allows only one session and the licensed pattern decides no of sessions that can be supported.
Latency and Installation
TeamViewer transmits the entire screen from the remote to the local system and hence there could be a time lag.
AnyDesk transmits only the changed portions in the remote screen to the host screen and hence the latency is very low. Users will feel as if the local system is accessed when connected to the remote.
Installation file size is around 28 MB.
The size of the installation file is only 1.1 MB and it is very light and can be quickly installed.
Price
One of the disadvantages for TeamViewer that it is a costlier solution

AnyDesk is a cheaper solution by comparison
Market Existence & Clientele
Present in the market from 2005
Founded in 2014
Clientele includes SMEs, Agencies, startups, and big enterprises.
Clientele includes SMEs, Agencies, Start-ups.
Key Comparison to TeamViewer vs AnyDesk
AnyDesk
A lightweight, easy to install the application
Has minimal latency due to its inherent design
Provides easier navigation and powerful UI experience to users
Offers robust security features
Supported in 5 languages
Cheaper solution
Used in medium and start-up Organisations
Mostly deployed to monitor applications and install software
New to the market
TeamViewer
Mostly deployed to execute activities in the remote machines
Fast in small file transfer
Well integrated with third-party software
Supported in 10 languages
Compatibility with all OS and devices
Allow multiple sessions and more users in a single session
Present in the market for the last 16 years
Used in bigger enterprises extensively.
Audio, Video, text communication between local and remote
Backed up by good support
Conclusion
AnyDesk and TeamViewer have got all the features and meet all the requirements of the various user groups. As a user, one needs to do sufficient due diligence before deciding on the tool that we want to meet our needs and budget.
Recommended Articles
This is a guide to TeamViewer vs AnyDesk. Here we discuss TeamViewer vs AnyDesk key differences with infographics and comparison table, respectively. You may also have a look at the following articles to learn more –