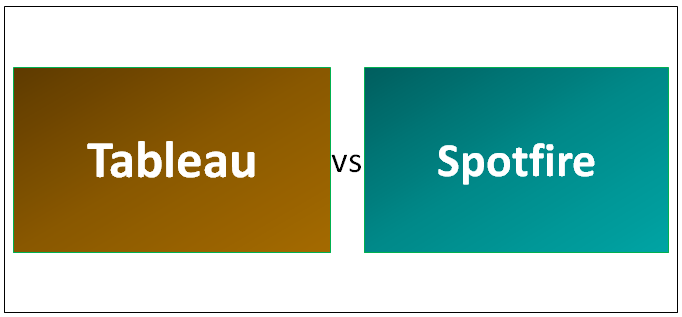 Differences between Tableau and Spotfire
Tableau is a powerful data discovery and exploration application which allows us by using drag and drop interface to visualize any data, explore different views and you can combine multiple databases very easily. It does not require any complex scripting. After analysis sharing of the report is easy by publishing to the Tableau server. Spotfire is an enterprise analytics platform for deriving valuable business data.  It is a smart, flexible tool that provides data visualization and predictive analysis of business data. Spotfire also has an effective dashboard and interactive analytical app as well.
Features of Tableau are given below:
Speed Analysis: It does not require any scripting, any user with access to data can start using it.
Self-Reliant: It does require any complex software setup. The desktop version which is used by most users can be installed very easily.
Visual discovery: You can analyze data by different visual tools like colors, lines and charts or graphs.
Diverse Data Sets: Tableau allows you to integrate different relational, semi-structured and raw data sources in real-time without any extra cost.
Architecture friendly: It supports all kinds of devices where data flows.
Centralized Data: The tableau server provides a centralized location to manage all of the organization's published data sources.
Support different data types: Tableau classifies every piece of data in four categories: String, Number, Boolean, Date time.
Features of Spotfire are given below:
Data visualization:
The data visualization features of Spotfire are among the best in the business intelligence tools.
Data discovery:
The data discovery feature of Spotfire provides you smart visual data discovery benefits.
Deep Data Wrangling:
The Spotfire allows you to clean and unify the complex and messy data and convert that data into an easily accessible form.
Head to Head Comparison between Tableau and Spotfire (Infographics)
Below is the top 19  Differences Between Tableau vs Spotfire

Key Differences Between Tableau and Spotfire
Below are the lists of points, describe  the key Differences Between Tableau vs Spotfire
The Spotfire is a product of TIBCO and Tableau is a product of Tableau software.
The Spotfire is an ideal choice for sales and marketing tool and Tableau is ideal for data discovery tools.
The Spotfire is a private tool and Tableau is a public
The TIBCO cost is around 200$/month for 250 GB of storage but Tableau's personal package is 35$/month.
TIBCO is not ROBUST but Tableau is very ROBUST, it allows you secure collaboration and mobile-optimized design.
TIBCO is better for Smaller industries, Tableau cannot be afforded by smaller industries because of its pricing
Tableau vs Spotfire Comparison Table
Below are the lists of points, describe the Differences Between Tableau vs Spotfire
| | | |
| --- | --- | --- |
| Basis for Comparison | TIBCO Spotfire | Tableau |
| Vendor | TIBCO | Tableau |
| Founded | 1997 | 2003 |
| Headquarters | Palo Alto, CA | Seattle, WA |
| Ownership | Private | Public |
| Customers | 500+ | 57,000+ |
| Deployment Model | On-premise, Cloud | On-premise, Cloud |
| END Users | All | All |
| Free Trial | Yes | Yes |
| +ve side | By this we can perform statistical analysis, automatically run reports and analysis at set times. It also has the ability to drill down to find the root causes of business issues. | It is very robust and with the help of different visualization tools will make data approachable for all types of users. |
| -ve side | Difficult to customize visualizations, difficult to drill down the specific data details, technical difficulties cannot be easily resolved. | It provides a good learning curve for executives and the cost for smaller businesses is very high |
| Base Line | TIBCO Spotfire is ideal for those companies which are looking to improve their sales and marketing practices and customer experience. | Tableau offers a set of business intelligence tools to enhance data discovery and findings. |
| Product Details | Spotfire allows anyone, from beginners to advanced analysts, to perform simple and even complex analyses in real-time, without any experience of IT. Spotfire also lets users deep down to figure out the "why" or root causes of business issues – and can even find patterns or trends of different data or market situations. | Tableau provides all types of users with its business intelligence (BI) tools to enhance data discovery. BY using its drag-and-drop features, a user is able to easily access and analyze key data, create reports and visualizations, and share those reports across the company. It has three main products for robust data discovery: Desktop, Server, and Online. |
| Features |  Spotfire's latest version, Spotfire 7.9, includes new features, such as the ability to edit data within data sources, severity-ranked indicators for troubleshooting data transformation and loading more data within Salesforce connector, to name a few. | Tableau offers visual analytics and data diving tools across all of its products. The main features are live and in-memory data, numerous data connections, mobile-optimized designs, secure collaboration, embedded dashboards, drag-and-drop integration, and unlimited data connectors. |
|  Market | Spotfire is used by different companies like smaller businesses to the larger organizations. For Eg: Healthcare to Infrastructure industry. |  Over 57,000 customer accounts, Tableau serves a variety of industries for Eg: major corporations and banks, educational institutions and healthcare providers. |
| Implementation | TIBCO Spotfire offers a variety of implementation methodologies, such as analytics implementation, architecture services and the Center for Analytics Excellence, to name a few. | Tableau provides a variety of implementation and consulting services. For enterprise-level deployment, there's a four-step process. Regardless of your company's size and deployment method, Tableau offers a QuickStart Service for your needs. |
| Customer Support | For technical support, there is the TIBCO Support Central portal that users can access a knowledge base of troubleshooting issues and submit requests to fix issues or product enhancement. There is also the Spotfire Community forum for users to communicate with other Spotfire users. | It provides four levels of services to its customers and those are complimentary technical support, elite program, and OEM program. |
| Shortcomings | There are no unique visualization types available with Spotfire. It is also difficult to customize visualizations. In addition, when there are multiple visuals displayed on the screen, they cannot be easily printed as a PDF or in a readable format. | Some customers have mentioned that Tableau has a steep learning curve for executives. Others have mentioned that its products are expensive for smaller businesses looking for analytics and visualization tools. |
| Subscription fee | TIBCO provides a $200 a month or $2,000 a year subscription fee for its Cloud version that includes 250GB of storage. It also offers to price for its on-premise Platform version but the plan is customized based on the client's needs so potential clients need to contact them directly for a price quote. | The personnel package of Tableau Desktop costs $35/user per month and a Professional package that is priced at $70/user per year. Tableau Online costs $42/user per month, whereas the Tableau Server is priced at $35/user per month with a 10 user minimum. |
| About Vendor | TIBCO software company offers technology for both on-premise and cloud servers. It was founded in Palo Alto, California in 1997. It has grown from technology tools to a wide variety of business services which primarily focus on business intelligence. | Tableau Software mainly focused on business intelligence and data analytics products that both liberate data and empower people. It was founded in 2003 by Chris Stolte, Pat Hanrahan, and Christian Chabot, and it's headquartered in Seattle. |
Conclusion
Tableau vs Spotfire both are robust data analytics and visualization tools which provide the same kind of features to their end users But choosing one from two is completely dependent on the end-users. Spotfire has a great built-in capability for statistical data analysis, but those who want good visualizations they can go for the Tableau.
Recommended Article
This has been a guide to Differences Between Tableau vs Spotfire, their Meaning, Head to Head Comparison, Key Differences, Comparison Table, and Conclusion. You may also look at the following articles to learn more –