Updated March 31, 2023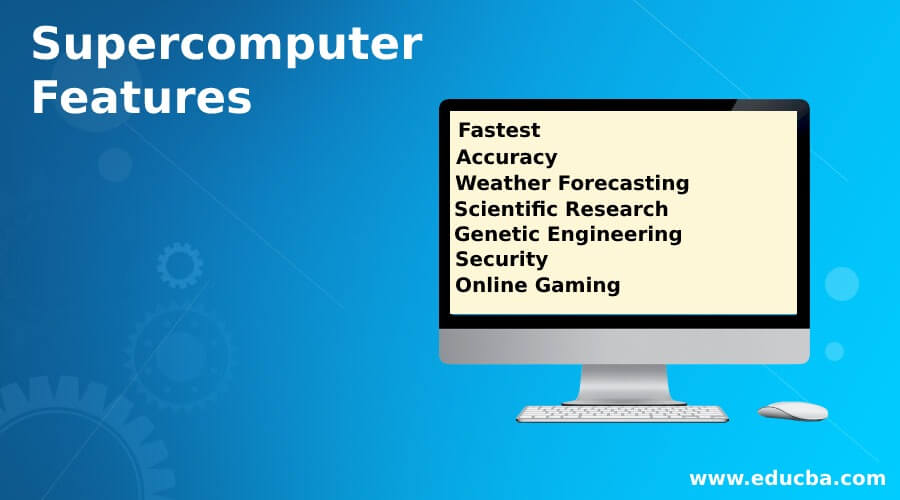 Introduction to Supercomputer Features
The following article provides an outline for Supercomputer Features. High-performance computers where capability computing is given more preference meaning large and complex problems can be solved in a matter of minutes, is called a Supercomputer. The first supercomputer introduced in 1964 computed 3 million calculations in a minute with a single processor, which shows the power of supercomputers which can be done by a smartphone now, but the power of supercomputer has been increased to 200 quadrillion calculations per second done by 36000 processors in the present day. Supercomputers are used in almost all fields of the world, such as research, weather forecasting, encoding or decrypting keys and performing nuclear tests.
Various Supercomputer Features
Given below are the various supercomputer features:
1. Fastest
Supercomputers are the fastest in the world that can do any type of computation in a fraction of a second, be it complex problems of space computations or running thousands of iterations to decrypt a security key. However, the space occupied is also huge, and several wired connections are needed for them that ranges up to 300 meters. In addition, the storage capacity is also enormous for this mainframe computer so that it can retrieve any amount of data from its CPU. This is the reason why supercomputers are used in any field of research as it has input or output capability to process the data needed by the user.
2. Accuracy
With the huge amount of data being processed and with the fastest processing, there is a chance for the computer being providing the wrong output at any stage. Supercomputers are proven to be precise in all their calculation and provide results with great accuracy. With the simulations done faster and with accuracy, researchers are getting the advantage of supercomputers that it can solve problems easily. Different iterations are given to supercomputers which it solves in a second. These iterations can also be generated by supercomputers. Supercomputers can solve any type of numerical or logical problem with accuracy.
3. Weather Forecasting
This is another field where supercomputers are highly useful and intelligent. They can predict the weather change easily, and hence if any earthquakes or landslides happen, it can be known via supercomputers. This makes it to help the lives of normal people directly and within a short time. When a location and time is given, supercomputers can predict the conditions of the atmosphere and this study is done on numeric models. Weather satellites and surface weather stations are controlled by supercomputers that help in recording weather observations in each hour. Supercomputers, with their storage, store all the weather data, which helps forecast the data for the future.
4. Scientific Research
Supercomputers are used to solve large problems of scientific research. Complex problems can be solved easily with supercomputers making scientists to find solutions accurately. Also, space organizations are using supercomputers to study the structure of planets in various forms and to verify the presence of various particles in the planets. Furthermore, various natures of molecules and matters can be iterated and studied to create new elements. This helps in studying the structure of the universe and the presence of different organisms in the universe.
Furthermore, supercomputers help in the study of fossils so that the history of various animals can be known. Understanding the structure of subatomic particles help to know the origin of the universe and the nature with which it is getting into the cycle of evolution on a daily basis. It helps in archeology to know the presence of various elements during the ancient history of the world and helps us know the evolution of humans.
5. Genetic Engineering
Modification and manipulation of genes are important for genetic engineers to know the structure of genes so that various alterations can be done in the system itself to know how they get modified with different combinations. This helps genetic engineers to develop new organisms or improved versions of the same. They are using robots to make mutations of genes, and supercomputers control these robots. This automated genetic engineering robot is making the jobs easy for genetic engineers, and hence several combinations can be found in a short duration. For example, it is used in studying variations of Covid-19 so that it is used to develop vaccines for the same.
6. Security
Security is a concern either at the national level or personal level. Cameras are placed everywhere so that one can be secure anytime. These cameras should always be operated, and this must be controlled from a central server which runs without any downtime. Supercomputers can be used here to control all the working of the security systems that run daily. Regarding national security, supercomputers are employed in the design of nuclear and any other weapons so that better weapons can be designed and formulated for the nation. Weapons are secured with a cryptographic code, and these codes can be decoded with the help of supercomputers if needed.
7. Online Gaming
This is another aspect where supercomputers are used. Supercomputers are cheap compared to the olden days, so that gamers employ this computer for their gaming. This helps gamers from all over the world play games simultaneously on the same platform. There will be millions of team members to play the same game. Chess is another area where supercomputers formulate different game plans and help the gamer win.
Various levels of life such as nuclear tests, physical simulations, military operations due to which supercomputers were invented, global warming challenges, medical field and aerospace field are researches being carried out by supercomputers. The power of supercomputers cannot be measured or identified in simple words but can be understood if we start learning how all the complex problems are solved in a short span of time.
Conclusion
The use of more than one CPU and a huge wiring system requires supercomputers large space. Also, heating occurs due to the systems connected to each other and hence supercomputers must be kept in an air-conditioned room. It cannot be down at any time, and hence maintenance of supercomputers by experienced professionals is a requirement for supercomputers.
Recommended Articles
This is a guide to Supercomputer Features. Here we discuss the introduction and various supercomputer features for better understanding. You may also have a look at the following articles to learn more –