What is Structural Unemployment?
Structural unemployment is unemployment that arises due to a mismatch between the skill set required for the jobs available in the economy and the actual skill set of the workers. It is when workers' skills and qualifications don't match the job market's needs.
For example, a factory that produces a particular type of paper product shuts down due to declining demand. The workers specializing in making that product may find it challenging to secure new employment opportunities because no other factories in the area make the same product. Thus, it leads to structural unemployment.
When people and policymakers know what causes this type of unemployment, they can make better decisions about education and training and create policies that better meet the needs of the labor market.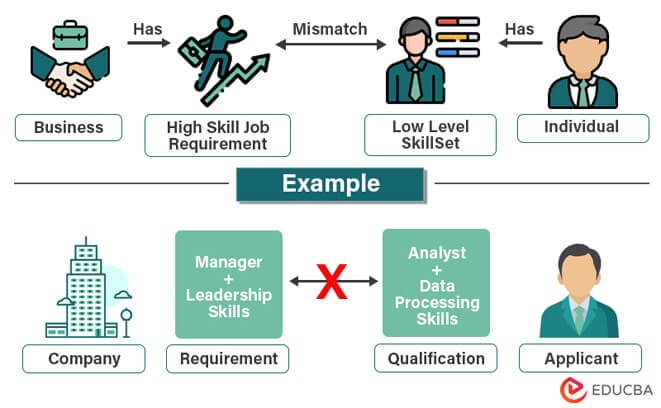 Key Highlights
Structural unemployment is a type of unemployment caused by a mismatch between people's talents and the requirements of available jobs.
It occurs due to long-term economic changes, such as technological improvements, changes in consumer demand, or alterations in industry structure.
Structurally unemployed people frequently lack the skills and certifications required to do the jobs that are accessible at present.
Policymakers must invest in education and training programs to help employees obtain the necessary skills to succeed in a changing market.
How Does Structural Unemployment Work?
Here's a step-by-step guide to understanding this unemployment:
#1 Firm Requires Employees: Businesses post-employment positions with high-level job requirements to fill a role in the company.
For instance, a firm named "TaleStory" wants to hire an SEO manager to handle the social media marketing department of the company.
#2 Evaluate Applicants' Qualifications: The Company assesses the skills and qualifications of the candidates.
The firm receives applicants with skills ranging from data entry and keyword analysis to content creation and marketing.
#3 Mismatch of Skills: The firm identifies a wide gap between the applicants' skills and the company's requirements. Thus, not hiring individuals with lower skill sets.
However, none of the candidate's skills matches the business's requirement, leading to the rejection of all the applicants.
#4 Difficulty finding work: Workers with outdated or insufficient skills struggle to find suitable employment opportunities, leading to long-term unemployment.
The individuals who applied for the job were unqualified and thus could not proceed with the job opportunity.
Examples of Structural Unemployment
#1 Newspaper Industry
Technological advances have created structure-based unemployment in the newspaper industry across the globe. People have become habituated to consuming information and news through the internet and smartphones, leading to massive declines in newspaper subscriptions. It also led to a fall in newspaper advertisements and caused many journalists, printers, and delivery boys to become unemployed.
#2 Farming Industry
Structural unemployment has also impacted farmers in developing economies. Opening up economies around the globe has led to situations where small farmers have to compete with global food companies. Small farmers cannot compete with the low prices offered by multinational companies, thereby falling prey to them.
Structural Unemployment Causes
The following are some of the most common causes:
Technological advancements: Introducing new technologies into the workplace may displace workers who lack the necessary skills to operate or work with new equipment.
Changes in consumer preferences or shifts in the global economy: It can cause specific industries to decline, decreasing demand for workers in those industries.
Globalization: International trade and competition can lead to outsourcing jobs to countries with lower labor costs, resulting in specific industries experiencing job losses.
Changes in government regulations, taxation policies, or subsidies: These can impact the competitiveness of specific industries, resulting in job losses.
Demographic shifts: Changes in population demographics, such as aging or migration patterns, can affect demand for specific types of labor, resulting in unemployment in particular regions or industries.
Structural Unemployment Solutions
Here are some ideas for addressing this unemployment:
Education and training: Providing workers with education and training programs can assist them in developing the skills required. It can help them adapt to labor market changes and meet new industries' demands.
Job placement: Services like career counseling, resume writing, and job search assistance can assist workers in finding opportunities matching their skills and qualifications.
Government assistance: Governments can provide financial aid, such as unemployment benefits or job training programs, to workers out of work.
Industry-specific policies: Policies that promote the growth of specific industries, such as tax breaks or government contracts, can help create new job opportunities.
Workforce development partnerships: Collaboration between government, industry, and educational institutions can help to identify labor market needs and provide training and education that meets the needs of employers.
Structural Unemployment vs. Frictional Unemployment
| | | |
| --- | --- | --- |
| Basis | Structural Unemployment | Frictional Unemployment |
| Definition | It occurs because of the mismatch between workers' skills and job requirements. | It happens because of temporary job transitions, such as when workers leave one job searching for another. |
| Duration | Long-term, chronic unemployment can persist even during periods of economic growth. | Short-term, temporary unemployment is a normal part of the job search process. |
| Causes | Long-term changes in the economy, such as technological advancements, shifts in consumer demand, or changes in the structure of industries. | Temporary job transitions include workers moving to a new location or changing careers. |
| Impact on Workers | Workers may need to acquire new skills or qualifications to adapt to the changing economy, which can be difficult and time-consuming. | Workers may experience temporary periods of unemployment while they search for a new job but are typically able to find employment relatively quickly. |
| Policy Responses | Investment in education and training programs to help workers develop new skills. | Programs to assist workers in finding new job opportunities, such as job training and career counseling. |
Structural Unemployment Graph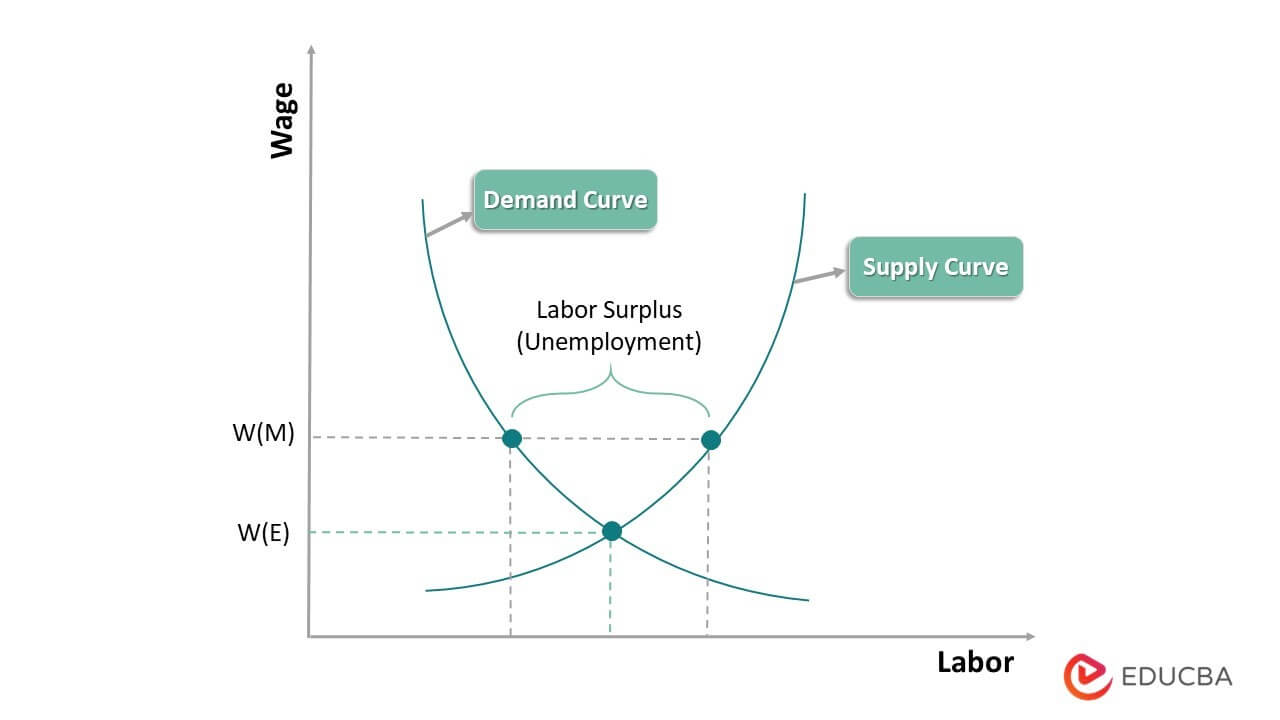 The structural unemployment graph represents the industrial wage on the y-axis while representing the labor force on the x-axis. The graph helps us understand the dynamics of labor demand and supply, which play a significant role in the unemployment rate.
Demand for Labor: The downward slope indicates the demand for labor curve, which states employers demand less labor as the wage rate increases. It means employers hire fewer workers as the wage rate goes up.
Supply of Labor: The upward slope of the graph represents the supply of labor curve, indicating that more workers prefer employment opportunities with increasing wage rates. It suggests that more workers are willing to work as the wage rate increases.
Equilibrium Wage Rate and Quantity of Labor: The intersection point of the demand and supply curves on the graph determines the equilibrium wage rate and quantity of labor. It means that the wage rate and the number of workers hired to reach a balance point where the labor market is in equilibrium.
Imbalance in Demand and Supply: An imbalance between the demand and supply curves creates a labor surplus, leading to unemployment. The labor surplus is the distance between the quantity of labor supplied, and the quantity demanded at the prevailing wage rate. This surplus is the reason for structural unemployment.
Types of Structural Unemployment
Technological unemployment: It occurs when technological advancements replace workers, rendering their skills obsolete.
Occupational immobility: It occurs when employees are unable or unwilling to relocate to areas where jobs are available due to family ties or other personal reasons.
Mismatch in education and training: This occurs when workers lack the necessary education or training to perform the available jobs.
Geographic mismatch: This occurs when there is a lack of job opportunities in one area, resulting in unemployment.
Discrimination: When employers discriminate against specific groups of people, such as women or minorities, they lack job opportunities for those groups.
Final Thoughts
Structural unemployment is long-lasting and usually requires a radical change by the government to reverse it. Technological advances are one of the primary reasons, and upskilling can help an individual survive the impact of it.
Frequently Asked Questions (FAQs)
Q1. What are the consequences of structural unemployment?
Answer: Structural unemployment can have severe economic and social consequences. Some significant effects are slower economic growth, greater income inequality, and lower social mobility.
Q2. What is structural vs. cyclical unemployment?
Answer: Structural unemployment occurs due to an imbalance in an employee's skills and the employer's demand. For instance, a company requires a senior-level analyst, but the applicant's skillset consists of entry-level data entry skills.
On the other hand, cyclical unemployment is the lack of jobs in a country because of fluctuations in the economy's business cycle. For example, a nation experiencing a recession will lead to increased layoffs and, thus, cyclical unemployment.
Q3. Is structural unemployment a short-term or long-term problem?
Answer: Structural unemployment is usually a long-term problem. It takes time for workers to learn new skills or for the labor market to adjust to changes in demand for specific skills. Therefore, structure-based unemployment can last for years.
Q4. How does structural unemployment affect different demographic groups?
Answer: Structural unemployment affects different groups of people differently. Women, minorities, and individuals with lower levels of education face additional barriers to finding work. These groups may experience more significant challenges accessing education and training programs or face discrimination in the hiring process. Addressing these disparities through policy solutions can reduce the impact of unemployment on these groups and promote more significant equity in the labor market.
Recommended Article
We hope this EDUCBA information on Structural Unemployment benefits you. For further guidance on economy-related topics, EDUCBA recommends these articles: