Updated July 4, 2023
What is Cyclical Unemployment?
Cyclical unemployment occurs when people lose their jobs because of a cycle of upturn and downturn in the economy. In other words, more people have jobs when the economy is doing well; thus, unemployment is low. But when the economy is struggling, companies may have to lay off workers, leading to more unemployed people.
It tends to increase during recessions and decrease during periods of economic growth. For instance, the COVID-19 pandemic caused businesses to close, resulting in cyclical unemployment. As the economy improved, unemployment slowed as people returned to work.

Cyclical unemployment differs from other unemployment types like frictional unemployment (temporary) or structural unemployment (due to skills mismatch), which aren't directly related to economic cycles.
Key Highlights
Cyclical unemployment results from natural fluctuations in the business cycle.
An example is the Great Recession which affected the entire globe around 2008.
A decline in demand is one of the leading causes, leading to reduced production and multiple industries laying off their workers.
It impacts the economy negatively, which causes a decrease in service demand, low production, and large-scale job loss.
How Does Cyclical Unemployment Work?
As the economy goes through different stages of growth and decline, unemployment tends to go up and down. Here's how it works:
When the economy is doing well, businesses hire more workers to meet the increasing demand for goods and services.
However, during an economic downturn, demand for goods and services decreases, causing businesses to cut back on hiring or even lay off workers to save costs.
It leads to an increase in joblessness, as many workers are unable to find work due to the limited job opportunities available.
As the economy begins to recover, demand for goods and services increases. As a result, businesses hire more workers again, decreasing cyclical unemployment.
The cycle's duration and severity depend on the economic downturn's depth and duration and the speed at which the economy recovers.
Stages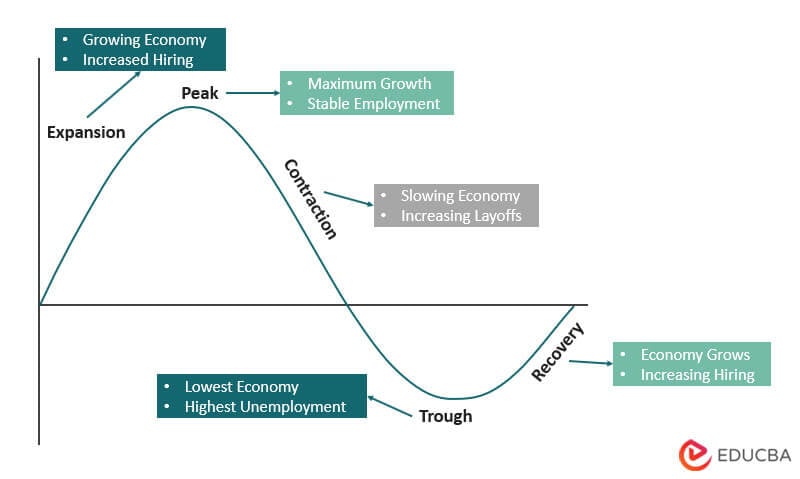 Expansion: When the economy is doing well, businesses hire more workers due to a growing demand for goods and services. This results in low unemployment rates.
Peak: The economy reaches its maximum growth point, and the demand for goods and services starts to level off. Businesses slow down hiring, and unemployment rates remain stable.
Contraction: The economy slows, and the demand for goods and services decreases. Businesses stop hiring or lay off workers, causing unemployment rates to rise.
Trough: The economy hits rock bottom, and unemployment rates are at their highest. Many people struggle to find jobs, and businesses are hesitant to hire due to economic uncertainty.
Recovery: The economy starts to pick up, and demand for goods and services increases. Businesses hire more workers, and unemployment rates begin to decline.
How to Determine the Cyclical Unemployment Rate?
Step #1: Determine the Natural Unemployment Rate
The unemployment rate exists when the economy is at full employment with no cyclical unemployment. It includes frictional and structural unemployment.
Suppose the natural unemployment rate in a particular economy is 4%. It means that even when the economy is at its healthiest and full employment, there will always be 4% of the labor force without a job due to factors like frictional and structural unemployment.
Step #2: Calculate Cyclical Unemployment
Subtract the natural unemployment rate from the actual unemployment rate: The difference between the two is the cyclical unemployment rate.
Suppose the current unemployment rate in the same economy is 8%. Subtracting the natural unemployment rate of 4% from the actual unemployment rate of 8% gives us a cyclical unemployment rate of 4%.
Step #3: Analyze the Economic State
Analyze the current state of the economy: You can identify whether the economy is in an expansion, peak, contraction, trough, or recovery stage. It is typically highest during a contraction or trough stage and lowest during an expansion or recovery stage.
Suppose the economy is in a trough stage with high unemployment rates due to a recession. It indicates that the cyclical unemployment rate is likely higher than in an expansion or recovery stage.
Step #4: Analyze Economic Indicators
Look at indicators such as Gross Domestic Product (GDP), consumer spending, and business investment to determine the overall state of the economy.
Suppose the GDP has decreased over the past few quarters, indicating slow economic growth. It could lead to a rise in unemployment rates, particularly cyclical ones.
Step #5: Use statistical methods
Economists often use statistical models to estimate the cyclical unemployment rate by analyzing trends in unemployment data over time.
For example, they might analyze past recession periods to identify the cyclical unemployment rate and use that to estimate the current cyclical unemployment rate.
Examples of Cyclical Unemployment
#1: Reduction in Consumer Spendings Postwar
From November 1948 to October 1949, post-war consumer spending slowed down. During the conflict, the government imposed rationing and limitations on consumer goods. When people reduced their spending, it became challenging for the economy to maintain balance. From November 1948 to October 1949, the troops had difficulty adjusting to their new societal roles.
#2: Recession Due to Asian Flu Pandemic
From August 1957 to April 1958, the Asian flu pandemic, which began in Hong Kong, spread to India, Europe, and the United States, killing nearly a million people and destroying over $4 billion in US exports. It caused another recession and resulted in unemployment reaching 6.2%.
#3: Impact of the COVID-19 Pandemic
The COVID-19 pandemic significantly impacted the Australian economy, leading to a sharp rise in cyclical unemployment. According to the Australian Bureau of Statistics, the unemployment rate in Australia increased from 5.1% in February 2020 to a peak of 7.5% in July 2020, as the pandemic hurt different industries such as tourism, hospitality, and retail resulting in job losses.
Causes
Drop in Consumer Demand
When consumers' demand for goods and services drops, it results in a decline in production. Therefore, causing layoffs as the need for workers also gets affected.
It leads to less consumer spending, negatively impacting revenue generation. So to maintain profit margins, companies let go of their workers.
Recession
It is generally the aftermath of the economy facing a recession.
Before initiating layoffs, businesses take time to assess the downturn's severity.
Effects of Negative Multipliers
The multiplier effect denotes the chain reaction caused by a decrease in demand.
For example, a drop in demand for meat may affect not only the profitability of the local supermarket or shop but also the farmer, butcher, and others engaged in transporting the items.
As a result, what appears to be a drop in demand in one sector affects multiple sectors.
Stock Market Crash
The crashing of the stock market can also be the reason for unemployment.
Some examples of unemployment due to stock markets are the financial crash of 2008, the impact of 1929, and the tech crash of 2000.
These situations instill panic and damage confidence in an economy.
Low Confidence of Investors
When such an event occurs, the net worth of a business falls as the stock prices fall rapidly. With the market performing so poorly, there is a lack of scope to increase capital for growth and expansion.
Investors' confidence in the financial market takes a hit, and they look for options to reduce their losses by selling off their holdings.
Long-Term Continuity of Affecting Factors
During this business phase, known as the contractionary period, if the investors' confidence returns, the expansion begins, and economic growth resumes, stopping cyclical unemployment.
However, if confidence continuously diminishes and demands continue to fall, businesses have to lay off their workers to sustain a marginal profit balance.
Effects of Cyclical Unemployment
Decreasing Demand for Services
With this unemployment at its peak, it negatively affects the general demand for goods and services.
Leading to services like hospitality in the field of travel and tourism suffering due to the recession.
Spending is Less
As the overall condition of the financial market is relatively poor, consumers don't feel safe enough to spend on things they might want.
Most of the spending goes towards necessities. Buyers refuse to take any risk in huge investments like buying a house or making any grand purchases.
Low Production
As consumer demands are already low, the quantity of goods decreases significantly across several industries.
Lower Volume in the Stock Market
When a recession hits, the buying and selling of stocks also get affected, which becomes the biggest factor in causing this unemployment.
The high-risk factor in trading stocks during such a time makes people more calculative while making such decisions.
It affects the entire economy negatively.
Large-Scale Job Loss
Lesser demands for goods and services lead to a lesser need for workers to meet the limited demand.
Hence, one can witness layoffs across multiple industries during such a situation.
How to Cure Cyclic Unemployment?
Most of the time, policymakers try to fix unemployment by taking steps that increase demand and create jobs. Here are a few strategies to address this unemployment:
Fiscal Policy
Governments can use fiscal policy to boost economic growth and boost aggregate demand.
It can involve increasing government spending, reducing taxes, or implementing other policies that increase the amount of money flowing into the economy.
Monetary Policy
Central banks can use monetary policy to lower interest rates and increase the money supply, encouraging businesses to invest and consumers to spend more.
Lower interest rates can also make it easier for businesses to borrow money to invest in new projects or expand their operations.
Job Training and Education
In some cases, the unemployment cycle may occur due to a mismatch between workers' skills and the skills employers are looking for in the workers.
Policymakers can invest in job training and education programs to help workers develop the skills in demand in the labor market to address this.
Infrastructure Spending
Governments also invest in infrastructure projects like roads, bridges, and public transportation systems.
These projects can create jobs in the short term and also provide long-term benefits by improving the country's infrastructure and making it easier for businesses to operate.
Short-term Work Programs
In some situations, it may be helpful to set up short-term work programs, like those that help people who lost their jobs because of cyclical unemployment find temporary work.
These programs can help workers keep working, learn new skills, and make money while looking for a permanent job.
Frequently Asked Questions (FAQs)
What are the four types of unemployment?
The four types of unemployment are:
Frictional: When people are between jobs or just starting. It's usually short-term.
Structural: When there's a mismatch between job seekers' skills and the available jobs. Changes in the economy or technology can cause it.
Cyclical: When there's a downturn in the economy and companies reduce their workforce.
Seasonal: It is when there is an interrelation between employment and seasonal changes like holidays or weather.
What is the difference between cyclical and seasonal unemployment?
The main difference between cyclical and seasonal unemployment is that cyclical unemployment occurs due to changes in the business cycle or economic downturns.
In contrast, seasonal unemployment happens because of changes in labor demand tied to seasonal factors. A weak economy usually causes cyclical unemployment, but seasonal unemployment is a normal part of the annual business cycle, especially in the agriculture, tourism, and retail industries.
How does inflation affect cyclical unemployment?
Inflation can increase demand for labor by reducing real wages, leading to lower unemployment rates. However, if inflation rises too quickly, it can decrease consumer spending, leading to a decline in production and unemployment.
High inflation can also make the market uncertain, which makes people less likely to hire or invest and raises the unemployment rate.
What is cyclical and structural unemployment?
Cyclical unemployment occurs due to changes in the business cycle or an economic downturn, resulting in a decline in the demand for goods and services. It leads to a decrease in demand for labor, causing job losses.
On the other hand, structural unemployment occurs due to economic shifts, such as technological changes, which can make some jobs obsolete and require workers to have new skills.
Recommended Articles
We hope you found this EDUCBA information about cyclical unemployment useful. EDUCBA suggests the following articles for more information.