Updated April 10, 2023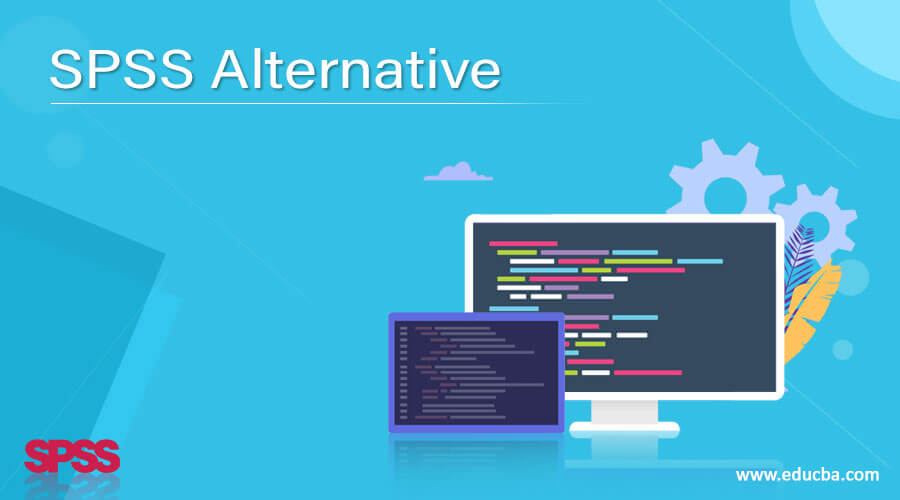 Introduction to SPSS Alternative
SPSS is short for the Statistical Package for the Social Sciences, which is used in complex statistical data analytics by different types of researchers. For the management and statistical analysis of social science knowledge, the SPSS software package was developed. It was first introduced by SPSS Inc. in 1968 and subsequently purchased by IBM in 2009. In this topic, we are going to learn about SPSS Alternative.
Alternatives of SPSS
Here are the following alternatives mention below
1. PolyAnalyst
PolyAnalyst is a software for data processing used by major corporations in a variety of industries. Some of their most impressive functionality and features include using a visual composer instead of coding for complex data analysis modeling. It incorporates structured and poly-structured data for coherent analysis and is able to process text data in more than 16+ languages. PolyAnalyst has many features that fulfill a broad range of data analysis requirements, including data loading, cleaning and analysis preparation, deployment of machine learnings and supervised analytical techniques, and construction reports for non-analysts.
2. OriginLab
The root of over 500,000 scientists and engineers in industry, academia, and government laboratories worldwide was a data analysis and software graphics of choice. For beginners, Origin provides an easy-to-use GUI, coupled with the ability to modify the program as you learn more about it. Original graphs and analysis results will update data or parameter changes automatically, allowing you to construct repetitive task templates or perform user interface batching operations without requiring programming.
3. Salesforce Analytics Cloud
Enjoy critical sales and service insight with the feature-rich Business Intelligence (BI) software Salesforce Einstein Analytics. Einstein Analytics is a complete solution for the power of Artificial Intelligence (AI) that allows business users to explore billions of data combinations across sales, service, marketing, and more. It is formerly known as the Salesforce Analytics Cloud. This encourages corporations to make better choices quickly.
4. Domo Technologies
Domo software, the first cloud-based management platform in the world, provides market leaders with more reliable knowledge that helps them to make informed business decisions. You can easily gather data from any third-party source inside your cloud-based software used to connect to over 500 data sources anywhere in their sector. Domo enables workers, including partners outside the organization, to use data in real-time, improve productivity and increase data potential.
5. DataHero
DataHero is a 2011 US-based Software Business that publishes the DataHero software suite. DataHero includes documentation training, webinars, online live, and in-person workshops. SaaS, Android, iPhone, and iPad are the products for DataHero. A free trial is available from DataHero. Online and business hours assistance is included in DataHero. DataHero is software for business information that includes features such as analytics, content management, the generation of the dashboard, filtered views, relational display, simulation models, and visual exploration. OpenText Magellan, Analance, and Domo are alternative competitor program solutions for DataHero.
6. Ke Labs
Ke Labs was established in 2010 and is a US-based software organization that offers information center software. The Info Center provides support for business hours. Training by documentation, webinars, and online live are offered through the Information Center. SaaS and Windows applications are the information center software suite. The Information Center is the software that involves teamwork, data purification, no code sandboxes, data mixing, data extraction, data visualization, volume, predictive analyzes, or models. The information center includes data collection software. DataHero, OpenText Magellan, and Domo are some of the competitor tech products for the Information Center.
7. Qlik
Qlik is a software business in Sweden and is offering Qlik Sense software. Qlik Sense is big data software with the features of data source integration, interactive dashboards, and visual analysis, among others. Qlik Sense is available as SaaS software with respect to device requirements. Qlik Sense also has Domo, OpenText Magellan, and A7 IoB as alternative products.
8. ISN Software
In 2001 ISN Software is a U.S. software business that offers an ISNetworld software title. ISNetworld provides training through documentation, webinars, live online, and in person. Includes features like contractor's databases, insurance tracking, license tracking, and hour work tracking. ISNetworld is compliance software. ISNetworld is available as SaaS, Android, iPhone, and iPad software with respect to system requirements. ISNetworld provides alternatives such asDonesafe, Beakon, and HIS.
9. Statwing
Statwing is a U.S. software firm that was established in 2012 with the name Statwing. Software title. Statwing offers documentation training and lives online. Statwing offers a test free of charge. Statwing is a software of statistical analysis that involves functions like analysis, forecasting, multivariate analysis, analysis of regression, time series, visualization, file storage, the discovery of correlations, compliance monitoring, and statistical simulation. Statwing is available as SaaS software with respect to system requirements.
10. Bair Software
Bair Software is an enterprise of software and provides an ATAC Workstation software word. Training can be provided via documentation, live online, and in-person by ATAC Workstation. ATAC Workstation is a software for statistical analysis, with features such as analysis, forecasting, file storage, discovery associations, compliance monitoring, and statistical simulation. ATAC Workstation is available as Windows software with respect to system specifications.
Recommended Articles
This is a guide to SPSS Alternative. Here we discuss the various alternatives to SPSS. You can choose any of them based on your requirements. You may also have a look at the following articles to learn more –