Updated November 21, 2023
Introduction to Soil Pollution
"The earth does not belong to us; we belong to the earth." – Chief Seattle.
The words of Chief Seattle, a Native American leader, echo through time, reminding us of our profound connection to the land we inhabit. However, in an era marked by relentless industrialization and rapid urbanization, the very soil beneath our feet, the foundation of life itself, is under siege. Soil pollution, a silent and insidious enemy, threatens the environment and future generations' health and well-being. To put this issue in perspective, consider this alarming statistic: every year, an estimated 24 billion tons of fertile soil, equivalent to over 3 tons for every person on the planet, is lost due to pollution and degradation. This silent crisis deserves our immediate attention and concerted action. This essay will explore the causes, effects, and potential solutions to soil pollution, a challenge that demands our commitment to preserving the fragile equilibrium of our shared home – Earth.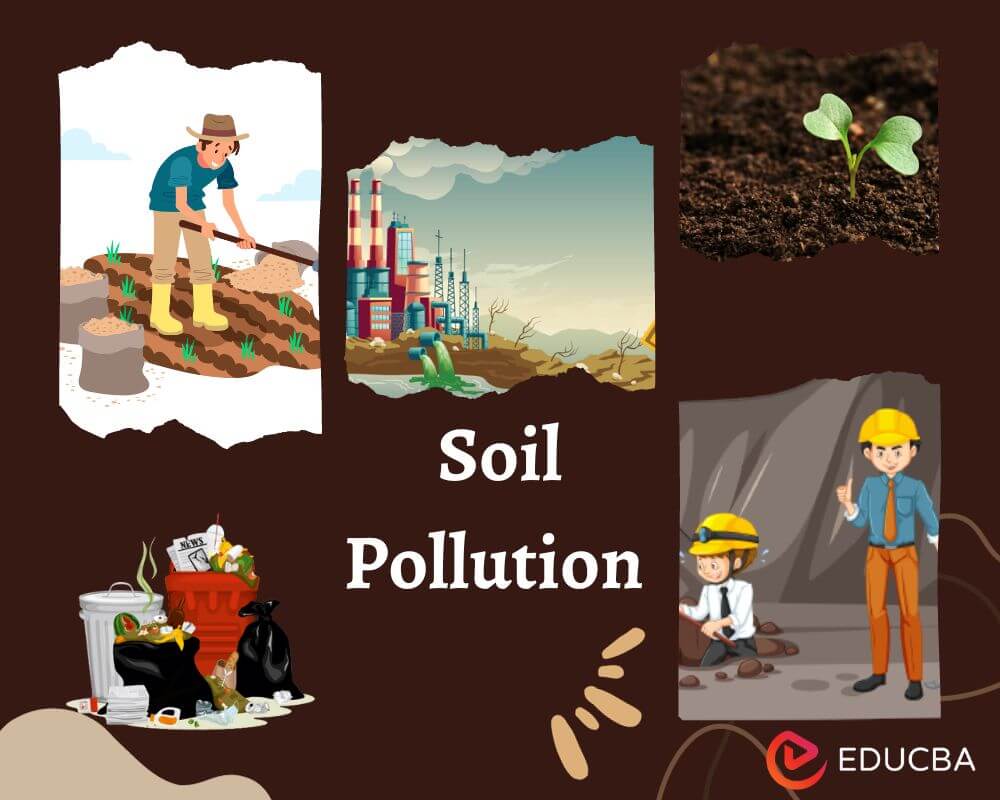 Causes of Soil Pollution
Soil pollution results from various human activities and natural processes that introduce harmful substances into the soil, disrupting its composition and compromising its quality. Understanding these causes is crucial in devising effective strategies to combat soil pollution. Here are some of the primary causes:
1. Industrial Activities
Industries are significant contributors to soil pollution. Chemical factories, manufacturing plants, and processing industries often release hazardous chemicals and pollutants directly into the soil or nearby water bodies. These substances include heavy metals, solvents, and toxic byproducts, which can contaminate the soil and disrupt its natural balance.
2. Agricultural Practices
While essential for feeding the growing global population, modern agricultural practices often involve using pesticides, herbicides, and chemical fertilizers. These agrochemicals seep into the soil when used excessively or improperly, leading to contamination. Moreover, monoculture, improper irrigation, and overuse of pesticides can degrade soil quality over time.
3. Improper Waste Disposal
Inadequate disposal of various types of waste, such as household, industrial, and electronic, can introduce harmful substances into the soil. Landfills, if not properly designed and managed, can leak toxic chemicals into the surrounding soil, contaminating it for years. Dumping of hazardous waste illegally exacerbates the issue.
4. Mining and Construction Activities
Mining operations and large-scale construction projects often involve excavation, which exposes underlying soil layers. Chemicals and heavy metals in the soil can be released during these activities, contaminating the surrounding land. Improper handling of mining byproducts, such as tailings, can also lead to soil pollution.
5. Deforestation and Soil Erosion
Deforestation disrupts the natural vegetation cover, leading to soil erosion. When the topsoil, rich in nutrients, is eroded away, the soil lacks fertility. Soil erosion is exacerbated by poor agricultural practices and construction activities, leaving the land barren and susceptible to pollution.
6. Accidental Spills and Leaks
Accidental spills of hazardous substances, such as oil, chemicals, or sewage, can lead to immediate soil pollution. These incidents often occur during transportation or storage of toxic materials and can have severe and lasting effects on the soil and surrounding ecosystems.
7. Atmospheric Deposition
Airborne pollutants, including heavy metals, pesticides, and industrial emissions, can settle onto the soil through precipitation (acid rain) or atmospheric dust. Over time, these pollutants accumulate in the soil, affecting its quality and fertility.
Effects of Soil Pollution
Soil pollution has profound implications beyond just the ground under our feet. It impacts ecosystems, biodiversity, human health, and the economy in various ways. Here are some of the primary effects of soil pollution:
1. Environmental Consequences
Loss of Biodiversity: Soil pollution disrupts the delicate balance of ecosystems, leading to a decline in biodiversity. Many plants, animals, and microorganisms depend on healthy soil for survival. When the soil is contaminated, these species suffer; some may even become endangered or extinct.
Habitat Destruction: Pollution can make certain areas uninhabitable for various organisms, reducing available habitats and contributing to habitat destruction.
Soil Degradation: Soil pollution depletes the fertility and structure of the soil, making it less suitable for plant growth. This can result in soil degradation and desertification, turning once-arable land into barren wastelands.
2. Human Health Implications
Contaminated Food Supply: Plants can absorb soil pollutants and enter the food chain. Humans may be exposed to dangerous elements such as heavy metals and organic pollutants when they consume crops cultivated in polluted soil, which can cause cancer, developmental defects, and organ damage.
Direct Exposure: People can contact contaminated soil directly, especially in high pollution levels. This can result in skin disorders, respiratory issues, and other health problems.
Water Contamination: When contaminants seep through the soil into underground aquifers, they can contaminate groundwater. This contaminated groundwater could be a source of drinking water, putting human health at risk.
3. Economic Impact
Agricultural Decline: Soil pollution can significantly reduce agricultural productivity. Crops grown in contaminated soil yield lower quantities and lower-quality produce. This can result in economic losses for farmers and food shortages in impacted areas.
Property Values: Contaminated soil can reduce property values, making it difficult for landowners to sell or develop their land. It can also lead to increased costs for land remediation and legal liabilities.
Cleanup Costs: The costs associated with cleaning up polluted soil, especially at industrial and waste disposal sites, can be substantial. Taxpayers or private entities often fund these cleanup efforts.
Case Studies
The following case studies illustrate the diverse nature of soil pollution incidents and the impact they have on ecosystems, communities, and economies:
1. Love Canal, USA (1978)
Background: Love Canal, located in Niagara Falls, New York, gained international attention when it was discovered that a residential neighborhood had been built on top of a former chemical waste disposal site.
Cause: The Hooker Chemical Company had disposed of toxic waste in the canal, which led to soil and groundwater contamination.
Effects: Residents had serious health problems, including birth abnormalities and cancer. The disaster spurred the United States to enact the Comprehensive Environmental Response, Compensation, and Liability Act (CERCLA).
2. Bhopal, India (1984)
Background: The main cause of the Bhopal disaster was the release of methyl isocyanate gas from a Union Carbide pesticide plant.
Cause: Chemicals released during the gas leak contaminated the soil in and around the plant site.
Effects: The soil remained polluted with heavy metals and other toxic substances, affecting agricultural productivity and posing ongoing health risks for local communities.
3. Minamata, Japan (1950s-1960s)
Background: Industrial wastewater containing mercury was discharged into Minamata Bay by the Chisso Corporation.
Cause: The mercury in the water accumulates in the sediment, contaminating marine life and subsequently affecting the soil in the surrounding areas.
Effects: Consumption of contaminated fish led to severe health issues, known as Minamata disease, including neurological damage and birth defects.
4. Chernobyl, Ukraine (1986)
Background: The Chernobyl nuclear disaster released radioactive materials into the environment.
Cause: The incident led to widespread soil contamination with radioactive isotopes, including cesium-137 and strontium-90.
Effects: Contaminated soil in the exclusion zone limits agricultural activities and poses ongoing risks to human health.
5. Guanajuato, Mexico (2006)
Background: Lead-acid battery recycling plants in Guanajuato released lead and other pollutants into the air and soil.
Cause: Improper disposal and handling of lead-acid batteries led to soil contamination in residential areas.
Effects: Elevated blood lead levels were found in children, leading to neurological and developmental issues. The incident prompted regulatory actions and cleanup efforts.
Pollutants Contaminating the Soil
Here are some common pollutants that contaminate the soil:
1. Heavy Metals
Sources: Industrial discharges, mining activities, and improper electronic waste disposal contribute to heavy metal contamination. Common heavy metals include lead, mercury, cadmium, and arsenic.
Effects: Heavy metals can accumulate in the soil, threatening plant and microbial life. They can also leach into groundwater, leading to potential human exposure and health risks.
2. Pesticides and Herbicides
Sources: Agricultural practices often involve the excessive use of pesticides and herbicides, which can result in these chemicals entering the soil due to improper application.
Effects: Pesticides and herbicides can persist in the soil, affecting non-target organisms, disrupting ecosystems, and potentially entering the food chain, posing risks to human health.
3. Industrial Chemicals
Sources: Industrial activities release many environmental chemicals, including solvents, heavy industrial metals, and organic compounds.
Effects: Industrial pollutants can contaminate the soil, affecting soil structure and microbial activity. Persistent organic pollutants (POPs) can bioaccumulate in organisms, posing long-term ecological and human health risks.
4. Petroleum Hydrocarbons
Sources: Oil spills, leaking underground storage tanks, and improper disposal of petroleum products contribute to soil contamination with hydrocarbons.
Effects: Petroleum hydrocarbons can alter soil structure and hinder microbial activity. In severe cases, they can contaminate groundwater, posing risks to ecosystems and human health.
5. Radioactive Substances
Sources: Nuclear accidents, industrial activities involving radioactive materials, and improper disposal of radioactive waste contribute to soil contamination with radioactive substances.
Effects: Radioactive pollutants can persist in the soil for extended periods, leading to long-term environmental and human health risks. Contaminated areas may be restricted for agricultural use.
6. Agricultural Runoff
Sources: Excess fertilizer use and runoff from agricultural fields can introduce nutrients such as nitrogen and phosphorus into the soil.
Effects: While essential for plant growth, excessive nutrients can lead to soil degradation, nutrient imbalances, and water pollution. This phenomenon is often associated with eutrophication in water bodies.
7. Plastic and Microplastics
Sources: Improper disposal of plastic waste and the breakdown of larger plastic items contribute to soil contamination with microplastics.
Effects: Microplastics can accumulate in the soil, affecting soil structure and potentially entering the food chain. The long-term effects of microplastic contamination are still being studied.
Solutions to Soil Pollution
Here are some effective strategies to mitigate and prevent soil pollution:
Sustainable Agricultural Practices: Encourage the adoption of organic farming methods that minimize synthetic fertilizers and pesticides. This promotes soil health and biodiversity. Implement crop rotation and diversification strategies to maintain soil fertility, reduce reliance on chemical inputs, and prevent the buildup of pests and diseases.
Responsible Waste Management: Promote recycling programs for household, industrial, and electronic waste to prevent the improper disposal of hazardous materials. Improve landfill design and management practices to minimize the leaching of pollutants into the soil. Encourage the use of modern landfill technologies, such as liners and leachate collection systems.
Contaminated Site Remediation: Utilize biological processes to clean up contaminated soil through bioremediation. Microorganisms can be introduced to break down or neutralize pollutants, restoring soil quality. Use plants to absorb, accumulate, or transform contaminants in the soil through phytoremediation. Certain plant species can extract and retain contaminants, aiding soil remediation.
Regulation and Enforcement: Implement and enforce stringent regulations on industrial discharges, waste disposal, and the use of agrochemicals. Penalties for non-compliance should act as deterrents to irresponsible practices. Implement effective land-use planning to prevent incompatible activities in areas vulnerable to soil pollution. Establish buffer zones between industrial sites and residential areas.
Education and Awareness: Raise awareness about the impacts of soil pollution through public awareness campaigns. Inform communities about proper waste disposal, sustainable agriculture, and the importance of soil conservation. Provide training and support for farmers to adopt sustainable and environmentally friendly agricultural practices, reducing reliance on harmful chemicals.
Sustainable Land Management: Planting trees helps prevent soil erosion, enhances soil structure, and contributes to the absorption of pollutants through afforestation and reforestation. Implement erosion control measures such as terracing, cover cropping, and contour plowing to minimize soil erosion and degradation.
Research and Monitoring: Regularly test soil quality and pollution levels to identify potential issues early through soil testing and monitoring. Implement systems for continuous monitoring, especially in areas with a history of contamination. Invest in research to develop innovative technologies and approaches for soil remediation. Support the development of sustainable alternatives to current agricultural and industrial practices through research and innovation.
Measures Taken by Governments
Governments worldwide have recognized the urgency of addressing soil pollution and have implemented various measures to mitigate its impact. These proactive steps include:
Environmental Legislation: Governments enact and enforce stringent environmental laws regulating industrial emissions, waste disposal, and agrochemical use to prevent soil pollution at its sources.
Soil Monitoring Programs: Governments institute soil monitoring programs to assess pollution levels, identify contaminated areas, and implement targeted remediation efforts.
Sustainable Agriculture Initiatives: Promoting sustainable agricultural practices, governments encourage farmers to adopt organic farming, agroecological methods, and precision farming to minimize the use of chemical inputs.
Waste Management Regulations: Implementing comprehensive waste management regulations ensures proper disposal of hazardous waste, reducing the risk of soil contamination from landfills and illegal dumping.
Brownfield Redevelopment Programs: Governments initiate programs to rehabilitate contaminated sites (brownfields), promoting their safe reuse after thorough remediation.
Research and Innovation Funding: Governments support the development of new technologies for soil remediation and sustainable land management practices by investing in research and innovation.
Public Awareness Campaigns: Governments conduct public awareness campaigns to educate citizens about the impact of soil pollution and promote responsible waste disposal and sustainable lifestyle choices.
International Collaboration: Participating in international agreements and collaborations, governments work collectively to address cross-border soil pollution issues, sharing best practices and resources.
Conclusion
Soil pollution is a serious threat to the delicate balance of our environment and significantly impacts biodiversity, water quality, and climate resilience. Urgent action is necessary to recognize its pervasive effects on ecosystems and human health. We can protect the vitality of our soil through sustainable agricultural practices, responsible waste management, and strict regulations. Preserving this foundational resource is an environmental necessity and a collective responsibility for a sustainable future.
Recommended Articles
We hope that this EDUCBA information on "Soil Pollution Essay" was beneficial to you. You can view EDUCBA's recommended articles for more information.