Introduction to Social Media Marketing Tools
Social media marketing tools are essential for success in social media, from content creation to organization. Global social media usage has been growing significantly over the past ten years, and by 2025, it may reach about 5.85 billion users. Popular social networks like Facebook, Instagram, LinkedIn, and Twitter have changed how individuals live. The present generation communicates, shares, content, and uses the internet for extended periods.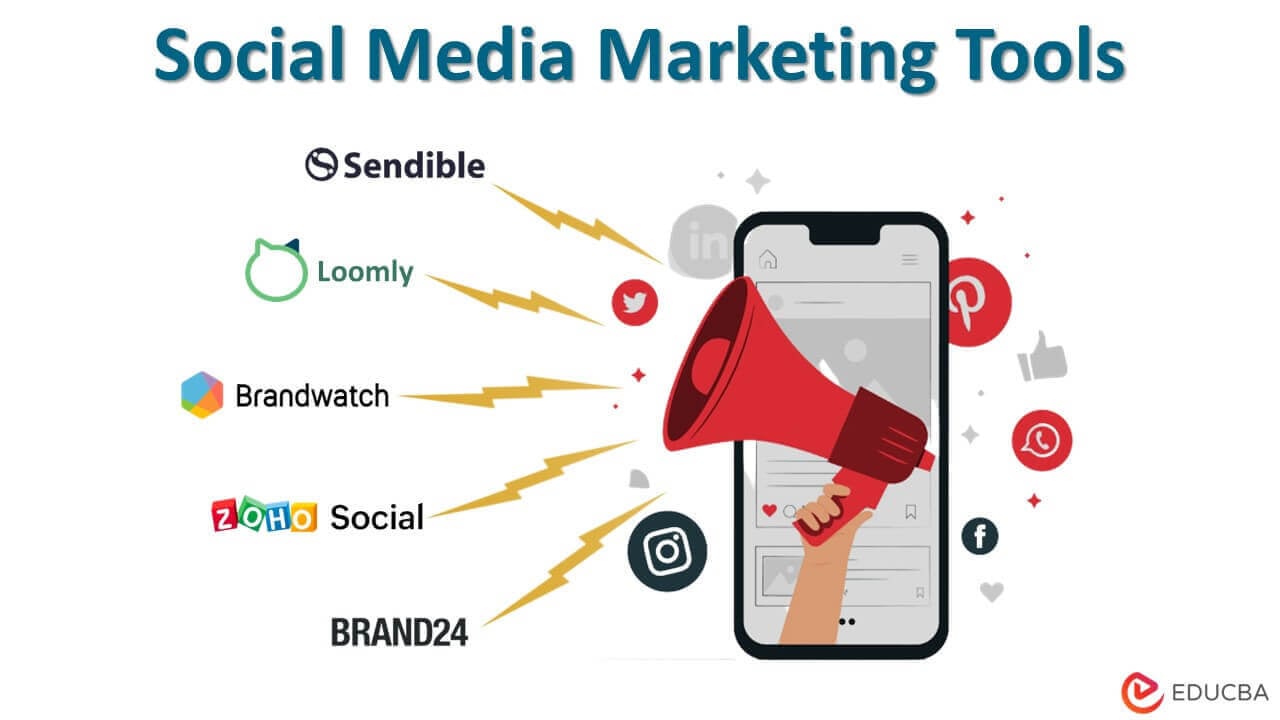 Key Highlights
There are already over 200 major social media websites, making it difficult for businesses to keep up an active profile on each of the more popular ones.
The job is tough even if they limit themselves to the five most popular social media sites.
Because of this, many businesses and organizations rely on social media marketing channels.
One can make social media marketing more productive and lucrative with the help of the tools without having to give up their personal life in the process.
Top Social Media Marketing Tools for 2023
Given below are the top social media marketing tools for 2023:
1. Sendible
Sendible is a social media management platform featuring a variety of essential features for managing social media campaigns.
It can increase communication by facilitating better collaboration during the scheduling and approval of content.
Sendible provides about 20 connectors with strong social media networks, blogs, forums, and Slack.
The user interface is straightforward. Additionally, it includes a content library and access to Canva.
Pricing: Micro plans for solopreneurs with 12 services and one user start at $29 per month. $89/month for startup agencies & brands, $199 Scale Plan for growing agencies and brands.
2. Loomly
Loomly integrates with various social media management applications, including Slack and Microsoft Teams, which is a benefit.
Loomly is a fantastic option because it focuses heavily on team management, and its end-to-end post and ad history ensure that every team member is on the same page.
It contains capabilities such as a shared asset library, hashtag manager, and automatically generated post and ad previews to facilitate brand and content management.
Pricing: Starting at $25 monthly for ten social profiles and two team members.
3. Brandwatch
Brandwatch is a cloud-based social media marketing tool. It provides a 14-day free trial of its Essentials plan and recommends that larger organizations with many teams and markets seek a demonstration of the Full suite.
It provides weekly training sessions, in-app chat, email, and telephone support.
Brandwatch offers specialized assistance for your everyday routines and social media strategy.
Pricing: Starts at $129 per month for one user and five social profiles.
4. Zoho Social
Zoho Social is a comprehensive platform for managing social media for businesses and agencies. It makes it easier to schedule posts, keep track of mentions, create custom dashboards, and do other things.
Zoho Social comes from Zoho.com, which has more than 40 different products that more than 40 million people trust.
It has robust features, such as the Bulk Scheduler, Publishing Calendar, and Repeat Post, to give all the tools that need to publish on social media for the business.
Pricing: Start at $999 annually and vary based on the plan chosen.
5. Brand24
Brand24 is a social media monitoring tool that helps companies find and examine online discussions about their products, brands, and rivals.
Brand24 provides tools that record about their companies, get customer insights, engage communities, find potential customers, enhance social customer care, get in touch with influencers, and keep an eye on their rivals.
It's a reliable and reasonably priced media monitoring tool that can be used for managing online reputation, tracking and evaluating marketing efforts, monitoring competitors, getting customer feedback, social selling, and more.
Pricing: 14 free trials are available, with monthly fees of $39 for a single user, $99 for a team, $149 for professional use, and $249 for enterprises.
6. VistaCreate
In a matter of minutes, one can make social media graphics that appear like they were designed by a professional using VistaCreate, an online graphic and video creation tool.
One of the tool's most prominent features is the extensive collection of modern-looking templates available in VistaCreate.
You can browse the templates by format (Instagram Story, Facebook Post, Pinterest Graphic, etc.) or topic (social media).
Pricing: The Starter plan of VistaCreate is complimentary, while the pro plans start at $10 per month.
7. QRTiger
To develop QR codes with cutting-edge features and seamless software interaction, many different businesses and organizations use QRTIGER. Their main objective is to assist companies in developing low-cost but successful QR Code-based marketing strategies.
This top-notch QR code application administers, monitors, and carries out QR code campaigns for the link, file, and data sharing. The generator creates QR codes in quantity. Other high-functioning tools that streamline and lighten the workload include a campaign tracker, Canva integration, and others.
Even beginners will find it incredibly simple to use because of its user-friendly interface on both the web and mobile versions.
Pricing: Starts at $7/month and includes 12 dynamic QR codes, canva integration, and software integration API queries. Their yearly plans offer $7 savings and more powerful features.
Final Thoughts
Social media marketing platforms benefit businesses in various ways, but it's not just about tools. Having many tools in your marketing strategy does not guarantee success. A solid social media marketing approach is most necessary for success. Social media has a significant impact on the marketing of any brand or product. Use the best social media management applications to make the right move. The finest social media marketing tools enable you to gain deeper insights into your social marketing efforts, identify their strengths and weaknesses, and optimize your workflow without breaking a sweat!
Frequently Asked Questions (FAQs)
Given below are the FAQs mentioned:
Q1. Is social media marketing tools worth the price?
Answer: The best part is that the investment frequently pays off. Since so many people use social media, businesses may only reach the audiences they can get. The majority of social media sites still have relatively affordable advertising rates.
Q2. What makes an SMM Tool Useful?
Answer: Because their audience demands comfort and ease in viewing unrelated content, businesses, too, want to play the online game. Nowadays, brands have numerous online presences because they know they will cost opportunities. Companies and brands must be present online. Or they will need to learn what their rivals are doing and catch up in the marketing department.
Q3. How to improve marketing using Social Media Tools?
Answer: Being authentic to your brand and demonstrating its true nature, relevance, and value to followers is essential in social media marketing. Digital marketing optimization is vital for expansion and lead generation, how a brand will interact with consumers in the digital space to keep up with the marketing trends.
Recommended Articles
This article guides you about the best Social Media Marketing tools in 2023. There is much more to learn about social media marketing; you can refer to these articles for the same –