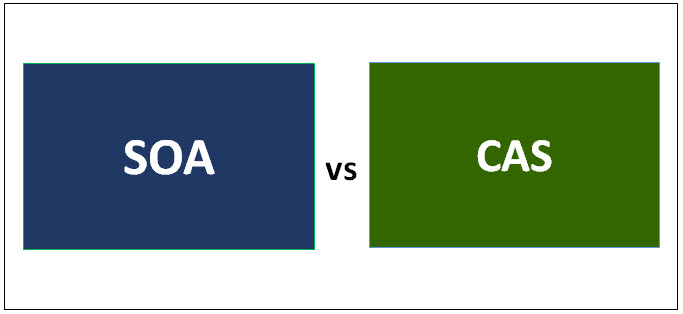 Difference Between SOA and CAS
Casualty Actuarial Society (CAS) and the Society of Actuaries (SOA) are professional organizations for actuaries and actuarial sciences. SOA has from all times been the dominant society for all career tracks related to actuarial sciences other than those related to Casualty and Property. The careers include those such as life insurance, health benefits, and pensions. CAS has always been the dominant society for those in Casualty and Property. The main presence is shown to be in the USA and Canada with limited presence in other parts of the world.
Let us study much more about CAS vs SOA in detail:
Casualty actuaries and property pursue their credentials through CAS, all other kinds of actuaries pursue their credentials through SOA. The basic preliminary examinations for such as P, FM, and MFE are administered by SOA and credit is honored by CAS. As many actuarial aspirants are always in the dilemma of choosing between both SOA vs CAS, we aim to provide you with a better understanding of SOA vs CAS by providing relevant differences among them.
SOA has been recently seen to expand in non-traditional areas and domains too such as risk management and also into Property and Casualty. This current part has contributed to much friction between CAS vs SOA societies.
 The choice-making between SOA and CAS depends on what you wish to do and what you are doing right now. It is evident and most probable that unless you are working in some company till then you won't be able to decide which path to choose. If they work in a P&C company, then most likely they would choose a CAS path.
If the candidate lands up with a job with some company of an insurance domain, then most likely he/she would choose SOA as their career path. The first 3 basic preliminary exams between SOA and CAS overlap with each other so it becomes a win-win situation if you plan to start your actuarial journey. If you are a student who is more into mathematics, particularly statistics then CAS is the way to go. If life contingency kind of courses of actuarial, then SOA is something you should go for.
Both CAS vs SOA provide a difference in the exam process, type of work and salary type. SOA, on one hand, provides standards and regulations for actuaries that work in health, life, pensions, and retirement. CAS exams aim to provide information related to P&C content. Since CAS is responsible only for P&C actuaries, there is just one track of exams i.e. everyone who becomes a fellow of CAS or FCAS had to take the exams.
Head To Head Comparison Between SOA and CAS (Infographics)
Below is the top 6 difference between SOA vs CAS

Key differences between SOA and CAS
Both are popular choices in the market; let us discuss some of the major difference:
They both SOA or CAS support actuaries in their own way. CAS, on one hand, provides regulations and standards for all the candidates related to property and casualty insurance whereas SOA does the same for all those actuaries that work in areas related to health, life, retirement, and pensions.
As far as exams are concerned, the CAS exams aim to teach all those concepts which the P&C actuaries need to know whereas SOA exams aim to teach you concepts related to health, pension, retirement and life which the actuaries need to know.
As far as the parameter related to salary is concerned, the salaries of all those with P&C are comparatively higher than the ones otherwise. This can also be inferred that the insurance companies domain related companies pay their actuaries slightly better than their counterparts. It may be due to more demand of the P&C candidates or something else, the cause is unknown.
If you talk about work-related differences, the biggest difference will be with the kind of insurance products you would be dealing with. CAS actuaries will be working with house insurance, personal insurance, and vehicle insurance whereas SOA actuaries will be dealing with health insurance, retirement benefits or health insurance.
Whether you choose SOA or CAS, there are 3 exams that need to be cleared before getting exam credits, therefore path choosing will be done in the 4th step. If you are based out of US, then clearing only 3 sets of exams will be enough for you to land into a handsome job where you can choose wisely and take a more informed decision. The choice of your career is majorly governed by the kind of your first job.
SOA vs CAS Comparison Table
Below is the topmost comparison between SOA vs CAS
The basis of comparison 

SOA

CAS

Industry-wise
Related to life, pensions, health, and retirement
Property and Casualty insurance
Exam process
Has 6 different tracks:

Corporate Finance and ERM track
Quantitative finance and investment track
Individual life and annuities track
Group and Health Track
Retirement Benefits track
General insurance track

CAS on FCAS, on the other hand, is only responsible for all P&C actuaries with just one track of exams.
Salary wise
The ones lying in this category comparatively have a higher salary than the ones with CAS
The ones related to CAS have a comparatively lower salary bracket.
Work differences
Life insurance, retirement benefits, and health insurance are the ones with which you will deal generally.
House insurance, personal insurance, vehicle insurance etc. are the common kinds you will be dealing with
Choice of course
This course can be your choice if you land into a job with a P&C domain insurance company
If you are dealing with all other kinds of insurances and other domains then this is the perfect domain for you.
Type of courses
More inclination towards life contingency kind of courses
More inclination towards statistics
Conclusion
Both the tracks, SOA vs CAS are good in their own genre and domains. Choosing the right track can be a tough task but as explained in the article above, it is just a matter of the interest and the job that you work for will define and determine the course of your actions ahead. Stay tuned to our blog for more articles like these.
Recommended Articles
This has a been a guide to the top difference between SOA vs CAS. Here we also discuss the key differences with infographics, and comparison table. You may also have a look at the following articles to learn more