Updated July 25, 2023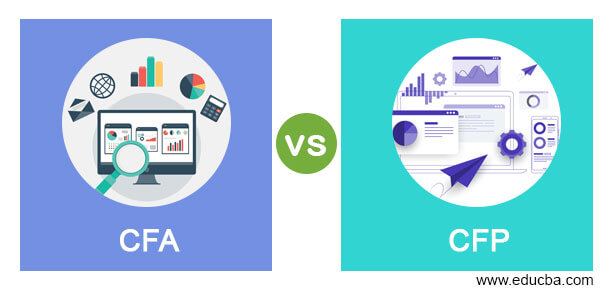 Difference Between CFA vs CFP
Chartered Financial Analyst (CFA) and Chartered Financial Planner (CFP) are both prestigious certifications in their respective fields. If you want a kick start in the finance industry, you must be confused between these two exams. Both of these exams are gateways in the field of finance. However, CFA and CFP are unique in their own ways. As both of these require a lot of time, money, and energy, before selecting one, thoroughly examine both of these exams and decide what suits you best.
Head To Head Differences Between CFA vs CFP (Infographics)
Below are the top 12 differences between CFA vs CFP:

Key Differences Between CFA vs CFP
Let us discuss some of the major key differences between CFA vs CFP:
CFP targets individuals as their clients to meet their financial goals for the long term. e.g., Education for the child, buying a house. CFA targets wealth management and financial planning for huge organizations like JP Morgan, Deutsche Bank, HSBC, Citigroup, Bank of America, etc.
The CFA focuses on investment management skills which are required on a global level. CFA works with corporate clients, while a CFP works at an individual level. Candidates acquire real-world portfolios and advanced investment management skills through participating in the CFA Institute program. CFA is directly involved with trading assets -commodities, currencies, and derivatives. The CFP manages an investment portfolio for a particular client. CFP often outsources trading; CFP has little knowledge about everything.
The 10 topics covered in the CFA program are Ethical and professional standards, quantitative methods, economics, financial reporting and analysis, corporate finance, equity investments, fixed income, derivatives, Alternative Investment, and portfolio management. A few main topics covered in CFP are Risk analysis and insurance planning, tax and estate planning, investment planning, retirement planning, and employee benefits. Both of the certifications put a greater emphasis on ethics.
There are three levels to clear in CFA, along with 4 years of qualifying experience and annual membership renewal before getting a chartered certification. The experience can be completed before, during, or after the CFA Program. Level 1 is organized by CFA Institute in June and December every year, whereas level 2,3 only in June. CFP consists of just one level with 3 years of professional experience.
CFA is considered one of the most difficult exams in the finance sector. Getting a CFA degree is the same as a post-graduation in the finance and investing sectors. Comparatively CFP exam is easy to clear.
CFA Institute, US, organizes the CFA examination. CFA is a global-level designation. It also has offices in Europe and Asia. CFP Board, US organizes CFP examination. CFP Board is a non-profit organization
The duration of the exam for CFA is 6 hrs per level. 3hrs papers in the morning and the remaining 3 hrs in the afternoon. Conducted in a single day. CFP, on the other hand, is 10 hrs conducted in two day of interval. The CFP exam consists of 170 multiple choice questions conducted in two hrs three sessions. According to the CFA Institute, 300 hrs study is required to clear every level. That is 900 of the study to clear the entire three exams. To earn a CFA designation, you need 2.5-3 years, and for CFP, 1 year.
The passing percentage of the CFA exam is comparatively very low. The percentage of people who get cleared varies along the three levels; around 45 percent is the average. CFP, on the other hand, has a passing percentage of around 70 percent. For June 2019, the passing percentage is level 1=41 percentage, level 2=44 percentage, and level 3=56. That simply means 50 percent of people who take their exams do not clear on their first attempt. For 2018 CFP pass rate was 60 percent. If you don't clear CFP on the first attempt, you have a lifetime of five attempts. Unlike CFA, you can retake the exam quickly, where you have to wait till June.
CFA institute charges fees between $700 to $1,000 for all three levels assuming you clear the first time. The fee structure varies in three parts depending upon if you pay early, mediate, or late. CFA Institute also sends study material of 4000-5000 pages along with three mocks and practice questions on its official site when you log in. Early or regular CFP fee structure varies between $825 to $1,025, depending upon the registration time.
A CFA can take some career paths, but they focus more on research and investment analysis. Titles in the future for CFA holders would be maximum(23 percent) for portfolio managers, Research analysts (16 percent), Consultants and executives (7 percent each), Risk managers and Financial analysts (6 percent each), Financial advisors and relationship manager (5 percent each). This no's are according to a survey conducted. For CFP, employment could be as a financial manager, risk manager, retirement planner, or estate planner. CFPs can start their financial planning firm. They can work for a retail bank or a brokerage firm.
A candidate should have a bachelor's degree or a higher degree with work experience, and a passport is compulsory for an exam for the CFA exam. For CFP, it should be necessary to do a 10+2 degree. The benefits of pursuing a CFA are real-world expertise, ethical grounding, in-depth knowledge, global community, and global recognition. Doing CFP when you don't want to invest much money and get knowledge of all the fields.
CFA vs CFP Comparison Table
Let's discuss the top comparison between CFA vs CFP:
Basis of Comparison
CFA
CFP
Targeted Clients
Group of people.
Individual clients on a personal level.
Focus
Large firms, corporations, banks, mutual funds, etc.
Create financial plans for investors.
Topics Covered
10 subjects, Mainly portfolio management, statistical analysis, corporate finance, equity economics, etc
Wealth management, insurance, education planning, tax planning, estate management, etc
No of Levels
3
1
Difficulty Level
Difficult
Comparatively easy
Organized by
CFA institute
CFP Board
Duration of Exam 

   (Sessions- 2)

Level 1- Each session 2hrs 15mins

Level 2- Each session 2hrs 12mins

Level 3 – Each session 2hrs 12mins

7 hrs exam
Passing Percentage
About 45 percent.
About 70 percentage
Fees

Registration Fees – $900 to $1200
Enrollment Fee- $350
Rescheduling Fee- $250

Early Bird- $825
Standard – $925
Late Registration -$1025

Job Opportunity
Varies from a portfolio manager, consultant, investment banking analyst, trader, strategist, risk analyst, research analyst, relationship manager, etc.
Varies from estate planner, savings, retirement planner, financial manager, wealth advisor, branch manager, research associate, etc.
Requirements Before Registering for the Exam.
Bachelor's degree and a passport.
10+2 from any college
Site Link
Cfainstitute.org
Cfp.net/
Conclusion
In choosing any career path, you must ask yourself where you see yourself down the line. What kind of work do you want to perform, where do you want to work, and match according to the requirements? Both of these professions have ample opportunities in the future.
Recommended Articles
This is a guide to CFA vs CFP. Here we discuss the CFA vs CFP key differences with infographics and the comparison table. You can also go through our other suggested articles to learn more –