Updated October 11, 2023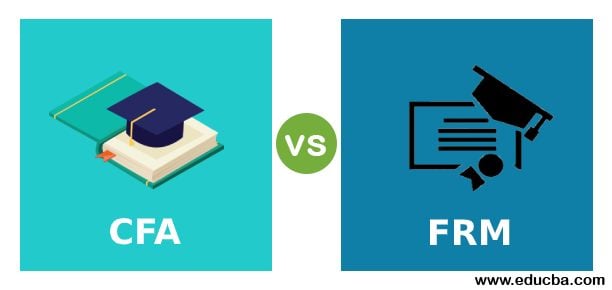 What is CFA vs FRM
CFA
The Chartered Financial Analyst (CFA) is the most respected investment credential in the world, and the CFA Institute offers it. The curriculum, format of examination, evaluation, and awarding of the charter are performed by the CFA Institute.
Candidates who fulfill all the terms and complete the program will be awarded the CFA charter and becomes CFA charter holder. The charter is known as the Gold Standard of the investment world.
FRM
The Financial Risk Manager (FRM) is a professional designation awarded by the Global Association of Risk Professionals (GARP) to the candidates who complete this certification program. It is a globally recognized standard for those who manage risk.
With the rapid changes in the finance industry worldwide, there is a need for professionals who manage risk, money, and investment to obtain globally standardized, up-to-date knowledge, and FRM aims to fill that gap.
Requirements CFA vs FRM
CFA
To Enroll for CFA level 1, the candidate should
Have a bachelor's (or equivalent) degree.

Or be in the final year of the bachelor's degree program at the time of registration.
Have four years of professional work experience (does not have to be investment-related).
Or have professional work and college experience that totals at least four years. Part-time, summer, or internship work experience is not allowed.

Be a member of the CFA Institute.
Adhere to the CFA Institute Code of Ethics and Standards of Professional Conduct
Apply for membership to a local CFA member society and
Complete the CFA Program.
FRM
There are no educational or professional requirements to appear for the FRM Exam. It is a practice-oriented examination in two parts; questions are designed to relate theory to practical, real-world problems.
To become a Certified FRM after passing the FRM Exam Part 1 & 2, candidates must demonstrate at least two years of risk-related full-time professional experience in positions including portfolio management, risk consulting, and other fields.
Focus
Courses vary from each other in the content and focus aspects,
CFA looks in and out into the finance world, whereas FRM looks into Risk Management aspects of finance.
The CFA program covers more on Portfolio management, Ethics, Valuation, etc., and FRM covers more about risk-related functions.
Some topics may be similar, like hedge funds, fixed income, statistics, etc.
Exam Details
CFA
The CFA Program includes a series of three-level exams wiz. Level 1, Level 2, and Level 3, each culminating in a six-hour written exam held in over 180 locations worldwide. To earn a CFA charter, one has to pass all three exams sequentially.
Level 1 exams are held in February, May, and August. Exams for Level 2 are held in May and August. Level 3 exams are held in February and August.
The minimum duration within which the program can be completed is 18 months or 24 months (depending upon the month of application for level 1) if the candidate clears every level in one go.
The minimum requirement for completing the CFA program can be two and a half years, but candidates can take their time to complete it.
The candidate can take the time needed to complete the CFA program. The exam results never expire, and there is no limit to the number of times one can sit for each exam level.
Exams are offered only in the English language.
FRM
The FRM exam is an offline exam and is a multiple-choice questions-based exam, and it is of two parts.
This exam is conducted in the English language twice a year. The months are May and November.
The duration for each part of the exam is four hours. Part 1 exam has 100 Multiple Choice Questions (MCQs), and Part 2 has 80 Multiple Choice Questions. Part 1 exam is conducted in the Morning session and Part 2 in the afternoon session—no negative marking for wrong answers.
The candidate must pass the Part 1 exam to have Part 2 graded.
Fees (CFA vs FRM) (Updated 2023)
CFA Exam Costs
FRM Exam Costs

Registration Fees – $900 to $1200
Enrollment Fee- $350
Rescheduling Fee- $250

Enrollment Fee- $400
Exam Fee – $600 to $800
CFA vs FRM – Job Opportunities
CFA
Roles which you will perform as a CFA charter holder:
Asset management roles, including:

Portfolio Managers
Fund Managers
Risk Managers
Financial advisers
Private bankers

Consultant
Corporate Financial Analyst
Research Analysts
Accountants
Chief Executives
Auditors
Investment Banking
Investment Management
Relationship Manager
FRM
The FRM certification provides varied career options in Risk Management, Trading, Structuring, Modeling, etc. FRM holders can have positions such as:
Chief Risk Officer
Senior Risk Analyst
Head of Operational Risk
Director
Investment Risk Management
Industries include:
Banks
Investment banks
Asset management firms
Corporations (including non-financial corporations)
Consulting firms
Hedge funds
Insurance firms
Credit agencies
Government/regulatory agencies
Risk and technology vendors
CFA vs FRM Table Summary
CFA

FRM

Controller

     GARP

Exam Levels

The CFA Program includes a series of three-level exams wiz: Level 1, Level 2, and Level 3, with Multiple Choice Questions and essay questions.
The FRM exam has two parts and multiple choice questions-based exams.

Fees

Registration Fees – $900 to $1200
Enrollment Fee- $350
Rescheduling Fee- $250

Enrollment Fee- $400
Exam Fee – $600 to $800

Exam Period

Level 1- February, May & August
Level 2- May & August
Level 3- May & August

Part 1 – May, August & November
Part 2 – May, August & November

Exam Availability
Only one exam is taken at a time.
You can take Part 1 and 2 together, but we will only grade Part 2 if you have passed Part 1.
Focus
Corporate Finance, Ethics, Economics, Fixed Income
Portfolio Management, Market Risk, Business Risk, Operational Risk
Time Required for the Course
The minimum duration for completing the exams is 1.5 years, to the limit of how candidates clear the levels.
Both exams can be taken in one day.
Career Objective
Investment Banking, Research, Analysis, etc.
Risk Management, Banking, Finance, etc.
Preparatory course by eduCBA
Yes, for Level 1
Yes, for Level 1
CFA vs FRM Infographics
Learn the juice of this article in just a single minute, CFA vs FRM Infographics.
Recommended Articles
Here are some articles that will help you get more details about the CFA vs FRM, so go through the link.