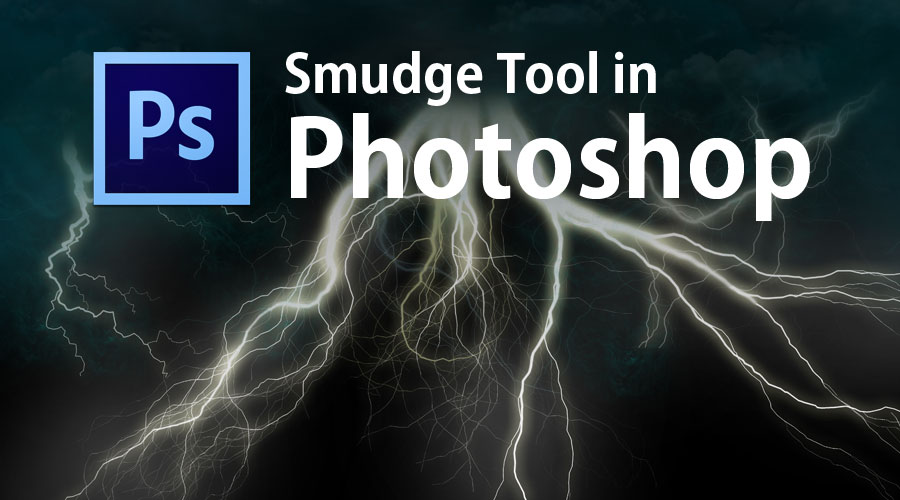 Smudge tool in Photoshop :
What is a Smudge tool and why was it ever invented for use in Photoshop which is so important till date? The true example for Smudge by its definition really means to cause something to become messily smeared by rubbing on to something such as ink or by using our dirty fingers across a surface.
In our course of history, the word smudge came from two separate darkroom incidents which are two different circumstances entirely.
In Photoshop, there's such a tool which is also known as a simulator that mainly helps us to blend all the colors together in that area of the image or our digital painting. Once the colors are blended together to bring forth a mixture of colors in a form of an effect just like the way we mix colors while painting on a canvas, this brings about a variation to build our painting. This tool what we use for this purpose is known as the "Smudge Tool". It's also very helpful when you want to remove dust and scratches on old photos. This can also be used to make a photo appear as a painting when used across the entire image.
The effect is similar like a finger painting which we can use by clicking on the tool's option and simultaneously on the canvas using the mouse and hitting the down button, thereafter dragging it towards us when we want to smudge it. The Smudge Tool in Photoshop has its way of picking up the color of the place at which you click. It then pushes that color through the rest of the stroke as you drag through the image. In a way, this tool can define its effect just like a warping effect i.e. something like the Warp tool in the Liquify dialog box.
At the beginning when we think of trying it out, it's best that we get into a small brush size and a smaller setting to help us learn slowly and steadily over a small area. Thus, this will lead us to understand its best uses to know how we should preserve its detail when necessary such as building up a matte painting to make it look like its blending with the surroundings. This way, we know for ourselves that we only paint over the areas what we intend to smudge not making too complex.
This tool, when worked around, feels like the pixels are pressed in their surrounding area which makes us feel like wet paint is used on it. This also comes in use soften the edges of an image when we tend to use the blur thus defining its natural form.
How to use the Smudge Tool?
Firstly to know and understand as to when and how we have to start using the smudge tool, we first make use of a small brush or a brush with its basic settings for smudging tiny areas, which can be its edges. While using these brushes, we have to make sure that we use them carefully because larger brushes can produce many different effects to the image.
Steps with Screenshots:
Before we start with the steps as to how we can use the smudge tool, we should understand as to how we can also start our work using the shortcuts which could help us deliver our work faster in a short timeframe.
First, we have to start by pressing the shortcut key (V) key on the keyboard which activates the Move tool. This tool helps us with navigating through our Photoshop options while we are going through various options.
The Move tool can also be found in the side Toolbar i.e. at the Top left-hand corner in the side Toolbar.
Thereafter we start our steps as to how we have to start using the Smudge Tool using these steps below:
For us to start using the Smudge Tool in Photoshop, first we go to the option by selecting the "Smudge Tool" from the toolbox and Tool Options Bar. We might first think why and where is the smudge tool or whether it's hidden somewhere. Well, the thing is that this tool is a combination or also a set of tools that are set within the Toolbox which is then broken into three parts i.e. the "Blur tool", "Sharpen tool" and the "Smudge tool".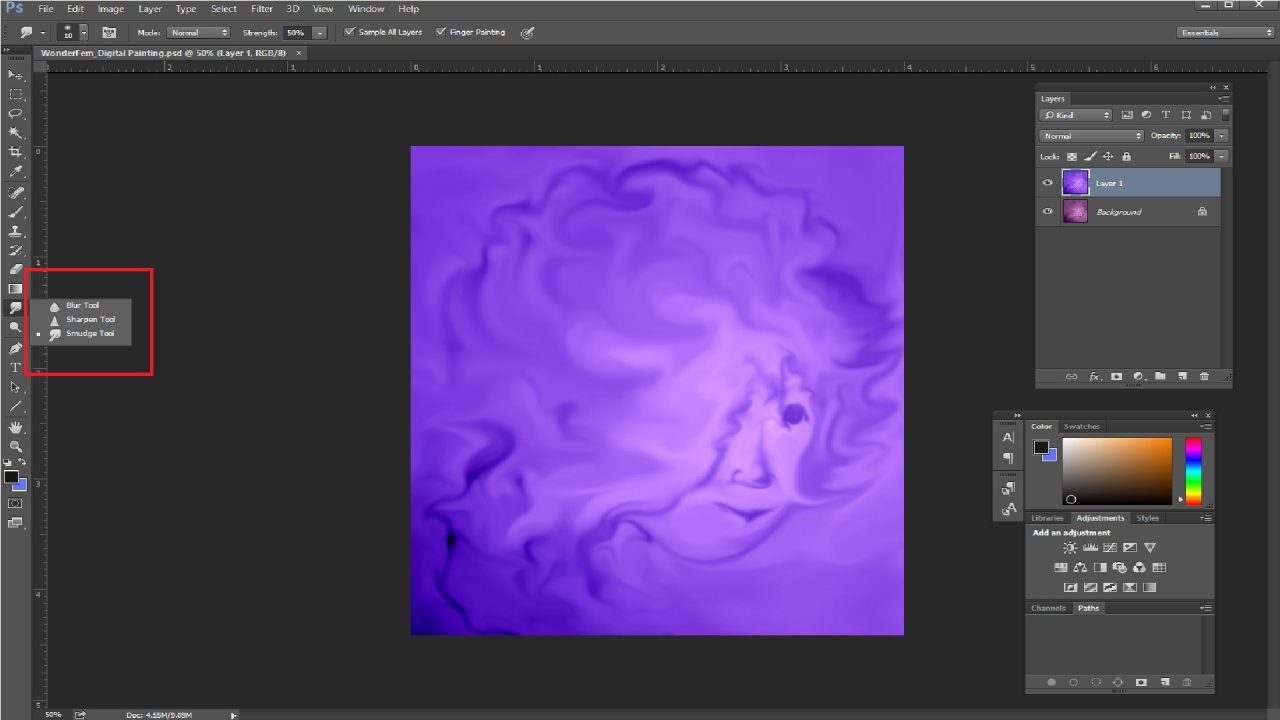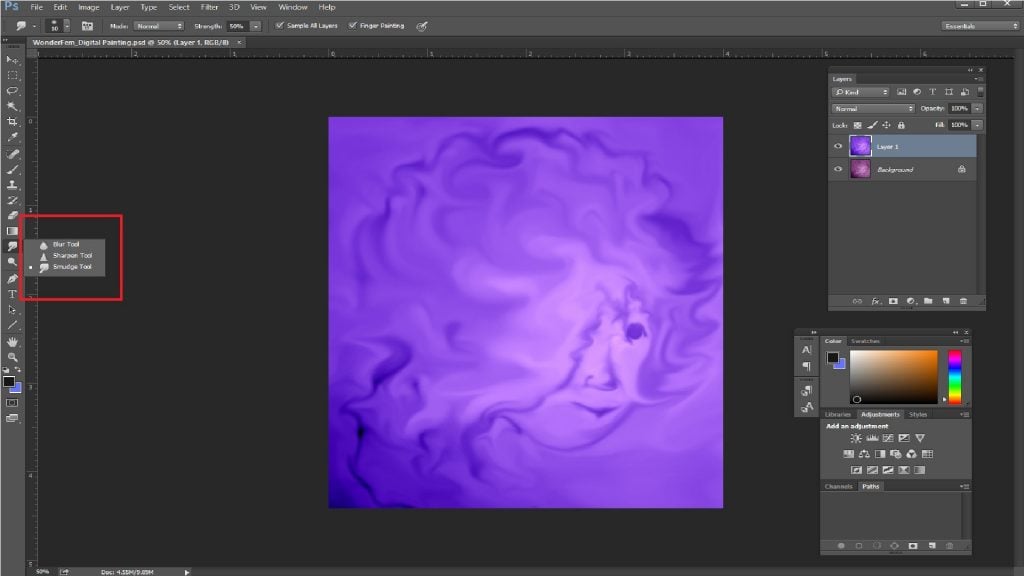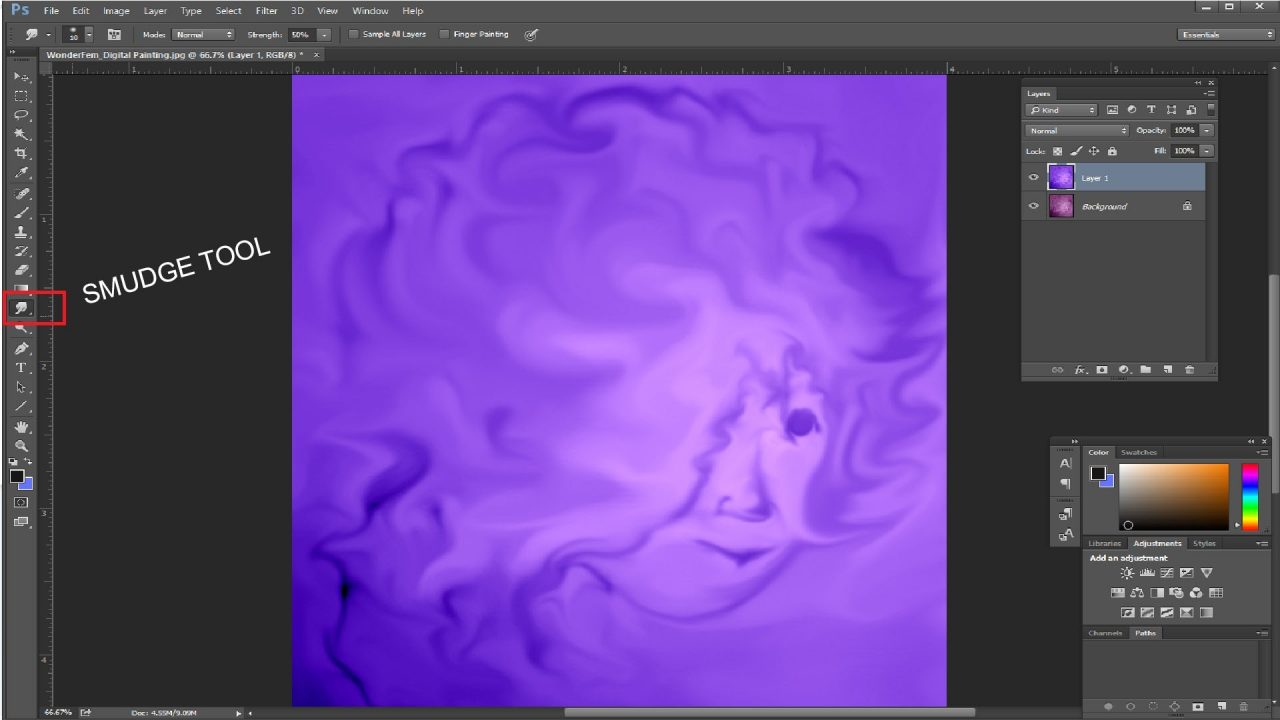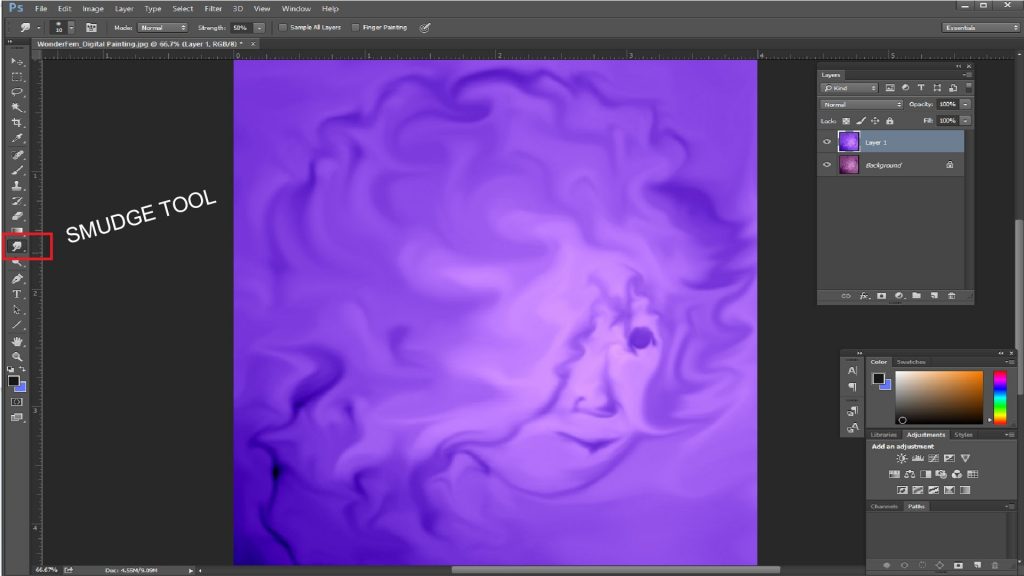 Next step, after we have understood the brushes and its settings we go further.
Looking at the brushes, at the top left-hand corner side, we can choose from these options to set the brush stroke and also select or change the brushes through the brush options, as desired in the Tool Options Bar. The blending mode, brush, size, and strength from the drop-downs and sliders available can be customized through the options.
We can also set our brushes and coursing through the brush presets by changing its angle, roundness, and spacing to get some variations for our painting.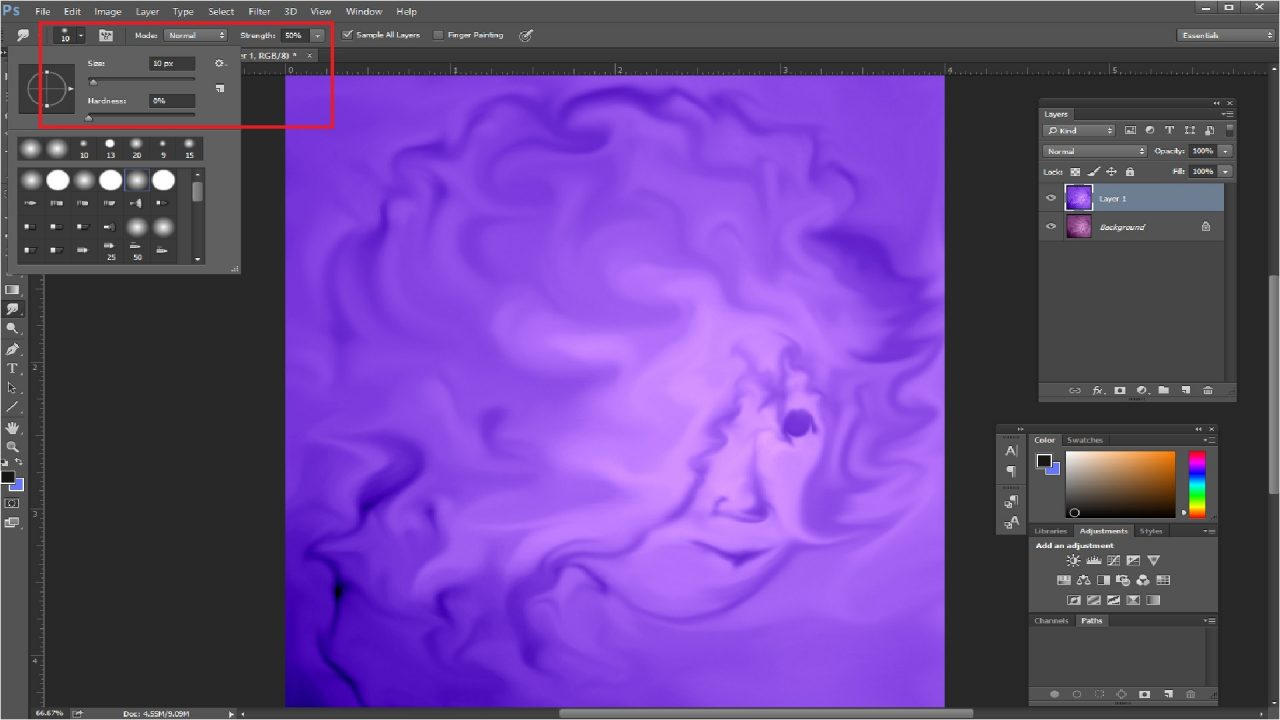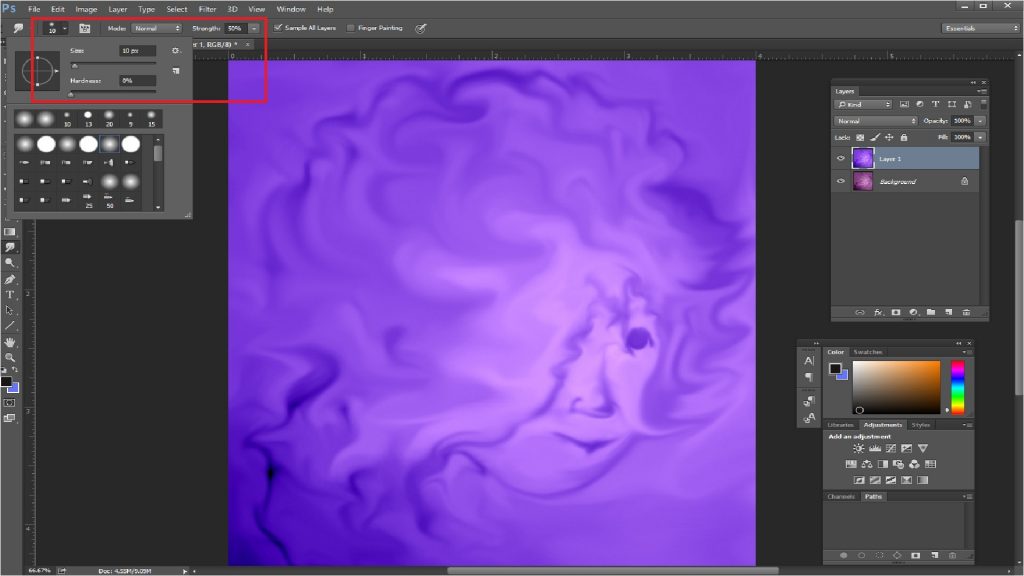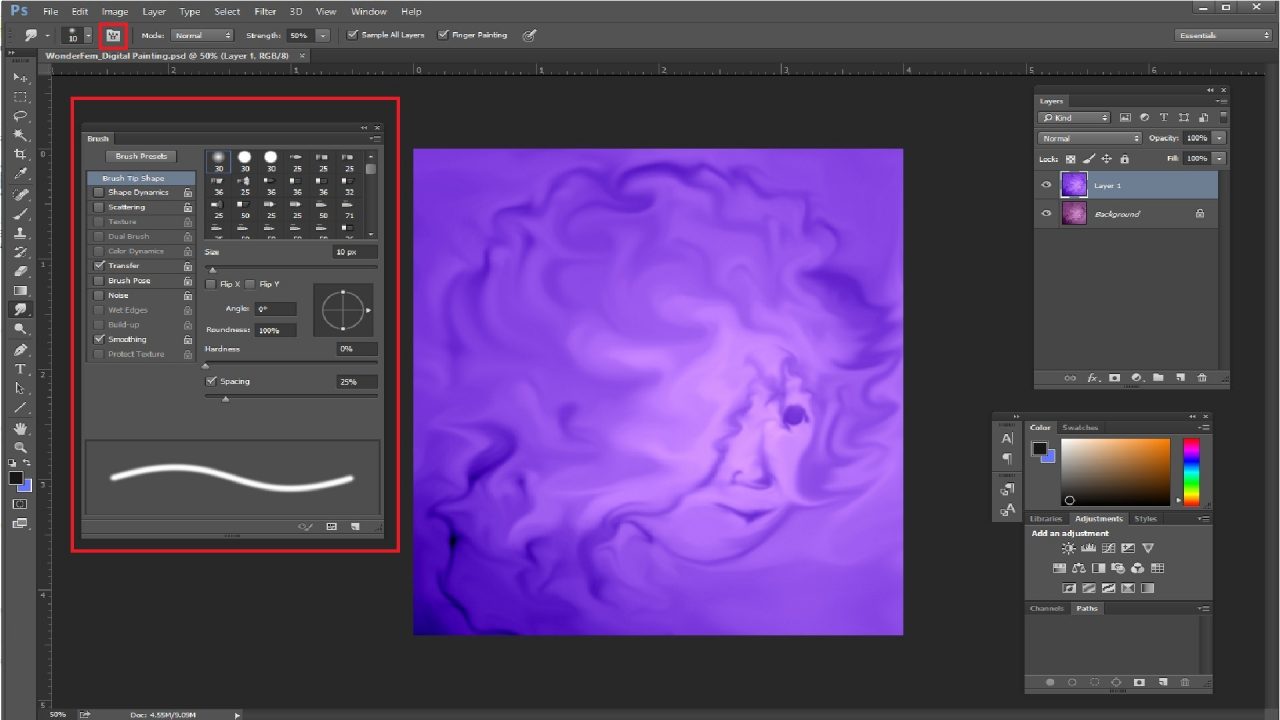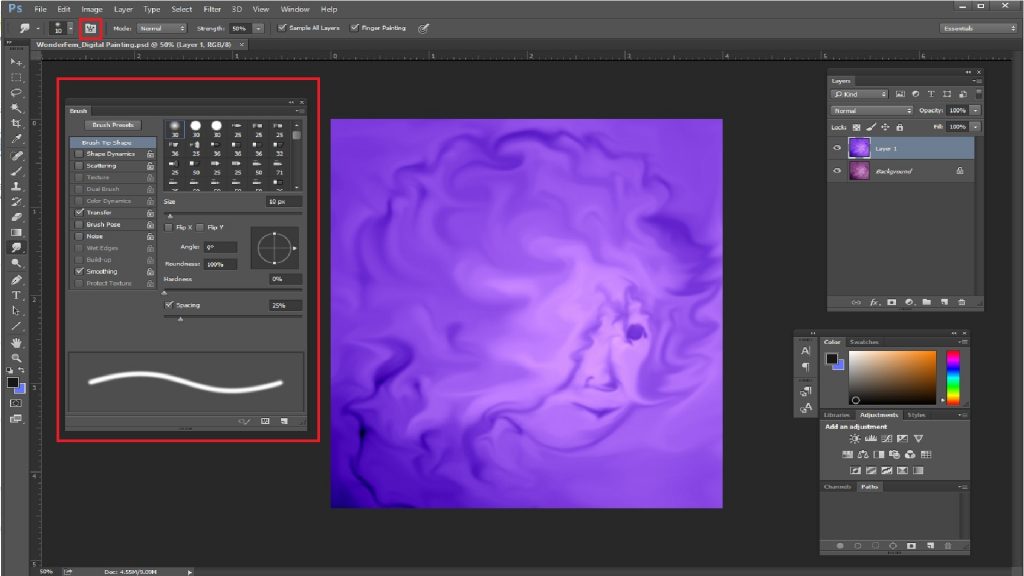 The Option such as the "Sample All Layers" checkbox on the top can also be selected to select the combined color value from all layers. Doing so if it's not selected, it only smudges the color from the visible layer which is currently selected.
As we look towards progressing further, we can also use this option i.e. Finger Painting option to start painting while using the foreground color. The best part is that we can get the best results while painting when we use this option. We can also toggle through the option temporarily i.e. through the Smudge tool and the Finger Paint setting by holding down the Alt key while we drag.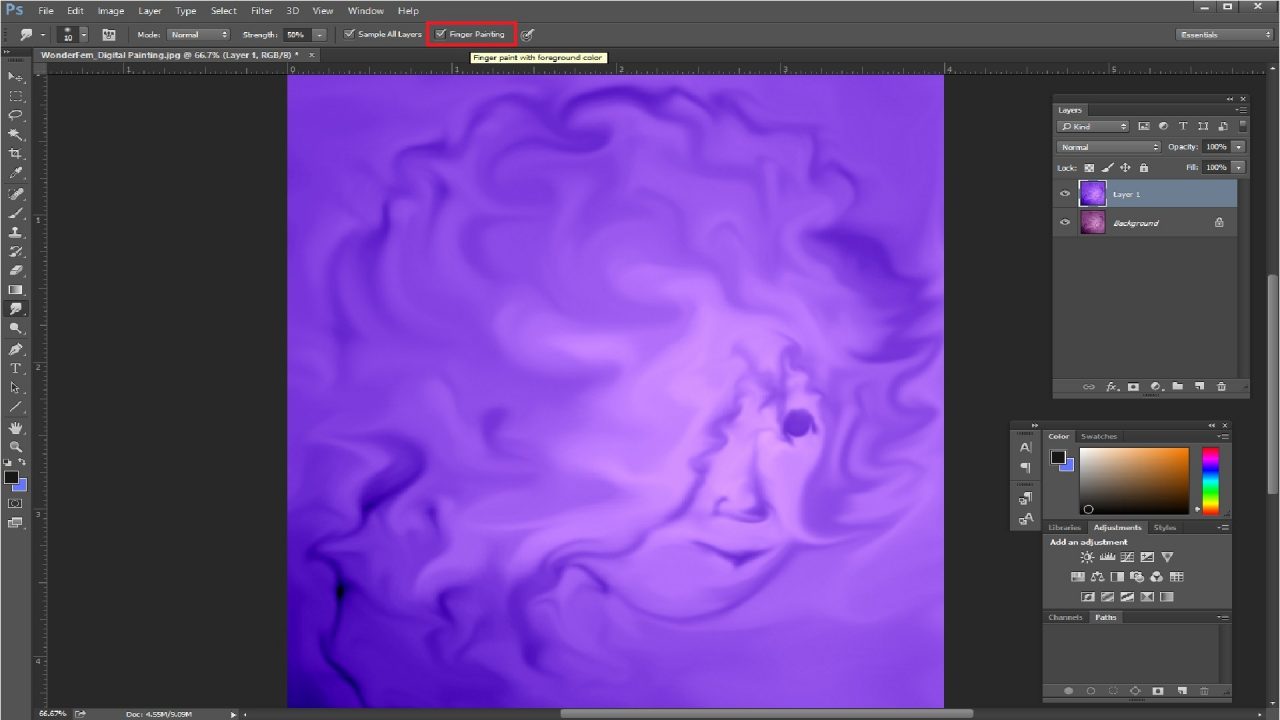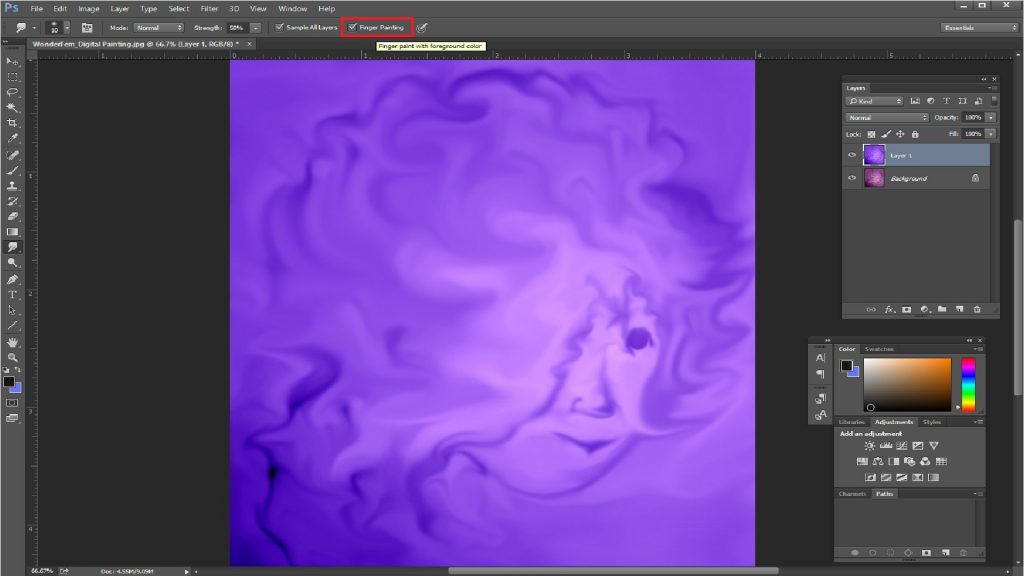 Conclusion:
Coming to our conclusion after we have learned to remember and know so much about the Smudge tool, we surely know this that it is still a useful tool for all the graphic artists, photographers, digital matte painters and also it is actually used often when we do different kinds of touch-ups and restoration works for various films when it comes to creating illusions and effects.
Recommended Articles
This has been a guide to Smudge tool in photoshop. Here we discussed how to use Smudge tool in photoshop and its Steps with Screenshots. You can also go through our other suggested articles to learn more –