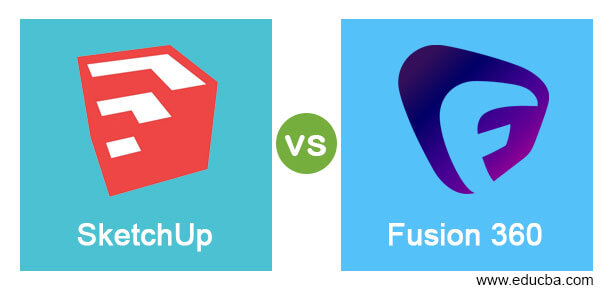 Difference Between SketchUp vs Fusion 360
The following article provides an outline for SketchUp vs Fusion 360. SketchUp is used for modeling of 3D object and deals with wide range of drawing of different sectors such as architectural 3D modeling, modeling of interior design, mechanical as well as civil engineering components not only these field it also have its grab in film and video game sectors. Fusion 360 is also a 3D modeling software and works for CAD (computer aided design), CAM (computer aided manufacturing), CAE (computer aided engineering) as well as for PCB (printed circuit board) by using its number of good features. It is one of the 3D modeling program of Autodesk. Here we will see about main features and facts of both of the software so that you can analyze them for start working with one of them.
Head to Head Comparison Between SketchUp vs Fusion 360 (Infographics)
Below are the top 8 differences between SketchUp vs Fusion 360:

Key Difference Between SketchUp vs Fusion 360
Let us discuss some of the major key differences between SketchUp vs Fusion 360:
As we know both of the software are developed by different organizations for same type of work but there are some features that makes them special in their working.
SketchUp is freemium software so it is free for commercial use with basic features but for advance features software you have to pay $119 yearly (SketchUp Shop), $229 yearly (SketchUp Pro), $575 yearly (SketchUp Pro Classic) and $1199 yearly (SketchUp Studio). Fusion is free for educational purpose only for limited time period and for having it commercial use you have to pay $395 for one month subscription, $2,590 ($215.83 can pay monthly) for one year subscription and for three year subscription you have to pay $6995($194.31 can pay monthly). The common thing between both of the software is you can have free trail for understand their user interface and features.
SketchUp is based on polygonal modeling that means it connects vertices by lines from edges and from surface it connects edges to edges. You will not find any true curves during working with this software which simplifies our work in it whereas Fusion 360 works with curves-based modeling or it can understand as NURBS-based where NURBS stands for non-uniform rational B-spline but if we think by technical point of view then it is not NURBS-based actually it uses T-splines.
SketchUp works on surface modeling that mean it is surface modeler because all objects are made by infinitely thin surfaces which we call faces in this software whereas Fusion 360 works on Solid modeling and we called it solid modeler. For example if you create a shape such as sphere then it will be solid and if you cut it from the center and set them apart then there will be two surfaces on separated parts of sphere.
Fusion 360 has built-in abilities features more than SketchUp and when you go for 3D print then you will find both of the software good in it but Fusion 360 can export. STL which helps for sending command directly to 3D printer for printing without using any another software for this purpose.
SketchUp vs Fusion 360 Comparison Table
Let's discuss the top comparison between SketchUp vs Fusion 360:
| | | |
| --- | --- | --- |
| | SketchUp | Fusion 360 |
| Definition | It is one of the 3D modeling software and work with different drawing application that are landscape architecture as well as architectural field, interior design elements, video games, civil and mechanical engineering and in some other important fields. | It is also use for 3D modeling of different component and element of different sectors such as CAD, CAM, CAE and PCB and gives good result in output of any work. |
| Developer | It was launched by Google but its developer was Trimble Inc. | It was initially launched by Autodesk Inc. |
| Operating System | It is compatible with windows 7 and its later versions, OS X 10.9 and its later versions. | It is compatible with microsoft windows 8.1, 10 and it later version, Mac OS. |
| Initially Launched Year | It was initial released on August 2000 that means it was released for public use on that time. | It was one of the products of autodesk and launched initially in June 25, 2013 for 3D modeling purpose. |
| Latest Version | The current version of it was launched on January 5, 2019 and named as 21.0.1 for Windows 64-bit, 16.1.1450 for Windows 32-bit and 20.0 for Mac OS operating systems. | Latest version of Fusion 360 is Fusion 360 2021 and you can have its full detail by navigating official website of Autodesk. |
| Supported Language | You can have this software in many different languages (the language of user interface of this software) such as English, French, Italian, German, Spanish, Korean, Japanese, Chinese (both simplified and traditional), Portuguese and Brazilian. | It is available in different languages that are English, German, Italian, French, Japanese and Chinese. |
| Availability | If you want to know more about system requirement of this software or want to download it for starting your work with it then visit to www.Sketchup.com. | You can visit www.Autodesk.com for having different updates of this software and for downloading it also. |
| Software Type | It is freemium software that mean basic functionality of this software is free for use but for some advance features you have to go with subscription of it. | It is free for students as well as Educator for limited time period with basic features and if you want to use it for commercial use and also want to have advance features then you can go with subscription of it. |
Conclusion
Now you can understand SketchUp as well as Fusion 360 after going through this article and you can use these information for making decision about which one is better for you or will suggest you first try free trail both of the software for building your own point of view about these software.
Recommended Articles
This is a guide to SketchUp vs Fusion 360. Here we discuss SketchUp vs Fusion 360 key differences with infographics and comparison table. You may also have a look at the following articles to learn more –