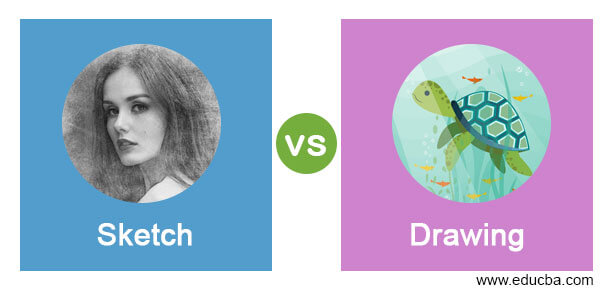 Difference Between Sketch vs Drawing
The sketch is rapid execution of freehand drawing that is not considered as finished work and may have a number of steps for getting end result. It can use for the demonstration of graphically designs, ideas of artists or in very quick ways, and they can be made in any type of drawing medium. Drawing is a type of visual art through which artists can express their imagination on two-dimensional surfaces and for expressing their ideas they use different types of tools and create marks on the paper. You can find graphite pencils, pens, inks, paints, inked brushes, crayons, colored pencils, charcoal, chalk, erasers, markers, styluses, and many other things as tools for drawing.
Both terms related to artwork and I am going to compare them on the basis of their different aspect so that you can have a good understanding of both terms.
Head to Head Comparison between Sketch vs Drawing (Infographics)
Below are the top 5 differences between Sketch vs Drawing:

Key Differences between Sketch vs Drawing
There is a number of things by analyzing them you can differentiate sketch from drawing and have good information about working criteria as well as limitations of them.
When we start doing sketching we mostly use lower quality papers that are newsprint because it works as the first step of creating any artwork and we can make changes in it much time but on another hand during creating any drawings we use high-quality paper surface such as Bristol paper, drawing paper or rag paper because it is the final output of our art images as well as art ideas.
For giving more visual representation to our work in the sketch process we use hatched line (inclined line of a combination of line in the same direction) or make a contract with dark and light shades on any object of artwork and in drawing, we make a contrast between object by using different colors combination in different techniques.
Sketch is a quick record of live or remembered objects in freehand motion by using different sketching tools whereas Drawing is a more detailed representation of an idea or imagination which becomes ultimately finished work.
In Sketch, we have many lines that give an opportunity to the designer for experimenting with the perspective and proportion of that artwork and we can consider it as the first draft of our final work. On the other hand, Drawing can consider as the outcome of the sketch because many artists use sketches for guidance as well as the initial study of subject matter and get to the point result with the help of it.
There are many different types of software on digital platforms for doing sketch as well as drawing which means you can do a sketch and draw in a more precise way by using graphics designing software on digital platforms and some of the software are Photoshop, Krita, Clip studio paint pro and so on. You can find other software that is specified for Sketch and Drawing purposes separately as per your requirement.
We did good discussion on the differences of both terms and I think it was a nice to experience for you to get interacting with the sketch and drawing process.
Sketch vs Drawing Comparison Table
Comparison between Sketch vs Drawing are given below:
As I told you both words are related to artwork so there is a number of points on the basis of which you can do a good analysis on them. So let us have a look at these points by this comparison table.
| | | |
| --- | --- | --- |
| Basis | Sketch | Drawing |
| Definition | Sketch is the result of the freehand representation of your art images with the help of different sketching tools on paper. At the present time, we have many ways of doing this with the help of digital programs on digital platforms. | Drawing is also used for expressing your imagination on paper by making a simple mark on it and it incorporates different drawing tools for this purpose. It has also the different digital program for dealing with digital artwork. |
| History | In classical Antiquity, sketch artists used a metal stylus to sketch on papyrus (it was the Renaissance art era). Those time artists do this for their own inspiration and were not viewed as expert fine art artists. | Drawings were used as good communication media before the invention of communication languages. 30,000 years ago in the Art of the Upper Paleolithic time period, it was produced on caves and rock as paintings for communicating different cultures. |
| Materials | For sketch, we need a different type of precise materials which we can understand as tools of sketching. Quality drawing pencils, erasers, charcoal, drawing pens, blending stumps, and some other tools can include in its tools list. | For drawing on paper we generally use two forms of materials which we can call a medium of drawing on the surface. The first one is a dry medium and the second medium is fluid media. In a dry medium, it includes color pencils, graphite pencils, charcoal, pastels, and silverpoint and in a fluid medium, we have fluid solvent or carriers such as marker, pen, and ink. |
| Type | Sketching can consider as looser, less refined work which deals with practicing different artwork by freehand techniques. | Drawing is the more polished and detailed output of finished artwork which can effectively express the ideas and imagination of designer or artist. |
| Purpose | Sketch gives us an overview of how any object, character, or art will look like that means it provides a frame or structure to imagined or live objects and you can correct your linework by using erasers. | The drawing needs more control in comparison with sketch because it gives refined and finished work. |
These are some points that can build the good concept of Sketch and Drawing in your mind and also give you an idea about what are the basics of both terms. Now let us find out some differences between sketch and drawing although both are using for artwork.
Conclusion
Now you know Sketch and Drawing work in the perspective way of each other and have their own features as well as criteria for getting end result in the artwork. You can start doing practicing on both so that you can find their exact purposes on the basis of your own analysis.
Recommended Articles
This is a guide to Sketch vs Drawing. Here we also discuss the sketch vs drawing key differences with infographics and a comparison table. You may also have a look at the following articles to learn more –