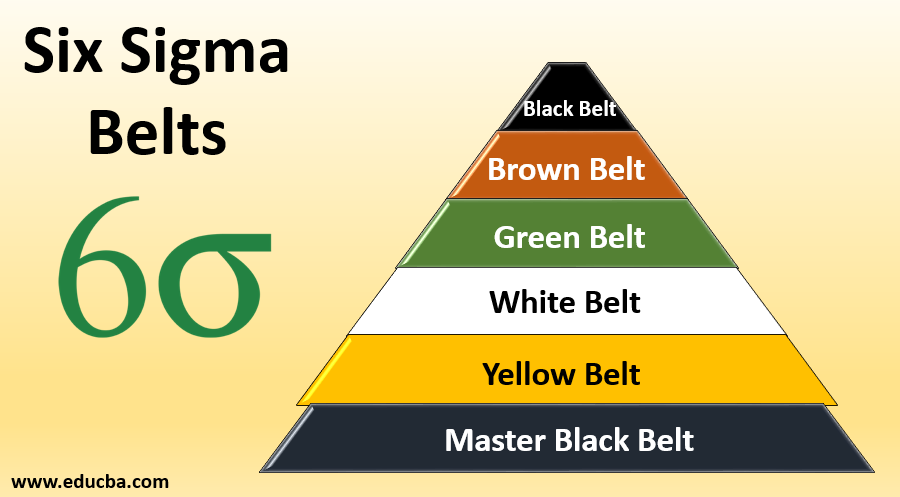 Introduction to Six Sigma Belts
The following article provides an outline for Six Sigma Belts. Six Sigma is one of the best technical tool used for the improvement of the quality of services and products. Six sigma management systems put the focus on improving the business by its improved management techniques. It is considered the most focused and rigorous for implementing the best principles and techniques for improved products and services.
This process works by analyzing the root cause of the problem and then works accordingly for the solutions to provide the best results. Eventually, six Sigma is putting more focus on reducing waste, improving quality, and producing better products and services faster and cheaper to provide growth to the organization and the customer. Six Sigma has a different approach based on the level of competence in understanding and applying related tools. Belts are Green belt, Black belt, and Master black belt.
Features of Six Sigma
Its focus and aim are to eliminate unwanted waste from the process and deliver the product and service whatever the customer is expecting.
This defines the roles of the participants and follows a structured methodology, it is a data-driven methodology, which is why accurate data collection is prime and that's analyzed.
For financial statement, the six sigma is seen up to; it is a multidimensional structured approach for increased profits, increased customer satisfaction, improved processes by reducing costs, reducing process variability and lowering defects.
Six Sigma Belts
The functionality is defined into belts based on the complexity of the project.
1. Black Belt
Black belt puts emphasis on application and analysis. A black belt required the highest level of understanding and an experienced person to work on it; the person who is processing this method should have achieved the highest skill level and should be experienced and expert in various techniques. The engineer designated to work for the black belt should have completed the thorough internal training program with experience of working with several projects.
The team leader role is assigned for the experienced person to guide and lead the project to its goal until the customer is satisfied. The technical experts are temporary for project-based, and full-time agents will return to other duties after completing a black belt tour. The key to success to the black belt six sigma is that the individual project leaders are assigned and responsible for making a project successful; it worked well for several projects. It is selected to work on business process improvement.
Six sigma works for successful completion for high impact projects that result in tangible benefits to the enterprise. Six sigma black belt demonstrates a higher satisfaction rate. This is also one of the approaches for internal improvement consultant for the functional area.
2. Master Black Belt
Master black belt is used mainly to understand applications and statistical theory behind applications. Master black belt trains other belts for better results, and it leads to project review. The person who is appointed to lead the team on this belt is the team leader, the team works under his leadership, but he can or cannot be a direct member of the team itself. This role can be understood as a coach to some team because he is experienced and knows well about technicalities for complex projects.
The master black belt is well prepared to answer procedural questions and resolve the technical issues that come up. The master black belt for Six Sigma is led by the Six Sigma expert who is certified in a black belt with additional specialized skills or experienced in the deployment of six sigma across the enterprise. By using a master black belt, the project can be highly proficient by using the six sigma methodology to achieve tangible business results.
The advanced understanding of analyzing statistical data, project management, communication, program administration, teaching, and project coaching is must for a master black belt other than black belts. This also identifies high leverage opportunities for applying the six sigma approach; it includes black belt training, green belt training, coach mentor black belts, ACME six sigma participation to certify black belt and green belt.
3. Green Belt
These are basic analytical tools, and this works for less complex tools. The green belt designation can belong to the team leader or the team member; it can also work directly with the team leader. This can be led by less experienced other than black belts. It just needs a better casting of the team leader. A green belt is for smaller and easy projects, not considered for complex projects.
The elected leader can be a part-time leader for the project rest he will perform daily duties as assigned. It must demonstrate the mystery of the green belt body of knowledge, demonstrate quality at achieving better results. Green belt people participate in improvement. Green belt team members work with leaders of black belts for improvement with data analysis. These trained members are eligible to teach local teams and share knowledge of Six Sigma. To maintain a six sigma certificate, the member should successfully complete at least one six sigma project every 12 months. Green belt training is of five days of classroom training in conjunction with six sigma projects.
The training consists of project management, quality management, quality control tools, problem solving and descriptive data analysis topics. The expert in six sigma must attend green belt training; usually, six sigma black belt help green belt define their projects prior to training, so it will be beneficial to attend green belt training and assist them after the training.
Six Sigma team members are trained to apply six sigma tools to projects. They actively participate in team tasks and keep communication well with other team members. From over the period, they gain the knowledge they use to demonstrate basic improvement tool knowledge and accept the team's execution on assignments.
4. White Belt
This belt is considered an introductory belt, and this is for those looking to learn the basics of six sigma. This is the belt for learning if your company is deploying lean six sigma and its key tools and concepts.
5. Yellow Belt
Yellow Belt will prepare the person to work as a team member in the six sigma projects; this will provide the basics to enter the six sigma projects.
6. Brown Belt
This belt is officially not defined in six Sigma. Some organizations classify it as a green belt and pass the black belt certification exam, but a second six sigma project is pending.
Recommended Articles
This is a guide to Six Sigma Belts. Here we discuss six sigma and six sigma belts features, including black, master black, green, white, yellow, and brown belt. You can also go through our other suggested articles to learn more –