Updated May 8, 2023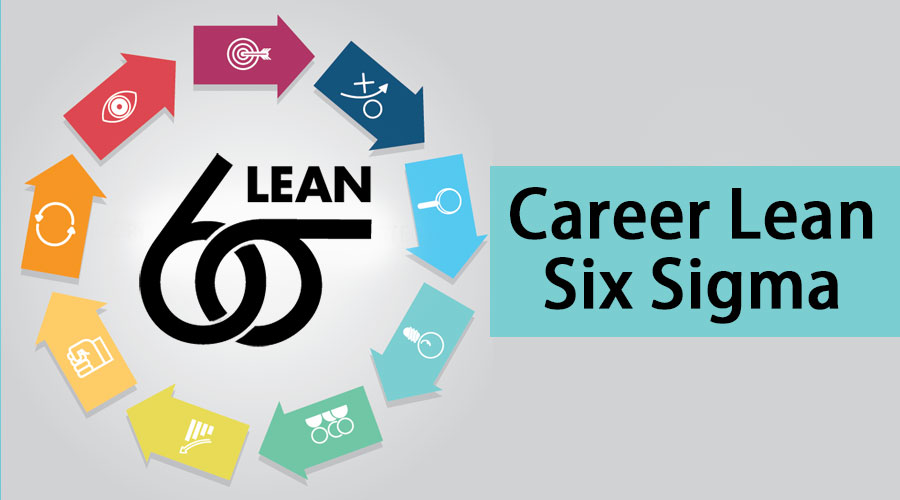 Introduction to Career Lean Six Sigma
As the name indicates, 'Lean Six Sigma' is an amalgamation of 'Lean' and 'Six Sigma' processes.

Thus, Lean Six Sigma (LSS) is a blended process that enables improvement in quality and efficiency to make the business effective. Lean is all about speed and efficient management of the business by reducing the waste of resources. While, Six Sigma, is a methodology that emphasizes minimizing errors of the processes and quality improvement. Thus, Lean Six Sigma, a combined methodology of 'Lean' and 'Six Sigma' aims at improving organizational performance by implementing a structured approach to resolve problems or any challenges.
The LSS is implementable across all types of businesses from small, medium to large scale enterprises. The benefits of LSS are limitless and it enhances organizational effectiveness by increasing profitability, reducing costs and restoring resources for future use.
Want to be a Certified LSS Professional? Here is the Educational Requisite
The certification for LSS is offered at six stages/levels, namely, White Belt, Yellow Belt, Green Belt, Black Belt, Master Black Belt and Project Champion. Let's understand the significance of the certification for respective belts:

 White Belt certification offers basic awareness of the Six Sigma concepts and the professionals receive few hours of training.

 Yellow Belt certification imparts training in the general concepts and tools of Six Sigma. The professionals are trained on a more complete set of tools and imparted 15 to 25 hours of training.

 Green Belt certification offers the application of acquired knowledge and skills. The professionals trained for this belt have strong knowledge and skills related to the LSS processes with a basic understanding of statistical tools. The duration of the training is usually less than 100 hours.

 Master Black Belt certification offers the advanced knowledge of LSS tools and skills. These professionals help in developing strategies for the organization. They serve as internal consultants to the organization and coach the green and black belt professionals.

 Black Belt certification offers expert knowledge of the Six Sigma tools, methodologies, and team leadership. Professionals with a black belt can execute LSS projects and lead a team across the organization. They are also capable to act as coaches and conduct LSS training for other belts. The training duration is usually between 140 to 160 hours.

 Project Champion is an executive leader who is an expert in the statistical tools and responsible to select projects and remove barriers, if any, to ensure the project team gets organizational support. Project Champion is expected to develop and promote LSS culture in the organization.
Career Path for Lean Six Sigma Professionals
Getting trained in Lean Six Sigma definitely offers individuals a competitive edge and is a powerful tool to enhance leadership abilities while transforming business processes. Apart from being a worthy addition on the resume, LSS certification indicates an individuals' understanding of business processes and analytical abilities. Thus, it garners better possibilities for a job and a lucrative salary. LSS certifications are of so much value in the market, as they are not easy to obtain. Such skills are essential for middle to top management and help to rise across senior managerial positions. They are of great demand across all industries like Aerospace, electronics, Telecom, IT, Banking, Automobiles and many more.
Job Positions or Application Areas
The following job roles are applicable for LSS certification:
1. Team Leader
2. Senior Managerial positions.
3. Project Manager (PM)/Senior PM
4. Business Consultant/Analyst
5. Operations Specialist
6. Lead Engineer
7. Quality Assurance Manager
8. Process Analyst
9. Process Engineering
The Pay Package
The LSS exams are difficult to crack and need good studying. The upgrade to different belts requires many years of actual work. Thus, no wonder, LSS certified professionals are amongst the well-paid around the globe. As per a survey conducted by a leading job portal, the average salary range for LSS professionals is more than one lakh dollars.
Career Outlook in Lean Six Sigma
Getting trained on LSS methodologies can boost your career incredibly, offering a future to desire for. LSS certified professionals are proficient in the management of business processes, cost reduction, profitability generation, and team-building. Being LSS certified endorses employers with competitive skill sets, indicating LSS awareness which offers exclusivity. As efficient financial and risk management are the required attributes for middle and top management, LSS certified professionals have opportunities to climb up the senior managerial roles. Also, the certification allows employees to position themselves as 'change agent' across any organization. LSS trained professionals are also effective in developing essential contracts and being at par with international standards. It offers hands-on training experience on industrial projects, which facilitates job readiness. LSS also trains professionals on quality improvement techniques thus making them expert in quality management processes. Last but not least, LSS training develops leadership abilities of the professionals, making them ready for leadership positions.
Conclusion: Career Lean Six Sigma
Inevitably, Lean Six Sigma certification offers good scope to make a substantial career across many different sectors, with an ability to climb up to senior job positions. The competition and the talent requisite in today's time definitely highlight the value of certified LSS professionals. As these professionals are well-equipped and highly skilled in various domains of business processes with sound knowledge of promoting organizational effectiveness. LSS training not only helps in generating organizational goodwill but also proves profitable in the long run. Professionals trained on LSS processes are not just expert leaders, but also efficient managers of risk, finances, resources and are great cost-cutters. Many top organizations such as 'Motorola' and 'General Electric' have been able to stay competitive and profitable by maintaining superior quality standards and cost-cutting techniques. And the credit goes to their trained LSS team!
It is obvious that LSS trained professionals have the cutting edge in today's job market and are every organization's dream!
Want to stay competitive in today's time, endorse yourself with LSS! Find your course today!
Recommended Articles
This has been a guide to Career Lean Six Sigma. Here we discussed the Concept, Career Outlook, Pay Package, Application Area, Education Requisite. You can also go through our other suggested articles to learn more –