Updated April 11, 2023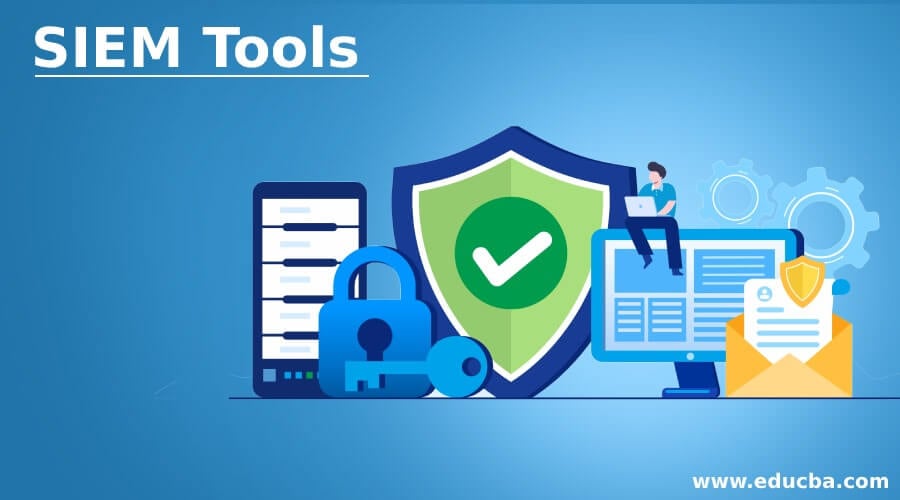 Introduction to SIEM Tools
SIEM Tools stands for Security Information and Event Management Tools, which can be defined as the application softwares that come with a ample outlook of the network via an extensive user interface as medium to offer the distinct aspects of the data and the control systems. It is typically used for analyzing the security observants through the network, while gathering various data from the devices connected to the said network. These tools are typically picked by the organization's need for recognizing the security-related issues like create incidents, address incidents, resolve incidents, manage incidents, data security monitoring, produce analytical results from the monitored logs, etc.
Different Types of SIEM Tools
There are many tools available these days for the purpose of security information and event managements, and the below are some of them.
1. Securonix
Securonix is not a commonly chosen SIEM tool, as it consists of features that can handle more complex security incidents and events. It can be used for projects where the tool usage is expected to be easy, and can deal with complicated cases at the same time. A few of the strengths of this tool are data monitoring facility, ease of use interfaces, stability, etc, which also takes bigger cost with limited support quality.
2. LogRhythm
LogRhythm provides SIEM attributes for maintaining network security, and used by the network security professionals. This tool is used for its ability to tackle the issues identified in the network, including the issue identification, management, resolution, etc. The tool is simple and uncomplicated for operating, while being able to work upon a measure set for the organization and costs extra in comparison to other SIEM tools.
The LogRhythm SIEM tool is exceptional in all its characteristics, as it is competent enough to discover, resolve, create feedback, and administer the problems captured in the network in terms of security. This tool has the elements combining the elements available in all the SIEM tools offered by other SEIM products in the market. In terms of cost, it is expensive due to the additional aspects of the SIEM tool.
3. IBM QRadar
IBM's QRadar comes with a full range of regular features, and comparatively straightforward. It comes with options to uncover, retort and supervise the security concerns. This tool can be applied for the networks that need intensive security measures, with refined nodes and network factors, but also costs higher for essentials like incident root cause investigation and analysis on the same. This took is seen for its classic incident handling aspects, though it is complicated to get a licensed version.
4. McAfee Enterprise Security Manager
This tool is the best available application for the need of employing the SIEM based tool for a programmed instance for software incident and event management purposes. It is known for its effortless aspects of usage, pre -programmed resolution options, concrete potential through the panel, etc. On the other hand, there are areas to improve in this tool for the performance ability, lack of information order examination, extra rates for case reliability screening, etc.
5. Splunk
Splunk is suitable for companies that is looking for superlative protection, operation suppleness, with the tricky charge pattern for the software application. Part from this, Splunk has its own advantages, such as the process deployment, privacy control, security handling, etc are to the point, with the required agility in usage, for creating the resulting reports, and alerting the concerned team or individuals. This tool is also considered to be expensive, as it takes extra price for adding the features like database observation, fetch data upright, to guard the data susceptibility, etc.
6. Exabeam
Exabeam is a software incident and event management tool that can have blended characteristics, like the user-friendliness combined with sectional development. This tool can be the best option for smaller sized business systems, where network security is a crucial part to keep up the quality of the deliverables. It is also known for its sturdy aspects for analytical outcomes, simple straightforward network security automation, and the cost for the software is priced for the number of users involved. It is not chosen due to the lack of monitoring options, and cannot be used for weaker, less secure, and exposed network structure.
7. Fortinet
Fortinet is a go to option for the organizations that have the need for tougher defense to be placed, in an organization for any size range. A few of the well-known characteristics of Fortinet as a SIEM tool is the robust security ability, complete quality attribute set, realization of the risky quality tracking, threat detection, warning acumen to regain the network strengths, etc. Like other SIEM Tools, the Fortinet also costs extra for crossing over the vulnerability and improvising the space for additional sustainability.
8. Dell/RSA
Dell's RSA is another commonly used software for incident and event management, as it provides strong security along with a need of widespread product features, which can work along with the RSA NetWitness Platform. RSA is beneficial in terms of the wide-ranging contribution that comes from a reputed company, while also supports the Machine learning properties, network tracking forensics, identifying warning tracks, etc. Whereas, it also has its own bad side like the additional cost for additional features, namely for the analysis, observation screens, lesser value, simpler interfaces, etc.
9. Rapid7
This tool is from InsightIDR, and it is a good choice for organizations looking for minimalism and a direct provision to create copies. Rapid7 is known for its properties like simple software as a service based implementation, robust characteristical supervision, controlled services with supplementary protection from potential weak spots, etc. It doesn't come with database along, no email additions, lack of input output observant, weaker security handling, etc.
10. AT&T Cybersecurity
Cybersecurity by AT&T, which is also known as 'AlienVault', is a perfect option for organizations looking for advanced security, along with user-friendly effortless implementation. The organizations choose this application in favour of its ability to allow faster deployment, invasion recognition, handling of the weak links, exceptional support for the network robustness, sturdy in the warning astuteness in the network, etc. This tool is often dropped out from the competition due to the fact that it misses a lot of commonly known SIEM features.
Conclusion
Software Incident and Event Management tool is used for handling the phenomenon typically used in development and operations area of the software industry. This tool places a major role in making the day-to-day job easier for software systems support staff and software operational professionals, as it has in built features with direct provisions to achieve the goal.
Recommended Articles
This is a guide to SIEM Tools. Here we discuss the introduction to SIEM Tools and 10 different types of tools respectively. You may also have a look at the following articles to learn more –