Updated June 5, 2023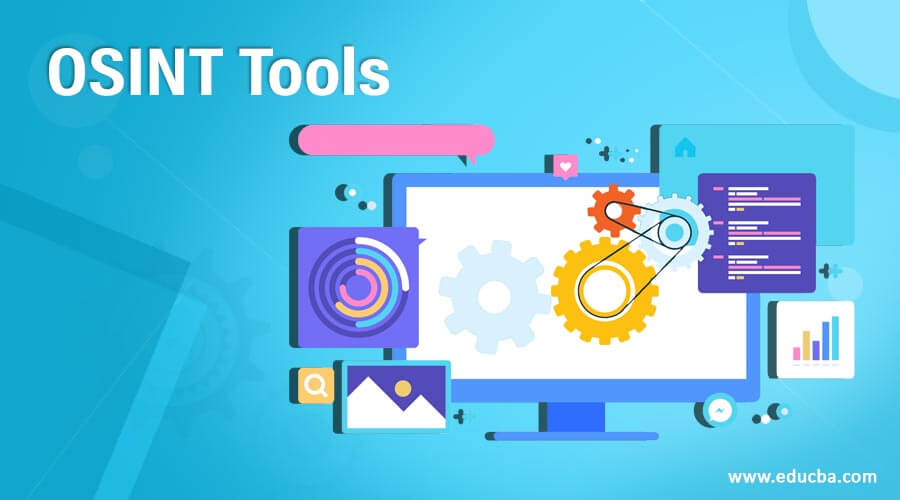 Introduction of OSINT Tools
Open-source intelligence, widely called OSINT, utilizes the information available to the public to help users meet a specific intelligence requirement. OSINT tools, as the name suggests, are open source and are, therefore, almost always cost-free. Some OSINT tools even let you run your customized needs on the tool. OSINT tools even enable ethical hackers to explore vulnerabilities and avoid breaches.
Nowadays, the internet provides lots of information, and everyone can access it easily. At the same time, some people misuse the information or spend a lot of time on it. Hence to avoid these cons, OSINT tools are used to collect and compare data on the network. This Data may be available in different formats such as text, image, file, etc. Users properly disseminate, process, and use Open Source Intelligence from public data. And provides this information for the users to fulfill particular intelligence needs. Such as it helps to gather data on cyber threats, illegal use of intellectual property, leaked data, and track persons. Now here we will see a list of OSINT tools.
Top 5 OSINT Tools
Here we discuss the top 5 OSINT tools:
1. Shodan
The most popular internet-connected device-related search engine is Shodan. It is used in educational institutes and organizations. Most security analysts love to use Shodan to identify and test the target for various vulnerabilities, services, open ports, passwords, etc. It can be installed through a browser extension, accessible on their website by logging in.
Features of Shodan:
It provides threat analysis for connected devices.
It Monitors IoT devices.
It offers web browser APIs, Network scanning software such as Nmap, and hidden document scanning tools like FOCA (Fingerprinting Organizations with Collected Archives).
2. Spyse
Ethical hackers use Spyse, one of the most popular OSINT tool cybersecurity search engines, for cyber reconnaissance. Spyse provides extensive data to search the target across various entry points. Reviewing various types of target-related data like vulnerabilities, DNS records, ASNs, IPs, Domains with the same MX / NS, and Domains on the same Network helps the user to start with one domain and extend the investigation scope. Spyse is a web-based model. Hence users have to sign up to access the database.
Features of Spyse:
Spyse has 1.2 B domains, 29M SSL/TLS certifications, 3.6B IPv4 hosts geo data, 2.2B DNS records, 160M IP Hosts with Ports, 67k Autonomous Systems 140k Vulnerabilities.
Users can scan unlimited data without limits.
It allows us to apply 5 various search parameters for a detailed and precise search.
3. SpiderFoot
SpiderFoot automated OSINT tool threat intelligence, reconnaissance, and perimeter monitoring tool for Linux and Windows. It also runs on every platform virtually. It allows users to use queries over 100+ OSINT sources to gather intelligence on names, emails, domain names, IP addresses, etc. It helps to collect data about a target, like e-mails, netblocks, web servers, etc.
It gives a detailed understanding of the potential cybersecurity risks that lead to vulnerabilities, loopholes in the system, data breaches, and many other critical details. Hence, these observations will enable the penetration test to exploit and enhance the threat intelligence, thereby providing an advanced warning to prevent attacks or theft.
Features of SpiderFoot:

It provides the latest updates to Scan the vulnerabilities.
It has an efficient command-line interface with a user-friendly GUI interface.
It allows us to combine with other cyber intelligence software.
It provides to monitor vulnerability and potential breaches.
The dashboard is easy to understand and has an intuitive interface.
4. Google Dorks
People use Google Dorks as a query-based OSINT to effectively target the index and search results. Google Dorks offers a robust way to find information using certain operators; it is also known as Google Hacking. Such operators facilitate the extraction of information from the search. Google Docker's offers operators or indexing options are given as follows.
File Type: This operator is done to find the types of files or to search for a specific string
Intitle: To query for the title or words given in the URL above
Ext: It is used to search a particular extension in a file
Intext: This indexing option is used to find a specific text on a particular page.
Inurl: Used to query the same URL string or phrase
5. Maltego
Paterva, one of Kali Linux's developers, developed Maltego, a widely used OSINT tool. Maltego is available in 2 versions: desktop client and server hosting. It is available for all operating systems.
Features of Maltego:
It has a Transform Hub, which allows users to access 30 different data sources and integrate with external applications
It connects to own, public as well as commercial data sources. With the help of APIs, users can customize the tool and change them as per requirements.
It provides easy merge with the data sources.
It has a user-friendly dashboard.
Recommended Articles
This is a guide to OSINT Tools. Here we discuss the introduction and the top 5 OSINT tools along with features. You may also have a look at the following articles to learn more –