Updated July 4, 2023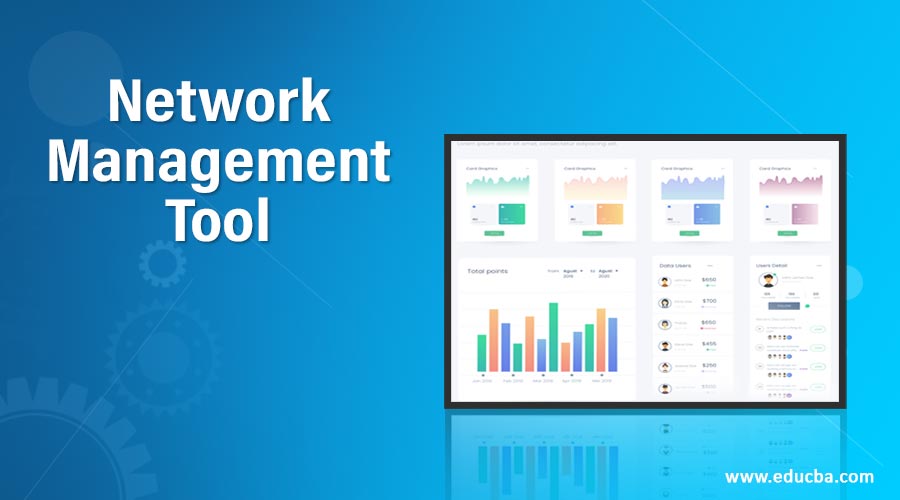 Introduction to Network Management Tool
Tiny wires and wireless technology connect the wider world, enabling effective communication and increased productivity for individuals and businesses. The field of IT monitoring continuously develops network monitoring tools, introducing new features and utilities to keep pace with the ever-changing landscape. When selecting an appropriate tool for your business, it is important to consider essential criteria such as indicators for downtime and uptime, email and SMS alerting systems, customizable templates, SNMP integration, NetFlow support, mapping and discovery functionalities, and automated network topology. This article briefly discusses some of the top-used network monitoring tools.
Top 7 Network Management Tool
The important tools in network management are available with various features, and it is up to the user to choose the correct one.
1. WhatsUp Gold
It is a network management tool implemented by Ipswitch and is the most highly configured tool available in the market. The dashboards are attractive, which makes them user-friendly and easily customizable. WhatsUp Gold offers a balanced combination of price and features for everyday IT management. Users can configure recurring alerts in the dashboard, enabling effective monitoring of the IT infrastructure. It is available with variable price plans according to the user's requirements.
2. Nagios XI
It is specially designed for freelancers, a wide audience, and small and medium businesses. The price model of Nagios XI is flexible and is available as an open-source, free version, and it also has a single-time subscription and license. It enables adaptability to plugin the tools as it has extreme flexibility. The alerts are triggered for an even low cost. The significant components are Nagios XI monitors database, infrastructure, and network. The installation is easy, and sometimes it takes a few steps to adapt to user requirements. The user can configure the tool to monitor each component by using the configuration file. It can be supported only on Unix variants and Linux. For 100 nodes, it charges around $1999.
3. SolarWinds
This tool can be instantly set up, and the configuration is so easy. The tool automatically detects the network components and deploys them to live within an hour. It follows a simple and standard approach to monitor the entire structure of the network and its instinctive user interface, as it can be easily edited and managed quickly. It can be highly customizable on web-based dashboards, views, and performance charts. It can implement a tailored architecture for the complete network infrastructure and develops customized dependency intelligent alerts.
4. PRTG
It monitors the network infrastructure, which uses WMI, SSH, Packet Sniffing, SNMP, Rest API, SQL, Ping, HTTP requests, etc. It is the best choice for the new organization to monitor their network performance as it is user-friendly, highly powerful, and monitors the end-to-end process. The unique feature is to monitor the components in mobile applications and datacenter.
5. Zabbix
It has an attractive web graphical user interface, making it more popular and user-friendly. It is available as open-source and can be completely configured. The main advantage of the tool is it can predict the traffic and forecast the upcoming by analyzing historical data. As it is open-source, it possesses wide community support worldwide with active users and has brief documentation support. It allows the user to utilize the open-source solutions of all components without any mandate vendor lock-ins. But above that, the tool becomes slow with degraded performance.
6. Icinga
This tool was implemented in 2009 by the developer team of Nagios. It can be used for network and service monitoring tools in the open infrastructure. It is user-friendly and flexible, especially for enterprise and SMB networks. The tool concentrates on monitoring services and infrastructure with the report and alert functionalities and strongly works on threshold analysis. It is available as free and open-source with the firm and supportive community
7. ManageEngine OpManager
This tool uses APM plug-in software for application performance management, network monitoring, and infrastructure management. It provides an instant solution to manage the servers, network, fault configuration, and performance management. It analyzes the network traffic and executes the managing engine OpManager which can instantly deploy on-premise. The glimpse of this product is it has pre-configured templates for network monitoring components. It comprises pre-defined parameters for monitoring the server and provides specific intervals for components.
Recommended Articles
This is a guide to Network Management Tool. Here we discuss the top 7 Network Management Tool with a detailed explanation. You can also go through our other related articles to learn more –