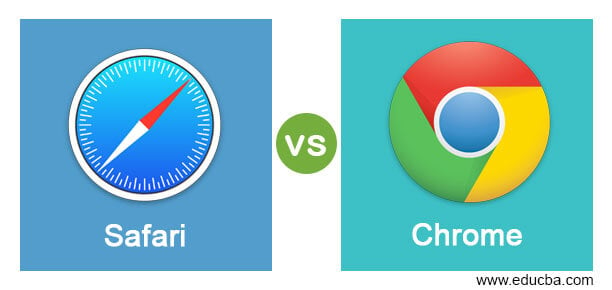 Introduction to Safari vs Chrome
Apple first released a graphical web browser named Safari on desktop with Mac OS X Panther in 2003. It was based on the Webkit engine. Safari's mobile version has been attached to the iOS devices of Apple since the introduction of the first iPhone in 2007. Since its inception, Safari has been the default web browser for all Apple devices. For windows, there was a Safari available from 2007 to 2012. On the other hand, Chrome is a cross-platform web browser built by Google. Google Chrome was first launched in 2008 with Microsoft Windows and was built with free software components from Mozilla Firefox and Apple. Google Chrome was then ported to Android, macOS, Linux, and iOS. In Android, it is the default web browser. Chrome Operating System has Chrome web browser as its main component where is used for web applications.
Head to Head Comparison Between Safari vs Chrome (Infographics)
Below are the top 7 differences between Safari vs Chrome:

Comparison Table to Safari vs Chrome
| | |
| --- | --- |
| Safari | Chrome |
| Safari has a distinctive user experience with no integrations available with platforms like Youtube and Google News. | While using Chrome, we can integrate Google Calendar, Youtube, G-Suite, Google News, Google Photos, and many more. This makes it easier to complete the tasks quickly. |
| In terms of security, Safari can be considered safer than Chrome, as Safari provides better data protection and also has the ability to block different data trackers. | In terms of security, Chrome provides incognito mode which is a way for browsing privately without sharing any personal information. Even though, there are some cases where the data can be collected. |
| In Safari, there are many extensions available but they can cause privacy concerns. | Chrome is available with several extension options but it has an adverse effect of draining the battery and using a large amount of the central processing unit. |
| Safari has an edge over chrome in terms of accepting new concepts very quickly which is not in the case of Chrome. | The features available on Chrome are not up to date. And advanced like macOS features. |
| Safari offers better optimization if compared to Chrome. Safari is even less likely to use the computer's fan. | Chrome uses higher battery if compared to Safari. The fan usage is also quite high with Chrome. |
| On the other hand, Safari was earlier available for Windows but now Safari web browser is only available to iOS, macOS, and iPad. | Google Chrome is available on most of the device, be it Windows, macOS, iOS or Android. |
| Safari provides better password management when compared to chrome. Here, if we save a login detail then it gets saved to the iCloud and it can be used for different apps over the phone. | Even though Google Chrome has a password manager but it works only on chrome and it can't be used for different apps or iOS. |
Key Differences to Safari vs Chrome
Google Chrome and Safari are two different web browsers available for internet consumers. In the case of Google Chrome, it is supported, maintained, and developed by Google and on the other hand, Safari is supported, maintained, and developed by Apple. Chrome is currently using the V8 Javascript engine with Javascript execution and on the other hand, Safari uses LLVM JIT engine for Just in time javascript compiling. If we compare both of these browsers i.e Google Chrome and Safari, we can observe that Safari has a better benchmark. In terms of failure, we can say that google chrome has a lower failure rate is compared to Apple's Safari.
As we discussed earlier that Google Chrome has been developed and maintained by Google Inc. Google chrome was first launched in the year 2008 on the 2nd of September. Google Chrome can support a variety of media codes including H.264, Theora, Vorbis, MP3, and WebM. There are auto-updates available for these media codes. The chrome tabs in google chrome can be synced to Android and iOS by signing in. Chrome is available for different operating systems including iOS, Windows, Android, and Linux. The user experience can differ on the different operating systems.
As we discussed earlier in this article that Safari is supported, maintained, and developed by apple. The engine used by Safari for Just in time javascript compiling is LLVM JIT. The major drawback for Safari is that all of the browser windows in Safari crashes once any of its windows gets crashed. Safari was earlier supported by windows but now Safari is not compatible with the windows operating system. It only supports macOS and iOS. Safari has the feature of saving the reading list on iCloud so that it can be synced with different iOS devices.
Safari is developed, maintained, and supported by Apple, and on the other hand, Google Chrome is being developed, maintained, and supported by Google.
Safari uses the LLVM JIT engine for Just in time javascript compiling and on the other hand Google chrome uses the V8 javascript engine for javascript execution.
As a web browser, Safari has a better benchmark when compared to chrome.
Chrome supports a variety of operating systems including Linux, Windows, Android, and windows but Safari only supports the operating systems built by Apple including iOS and macOS.
Safari does not support Linux whereas Linux is supported by Google Chrome.
Safari has a higher failure rate if compared to Google Chrome.
While downloading a file, the downloads grow to the toolbar in the drop-down menu while in the case of Google Chrome, they goes directly to the bottom of the browser window.
Safari allows the extensions created by 3rd party resources by default but Google Chrome does not allow third-party extensions.
These key differences would help the internet users in selecting their web browser according to their requirements.
Conclusion
On the basis of the above article on Safari vs Chrome, we understood two web browsers, mainly Google Chrome and Safari. We understood the various differences between these two browsers and how they have their own pros and cons. This article would help the people in selecting a perfect web browser for them.
Recommended Articles
This is a guide to Safari vs Chrome. Here we discuss the key differences with infographics and comparison table, respectively. You may also have a look at the following articles to learn more –