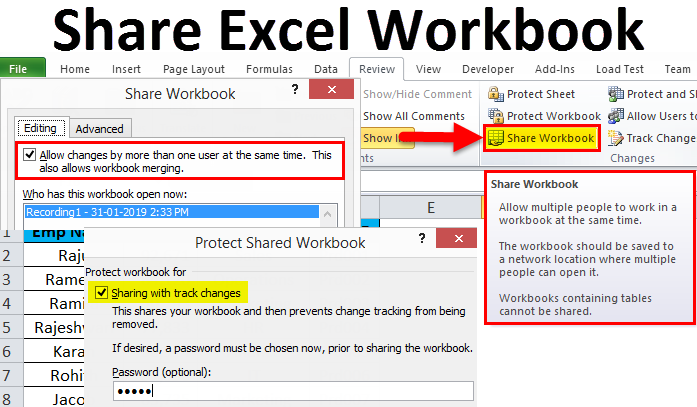 Share Excel Workbook (Table of Contents)
Share Excel Workbook
When you work for a company you need to send some sort of reports to your manager, subordinates, chairman or director. Usually, we share our end report with the stakeholders in terms of excel file, PDF, PowerPoint or one or other ways.
Especially when you are working in a team often you need some data from others or someone needs data from you as well. In these cases sharing excel workbook makes the life easier for you instead of sending the excel file as an attachment every time data requires from the concerned person.
One of the biggest advantages of sharing a workbook instead of sending as an attachment is you can track all the changes that are done by your colleague or manager at any point in time.
We can share the workbook with our colleagues by using some of the online platforms called One drive, Google drive, dropbox etc… But none of them can track you the changes for you.
In this article, I will explain to you the way of sharing an excel workbook with others including the tracker to track the changes by other people.
How to Share Excel Workbook?
In this section, I will show you how to Share Excel Workbook. Follow below steps to explore this cool option.
Step 1: Open the Excel Workbook you want to save.
Step 2: Go to the Review tab and find Share Workbook option.

Step 3: After clicking on the Share Workbook it will show you the new dialog box. Under Editing option select the checkbox " Allow changes by more than one user at the same time. This also allows workbook merging "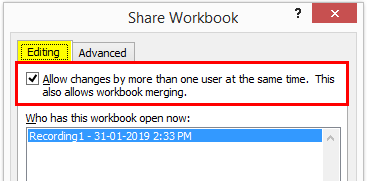 Step 4: Now select the Advanced tab under the same dialog box. In this section, we can see the options Track changes, Update Changes, Conflicting changes between users, Include in personal view under this section.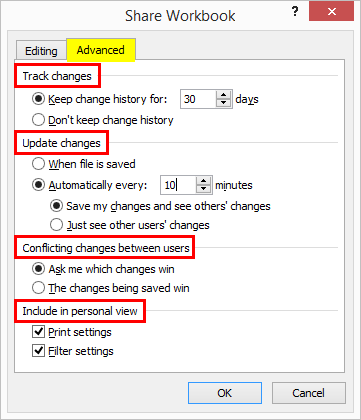 Step 5: Now save the workbook to the network location where the authorized person can access and given them the link of the workbook folder and you can also pass the link to your colleagues.
Change Settings if your Share Workbook Option is showing below Error
If you click on Share Workbook and if it shows the error message then you need to change some of the settings.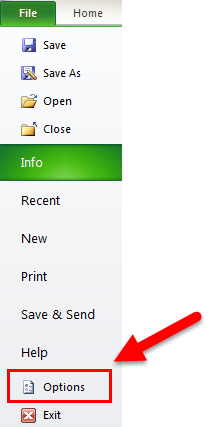 Trust Center > Trust Centre Settings.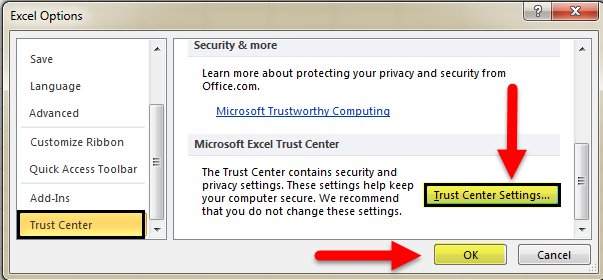 Click on Privacy Options > Uncheck " Remove personal information from file properties on save "

Note: To do this you need to first unshare the workbook and apply password settings.
Concept of controlling history changes in Workbook
If you want to share Excel Workbook and have control over changes history you can protect and share the workbook. Find the below steps to apply this function.
Step 1: Go to the Review Tab.
Step 2: Click on Protect Shared Workbook

Step 3: It will open the dialog box. Click on the dialog box and enter your password.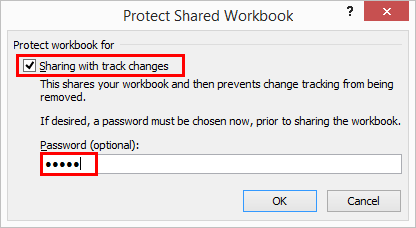 Step 4: Password is not a mandatory thing but it is always safe to protect and share to have control over the other person's changes.
Protect Worksheet vs Protect Shared Workbook
Protecting the worksheet is nothing but you do not authorize the user except specific cells.
Protect Shared Workbook means that you just turn off the option of tracking changes to the option of tracking changes in the shared workbook.
Merge Multiple Shared Workbooks
If many people or users make changes to the workbook, you can work together and merge with Excel Compare & Merge.
Finally, you receive all the shared workbooks, save all the workbooks in a single folder. After that select, the option of Compare & Merge Workbooks and individually select the workbook you want to compare and merge.
Unshare & Remove Users From Shared Workbooks
If you want to unshare and remove users at any point of time you can do this.
In order to unshare the workbook, you can go to REVIEW and click on Share Workbook.

Now uncheck the option of Allow Changes by more than one user at the same time.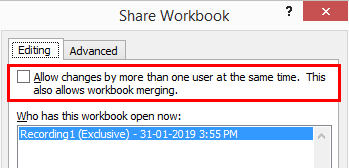 In order to remove users in the same window, select the user you want to remove and click on remove user option.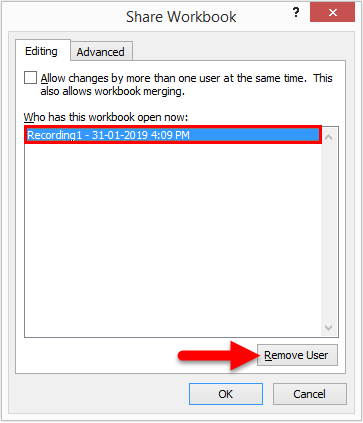 Things to Remember
While performing in Share Excel Workbook always protect workbook to have control over track changes option.
Protect Worksheet and Protect Shared Workbooks both are different from each other.
You can select which changes you want to apply or remove at any point in time.
Share Excel Workbook is a feature that automatically adjusts the width or height of a cell. The easiest way to adjust a column is to use the Share Excel Workbook.
Recommended Articles
This has been a guide to Share Excel Workbook.  Here we discuss how to use Share Excel Workbook along with practical examples and downloadable excel template. You can also go through our other suggested articles –