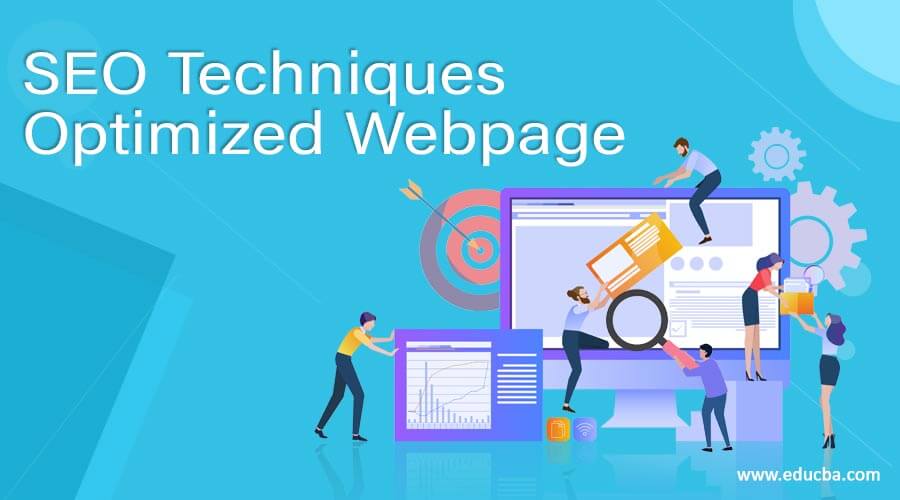 Introduction to SEO Techniques
SEO techniques optimized is defined as the process used to improve the visibility of a website in search engines with the goal of achieving more potential customers to the business. This simple definition will not help you to answer your questions like
How do you optimize your site for search engines?
How much time do you need to spend on SEO  techniques?
How can you find out which is good SEO and bad SEO toolbox?
The more interesting fact is that you can leverage your SEO audit tool in order to get more traffic, leads, sales and, in turn, more revenue to your business.
Why is SEO techniques important?
Let us discuss why it is important.
People keep on searching for things in search engines. Such traffic can be very powerful because it is very specific and has high intent traffic.
SEO techniques will help you to position your site at the most critical place in the buying process or whenever someone needs your site.
SEO techniques will help to create a seamless user experience. It also communicates with the search engine so that the search engines will recommend your website for the relevant searches by the searchers.
If you are viewing a page, how do you know whether the page is optimized for the SEO toolbox?
Do the page all the attributes search engines look for in a page?
If you don't know the answer to this question, then this article is meant especially for you.
The Mad Hatter Is Definitely Rather Loony
This is a famous acronym related to the SEO audit tool, which will help you remember the basics of SEO in order to make the search engines find out your site more easily and drive more traffic to your site. The explanation for this acronym goes like this.
T – Title tag
M – Meta Description and Keywords Tags
H – Header Tag
I – Image file names and alt tags
D – Diverse keywords
R – Relevancy
L – Links
Let's look at all these factors in detail one by one
Keyword research
First things first. The most important step in SEO techniques is finding out the keywords with which you can optimize your site. Do keyword research and identify the most common terms used by people for searching in the search engines. Select the keywords relevant to your business and for which you want to rank your website in search engines. Keyword research sounds very simple, but it is a tough job and involves a lot of factors which are mentioned below.
Search volume – If the search volume for a keyword is high, then you can reach a large audience by selecting that keyword.
Relevance – Focussing on direct keywords is important. But also try to focus on keywords that are relevant to your business.
Competition – If the competition for a particular keyword is too high, then you need to spend too much to get that keyword. So select a keyword that has less competition and at the same time can bring more traffic to your site. Be smart
The next step here is to understand the target customers. You should know who you are customers are, what they are interested in, where are they from, what solution they need, and from where else they are purchasing the product or service. All these will help you to select the best keyword for the SEO audit tool.
There are a lot of tools available to help you with keyword research, like Google's Keyword tool, Word stream's keyword tool, or Ubersuggest. You can also use specific keyword tools to find out the keyword which ranks the best for your competitor.
On-Page SEO techniques optimized.
Let's discuss few basic on-page elements which will help you to drive more traffic to your site.
1. Title Tag
This is the most important element of any web page. Make sure you include only one title tag for the single web page. You can include the keywords and terms in your title tag which you want the search engine to rank your site for. The title tag is not that which appears as the primary headline, but it is the one that appears on the top of your browser.
The title tag should not be more than 60 characters. It should be in a natural and compelling tone. Your title tag is the one that shows in the SERP's. So this should always be more attractive and relevant so that it brings visitors to your site.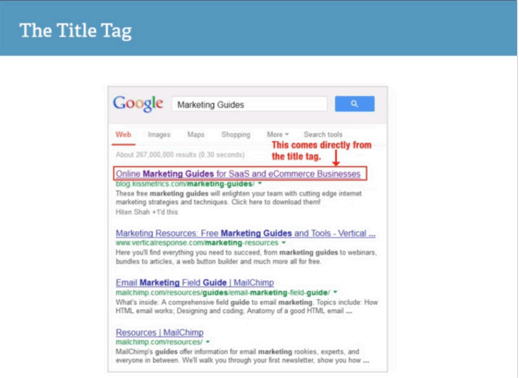 2. Meta Descriptions
The next important element is Meta description which is another code inserted in the head of a page. But it is not shown on the actual page as the title tag does. A meta description is the description of the page which contains a brief description of that particular page of the site. Some companies copy the meta description of the home page of the site to all the other pages of the site, but it ends up in duplicate content. Meta description also shows in SERP's which makes the browsers click on your site and increase the site traffic. Here comes an example of a meta description showing in SERP's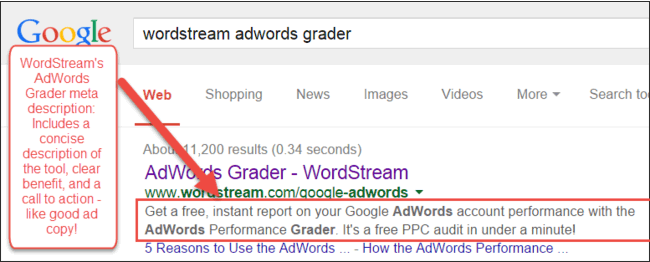 3. Content
Always write content for people first and then the search engines. Create quality content and avoid duplicate content on your site. Include contents on each page that are relevant to the page. Use your keywords in your content but do not over-optimize it. Search engines will definitely recognize quality content. There are few important things to keep in mind while creating content for a page.
Thick and Unique content – Take a note of your word count. Write at least 250 words per page because the tactic is if you are writing content for an appropriate length, then the SEO audit tool thinks that you should have included more relevant terms to the keyword. If the content of the page is too short or duplicated, then you are in trouble.
Engagement – Making the customers engaged with your site and improving the user experience should be the main aim of your content. Make sure your pages load quickly and do not have too many design elements.
Shareable – Write content that makes people share it on social network sites like Facebook, Twitter, Pinterest, and others. This will signal the search engine that your site has quality content. Try to submit your content to sites like Reddit, Delicious, Digg, and others. It will help you to gain readers.
4. Heading tag
Heading tag or H1 tag is the main heading of a page. There should be only one H1 tag for a page. It should act as a hook for the visitors. Try to use your keywords in header tags because they are accessed as the least ranking factor by search engines. Though it carries less weight, it can also count a lot when it comes to your site ranking. To avoid copying the title tag into the heading tag. Make the content more natural and inviting.
5. Image file names and Alt tag
How you mark your images can impact the way the search engines look at your page. Image alt tags are another important tag. An example of the image tag is given below.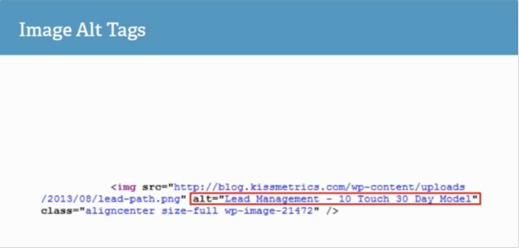 The alt tag will tell the search engine what it is about. Having a description for the image can improve their perspective in the search engines. Do not stuff your image description with keywords. Also, save the image in a file with a name that is relevant to the image. Alt tags cannot be used for decorative images.
6. URL structure
The URL structure of the site is very important from a tracking perspective as well as sharing perspective. Use SEO friendly URL's. Your URL should be short and descriptive. It should be easy to copy and paste, and the visitors should be able to remember it easily. So don't make it more complicated. Don't change your URL's. In case you need to change the URL structure, provide a proper redirect of the site.
7. Link Building
Linking is still considered as an important ranking factor. If you don't have links on your site, then your site will not show up in search engines. High-quality links drive more traffic to the site. There are a lot of ways to get links to the site, but as the search engines algorithms are updated frequently, this has become riskier now.
You can get links to your pages from other trusted sources. For example, you might be dealing with a supplier who has a website, and you can ask him to link back to your page. But do not exchange links.
Outbound links also help the search engine to find out what your page is all about. It also believes that the content on the page is of high quality.
Get links to your site from reputable sites, and that will make your site more authoritative and trustworthy.
8. Anchor text
Anchor text is using descriptive text as a link to connect to a page on your site. For example, "Here is the link to connect to my website" is the anchor text. The search engines also concentrate on the anchor text, so be cautious in creating anchor text. It tells the search engine what the page is about. Google uses it as one of its algorithms to rank the site. Always remember that you should not stuff your keywords in the anchor text.
9. Nofollow links
Nofollow links are used inside the anchor text, as shown in the picture below.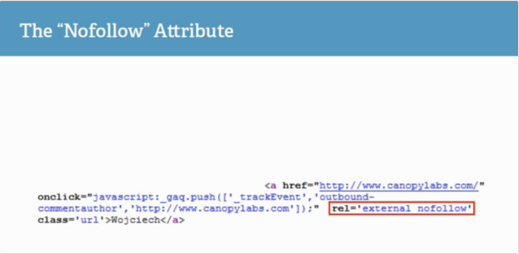 This attribute tells the search engine not to follow the link to the next page by considering it as a link juice. In this way, you can direct the search engine towards the pages which you think are more important. This is used most commonly in a comments section in blogs in order to avoid spam users.
10. Canonical tag
Canonical tag came up recently and has become more important. The canonical tag tells the search engine which page they should pay attention to. In this way, duplicate content can be avoided. Canonical tags can also be used to identify who is using your content in their website and directing it to your site as the original source. Canonical tags can also be used to set a preferred URL for your content.
11. Diversity
Try to use your primary and secondary keywords in your content. This makes the search engine feel that the content is not over-optimized with keywords. This also makes your content readable, understandable, and interesting. If you make your content more interesting for the visitors, then you can make them more engaged with your site. A decrease in bounce rate will make the search engine feel that the site is more trustworthy.
12. Page speed
Search engines have now added the loading speed of the site in its algorithm to rank the website. Not only the search engines but even your visitors are interested in fast-loading sites. If the user experience increases, it will increase the conversion rate of your site. The speed of the site gets affected by certain factors like javascript, graphical images, size of the content, and others. Google has developed a tool to give you suggestions on what to be changed to increase the speed of the site.
13. Mobile friendly
Making your site mobile-friendly will have a great impact on the ranking of your site. Optimize your site for mobile devices. Test whether your site is working properly on all mobile devices and smartphones. Make changes to your existing site, like changing the contents, size of the content, page length, etc., to make it mobile-friendly. There are also tools to test whether the site is mobile-friendly.
Conclusion
SEO techniques keep changing. The factors which were considered more important in 2015 will not be considered that important in 2016. What looks more important now might become less important in the future. So keep updating your site as the algorithm of the search engines changes. Stay abreast of the technological changes in SEO.
Recommended Articles
This has been a guide to SEO techniques. Here we have discussed the techniques optimized that are used to improve the visibility of a website. You may also look at the following article to learn more –