Updated June 14, 2023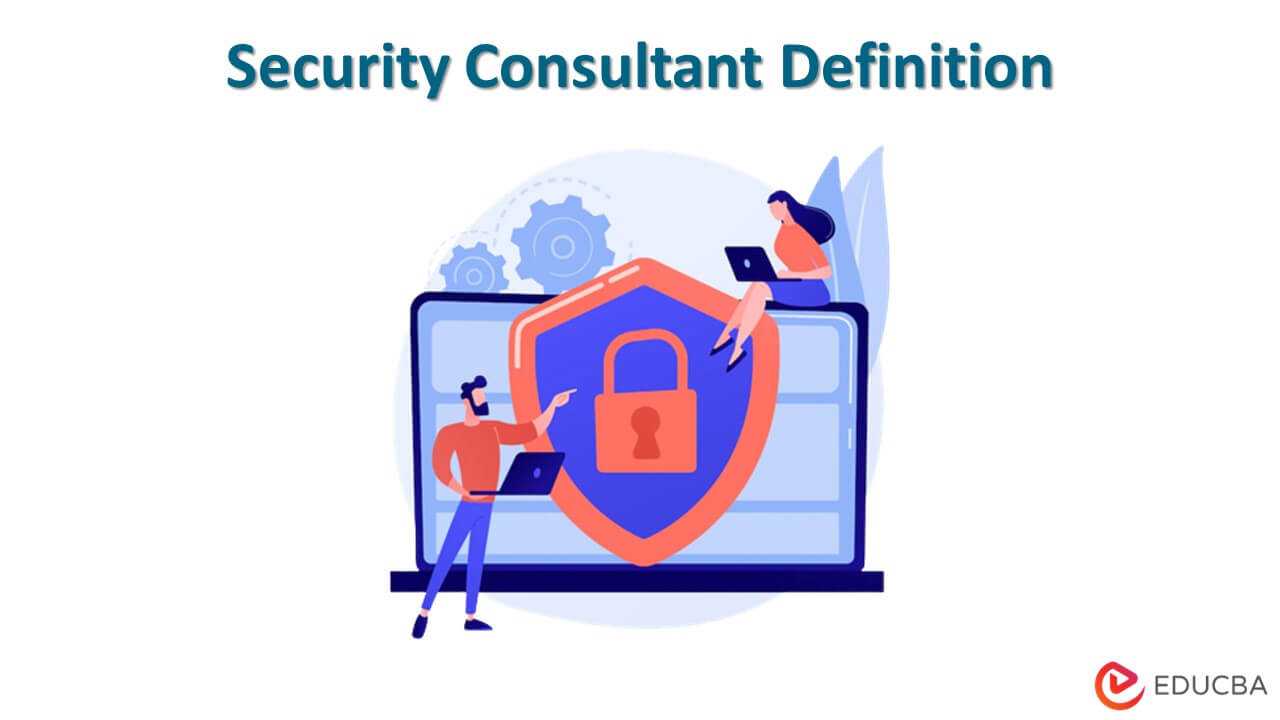 Introduction to Security Consultant Definition
A security consultant definition is an individual or group of individuals who specialize in some field of the security industry. A security consultant's definition assesses software, networks, and computer systems for inabilities. Security consultant definition plays the role of both the attacker and the defender. They work directly with the clients and develop a security plan specifically for the clients as per their needs. They work for different types of clients ranging from homes to large businesses that need security.
What does the Security Consultant definition mean?
Someone hires a security consultant's definition to determine the faults in a company's IT system and find a better solution to prevent it from attacks and theft.
The term Security Consultant definition is a broader term that includes
Computer Security Consultant
Database Security Consultant
Network Security Consultant
What do Security Consultant Careers do?
First and foremost, security consultants meet with clients to discuss their issues. Then, a security consultant advises the company to secure and protect their digital assets, physical property, and personal safety, such as buildings, systems, databases, and others. There are security consultants careers who specialize in different areas. They use their expertise in subject matter to advise companies to install the necessary software for protection.
Security personnel also do rigorous background checks to discover errors and improve the security system. They also provide expert solutions to natural as well as human-made disasters.
Responsibilities of a Security Consultant Careers
There is always a need to protect the privacy of the company. Especially larger companies have more demand for privacy and recruit security consultants careers. Given below are the responsibilities of a security consultant in a company.
Find an effective way to safeguard and protect a company's computers, networks, software, data, and information against any threats.
Investigate the staff and heads of the department regarding any security issue which was detected.
Draft emergency response plans for the problem detected
Do research on security standards, security systems, and authentication protocols.
Do vulnerability testing, risk analysis, and security assessments.
Assist in mitigation techniques
Design a proper security system for the IT project
Prepare cost estimates for a security system to be installed.
Test the security solutions
Provide training to the security team
Educate the employees and the business about the policies, procedures, and standards.
Implement and maintain corporate security policies
Update and upgrade the security systems in the company
Provide incident response and forensics
Why do people choose security consulting?
People who enjoy researching and thinking outside the box love to choose this career. They also love to be creative and innovative.
Some people love to find flaws in software, and they also get a lot of opportunities to learn from errors. There will be free to approach the problems and make their own decisions.
How and where to get started?
There is no one definite education path for a security consultant careers job. Most security consultant needs a bachelor's degree as their minimum qualification. But a degree in security consulting in which they are interested will be an added advantage. They should have a basic knowledge of systems, security, networks, protocols, and other computer-related topics. Security consultants need knowledge in various fields like networks, databases, and all the latest technologies. Security consultants usually begin their careers in any one of the disciplines in the security field. Some security consultants careers are previous police officers, electronic engineers, integrators, and even hackers.
Some popular security management studies are intelligence management, public safety, homeland security, and criminology.
Here are a few topics which a person should know before starting a security consultant career
Network security assessment
Mobile Device Security
Source code review
Low-level application security
Binary reverse
Research and development
Getting some experience always helps. Gain some experience in intermediate-level security jobs like
Security Administrator
Security Specialist
Security Analyst
Security Engineer
Security Auditor
Also, try to participate in Open source projects apart from the regular lab work done. These project works will help to improvise your skills, develop specific interests and learn new technologies that are more popular in the market. The security field keeps on changing with the introduction of new technologies. One needs to stay abreast of the changes to meet the competition.
You can gain knowledge about recent technologies through social media like Twitter. There are also many sites like Offensive Security, which provide much information related to this field. RSS feeds can also help you to a great extent in gathering information.
Required Licenses and Certifications
If one wants to become a successful security consultant, then he/she needs to be certified. Therefore, you need certification like Certified Protection Professional, Physical Security Professional, Certified Security Consultant, or Certified Information Security Systems Professional.
Skills required for a security consultant careers
We have already seen the job responsibilities of security consultant careers. Security consultant employers expect specific hard and soft skills from them. A few of the hard skills which the companies expect are listed below.
IDS/IPS, Penetration, and Vulnerability testing
Encryption technologies
Windows, Unix, and Linux operating systems
Secure coding practices, ethical hacking, and threat modeling
Application security
Network and web-related protocols
Firewall and Intrusion detection
Performance tuning views, indexes, SQL and PLSQL
Advanced Persistent Threats (APT), Phishing, Network Access Controllers (NAC), gateway anti-malware, and enhanced authentication
PCI, HIPAA, NIST, GLBA, and SOX compliance assessments
Frameworks like COBIT and ITIL
Network routing methods like VPN, VLAN, and VoIP
Two important soft skills are required for a Security consultant definition – Leadership and negotiation qualities. They should also have excellent communication skills. To work with diverse teams, they should possess all these qualities requiring patience.
The security consultant definition should also be more creative. They should think out of the box and solve complex problems.
To start your career as a Security Consultant, develop the following qualities.
Start wholeheartedly – Once you have decided to start your career as a security consultant, do it with your whole heart. A career as a security consultant is equal to other jobs, and the growth is also better than the average. Moreover, many training and certificate programs are available to help you become an expert in your field.
Research – Do research about the good reputed training institute which offers you the best curriculum that includes all the latest technologies. Different institutes specialize in a particular field of security.
Don't be limited – Something new is always coming your way to learn. So don't limit your curriculum. Instead, keep adding more knowledge related to your field.
Get some experience – Expose yourself to the industry environment after completing your course. It will help you understand the threats practically.
Certifications – Get some extra certifications that will add value to your job. Such certificates will help you gain extra knowledge and boost your resume's value, giving you more job offers.
Computer Security consultant definition
Becoming a computer security consultant is more rewarding. Career growth in this sector is very high as almost all businesses use computer systems. This increases the demand for a computer security consultant. Computer Security covers more expansive areas like IT security, information, and risk management. To become a computer security consultant, you must have a computer science degree or IT experience. You also need to know all the basic computer skills like programming, web security, mobile security, network security, and cryptography. Most computer security consultants are former hackers who know how difficult it is for companies to protect their data from theft and hacks.
The roles and responsibilities of a computer security consultant definition vary from company to company. They develop complex databases and websites and set up a network of computers. They can also be placed as Network specialists, Database specialists, or Software programmers in companies.
Information Security Consultant Certification
Information Security is also known as InfoSec. Information Security means protecting a company's information from unauthorized use or access. Many companies have started to outsource their IT security as they want to focus on the core business. Information Security Consultants are people who work to provide security to the data and information of an organization from hackers. The first step to becoming an Information Security Consultant is to be certified in IT security. There are a lot of certifications available, and the EC Council offers these certificates. A few examples of the certificates are listed below.
EC-Council Certified VOIP Professional (ECVP)
EC-Council Certified Chief Information Security Officer (CCISO)
Network Security Consultant Certification
Network security consultant certification protects the client's information from leakage, viruses, spyware, and cyber hackers. They protect the confidential information of the companies stored in networks. The information might be in any form, including financial reports, projects, contacts, passwords, and other valuable information about the company. Network security consultants set up special software passwords and firewalls to prevent unwanted members from entering the network. They make sure that the data is always safe from hacks. They also teach the employees about network security methods to make them aware and reduce security threats to a greater extent.
Database Security Consultant
Security consultants are more in demand by big companies and organizations with substantial digitized databases. A database security consultant's task is to protect the company or organization's databases. They should be experts in data encryption, database design, And Maintenance. They develop specific software and practices to protect and hide the databases from unwanted people outside the organization. To protect databases, the security consultant should know about the recent threats in the market, such as virus and worm defense.
How Much Does a Security Consultant Certification
A security consultant, whether a Computer, Networking, Database, or Information Security consultant, earns an average of 6 lakhs per annum. More knowledge in the field can yield higher pay for this job. The main reason for higher pay in this job is experience. The more the experience, the more you get paid. People in this field often start shifting to other jobs if they have reached 20 or more years of experience. Specific skills like IT Security and Infrastructure and Security Intrusion Detection also pay you high pay for this job.
Conclusion
To become a successful security consultant, you must first understand things completely, identify their weakness, and find a solution  Career as a security consultant is enjoyable, challenging, and profitable. So kick start your career as a security consultant now and reach great heights in life.
Recommended Articles
So here are some courses that will help you get more detail about the Security consultant definition, security consultant certification, and security consultant careers; so go through the link. which is given below.