Definition of Scenario Planning
Scenario planning is when businesses create different scenarios to make future predictions, considering various factors that could affect the outcomes. It helps them determine how their business will grow in the coming years.
For example, economists have anticipated a worldwide recession in 2023 that would severely affect emerging industries. In response, countries and companies are taking necessary measures to be least affected by the upcoming situation.

Table of Contents
Step #3: Analyze each Scenario
Take a close look at each scenario and consider the challenges and opportunities it presents for your business. Consider how it might affect your products, customers, employees, and finances.
Types of Scenario Planning
Given below are the different types of scenario planning:
1. Quantitative Scenarios: It is when organizations use numbers and statistical data to describe different potential futures and assess each scenario's possible impacts.
Example: Let's say an investment firm analyzes historical data and creates future scenarios using quantitative scenarios to find potential returns and risks of different investments.
 2. Probability-Based Scenarios: In this type, organizations know the chances that a scenario will likely occur, preparing them for the most probable outcomes.
Example: Imagine an insurance company uses probability-based scenario planning to see which insurance claims are common to set the correct premium rates for those policies.
 3. Normative Scenarios: In normative scenarios, firms set a clear aim for the business's future and then work backward to create plans that work with that desired future.
Example: Consider a government department that envisions a future with reduced pollution, so they plan accordingly while developing urban infrastructure.
4. Strategic Management Scenarios: It examines different possible futures based on various assumptions and factors, helping organizations identify potential challenges and opportunities.
Example: Let's say a business examines different scenarios, including factors like consumer preferences, changing shopping habits, and external influences, to plan for potential challenges.
 5. Event-Driven Scenarios: These scenarios focus on a specific event, helping organizations prepare for emergencies or unexpected crises, and enabling them to respond promptly and efficiently.
Example: An airline develops event-driven scenarios for unexpected events like natural disasters to create plans like rerouting flights while ensuring passenger safety.
 6. Interactive Scenarios: It is when companies play out different scenarios, similar to a game, to see what might happen and learn from it. It allows them to know the results of their actions in a risk-free environment, helping them learn from potential mistakes.
Example: A logistics company tests different transportation routes to identify the best path for avoiding delays and ensuring efficient deliveries.
7. Predictive Scenarios: Firms use present data and historical trends to predict future outcomes and their implications.
Example: Imagine a retail company using predictive scenarios to predict customer demand during festive seasons to make sure they have enough supply for customers without overstocking.
Scenario Planning Case Study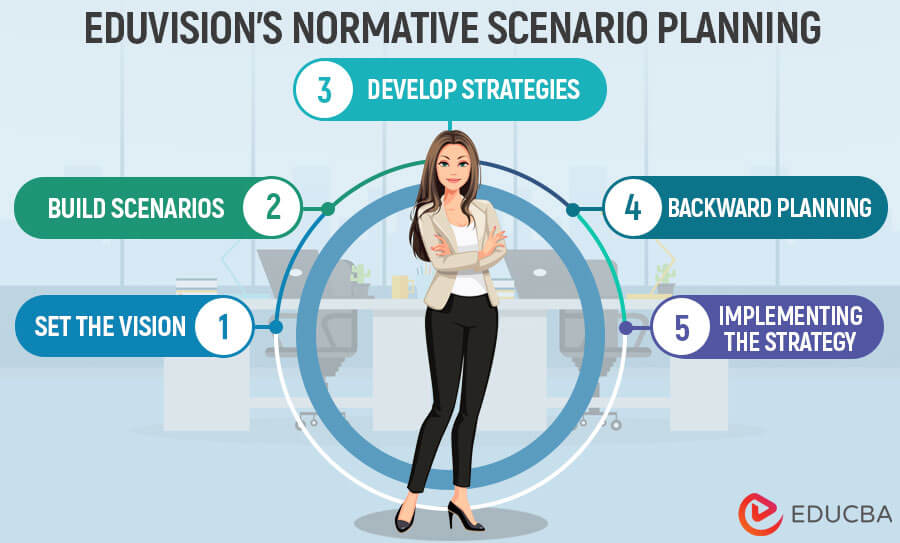 Planning for Market Dominance in Ed-Tech Industry
Let's imagine that EduVision Academy is a prominent e-learning platform with a diverse range of online courses. The management team, led by CFO Stella Williams, recognizes the growing demand for Artificial Intelligence (AI) education. They want to establish EduVision Academy as the go-to destination for AI learning. So, they use normative scenario planning. It means that they will start with the vision and work backward to develop the best strategy to achieve their goal.
Let us see how Stella and the team use normative scenario planning with the help of the following steps:
Step 1: Set the Vision
EduVision Academy envisions becoming the world's premier AI education hub, known for high-quality courses, expert instructors, and innovative learning experiences.
Step 2: Build Scenarios
The management team develops several normative scenarios based on the established vision:
a) Scenario #1: Build a Comprehensive Portfolio of Only AI Courses
EduVision Academy offers a comprehensive curriculum from beginner to advanced levels. The platform partners with top AI researchers and practitioners to create cutting-edge content.
b) Scenario #2: Collaborate with Corporates
EduVision Academy shifts its focus to providing tailor-made AI training solutions for corporations. The academy collaborates with businesses to train their employees in AI skills, customizing programs to meet specific industry needs.
c) Scenario #3: Build a Portfolio of Emerging Technology Courses
EduVision Academy positions itself as a lifelong learning platform, offering courses in emerging technologies like quantum computing, biotechnology, and space exploration.
b) Scenario #2: Collaborate with Corporates
Establish partnerships with industry leaders for tailored AI training.
Design flexible corporate training packages.
Develop a dedicated corporate portal for seamless training management.
Provide certifications recognized by industries.
c) Scenario #3: Build a Portfolio of Emerging Technology Courses
Research emerging technologies and market demand.
Collaborate with experts from various fields to design relevant courses.
Develop a subscription-based model for lifelong learners.
Introduce a tiered pricing structure for different technology categories.
Step 4: Backward Planning
Finally, the team selects one of the three scenarios that best suits their vision. Thus, the team selects the first scenario, 'Build a Comprehensive Portfolio of Only AI Courses.'
Reason for Choosing the 'Build a Comprehensive Portfolio of Only AI Courses' Strategy:
EduVision Academy chooses the first strategy as it aligns perfectly with its goal of becoming the premier AI education hub. They can focus on AI education at various levels, and by building a network of partnerships and recognition, the organization creates a sustainable competitive advantage in the market.
While the other scenarios offer valuable opportunities, they may divert resources and attention away from the core mission of AI education excellence. The selected strategy leverages EduVision Academy's strengths, enhances its reputation, and reinforces its position as a leader in AI education.
Step 5: Implementing the Strategy
The company starts by launching beginner, intermediate, and advanced AI courses to attract a diverse range of learners – beginners as well as professionals.
The company then establishes partnerships with AI research institutions to improve the academy's credibility.
In just a few years, it hosts an international AI summit with renowned speakers to boost the academy's reputation and expand its reach globally.
Importance
For a better approach, it's important to understand the importance of scenario planning. Given below are some of their importance:
Preparing for unknown situations: It helps organizations prepare for uncertain future situations.
Better decision-making: It improves decision-making by considering various possibilities.
Flexibility in strategy: Organizations can create strategies according to their needs and can change as and when required.
Managing risks: It considers risk management factors and reduces potential negative impacts.
Seizing opportunities: It helps identify hidden growth opportunities.
Long-term vision: It helps to make decisions in the long run, which is very helpful for making informed decisions.
Enhanced communication: It helps improve communication among team members, ensuring everyone is on the same page about potential challenges and goals.
Competitive advantage: Being well-prepared and adaptable gives organizations a competitive advantage, allowing them to respond faster to market changes and outperform competitors.
Scenario Planning Vs. Forecasting
| | |
| --- | --- |
| Scenario Planning | Forecasting |
| Scenario planning helps organizations prepare for uncertain and unpredictable future events. | Forecasting focuses on making specific predictions based on historical data and trends. |
| It involves creating different snapshots of potential futures based on various factors. | forecasting focuses more on the near future and is more useful for immediate projections. |
| It helps organizations to develop flexible strategies and stay responsive to changing market situations. | Since forecasting typically depends on a single predicted outcome, it fails to provide flexibility in various scenarios. |
| It encourages organizations to think beyond short-term forecasts that help create sustainable strategies. | Forecasting may not predict unexpected events or significant changes, as it depends more on historical data. |
Q2. What are scenario planning tools?
Answer: Scenario planning tools are computer programs that assist businesses in predicting potential future outcomes for various situations. Some common tools include:
Scenario Analysis Software
Customer Relationship Management Software (CRM)
Marketing Automation Systems
Recruiting and Retention Software.
These tools aid businesses in preparing for uncertainties and making informed decisions based on different scenarios.
Q3. What are the advantages and disadvantages of scenario planning?
Answer: Scenario planning helps organizations prepare for unexpected events and uncertainties, improving their ability to respond effectively. However, developing scenarios requires time, effort, and resources, which can be a drawback for some organizations. They are just predictions and might not accurately tell about the future.
Recommended Articles
This article gives a comprehensive overview of scenario planning. We discussed its steps, types, examples, and more. You may refer to the below articles for similar content: