Career in Salesforce
Salesforce has been incredibly helpful in meeting the CRM needs of businesses. It has long been a global leader in CRM (Customer Relationship Management). Companies like Atlas, Deloitte, Accenture, and others use this for their CRM initiatives.
With its quick and steady expansion, there is a high demand for experienced Salesforce specialists. Professionals have excellent pay scales and job happiness. The average annual salary for a Salesforce developer in the US is $87,721.
Knowledgeable professionals wanting to advance in their careers can prepare from this list of often-asked salesforce interview questions.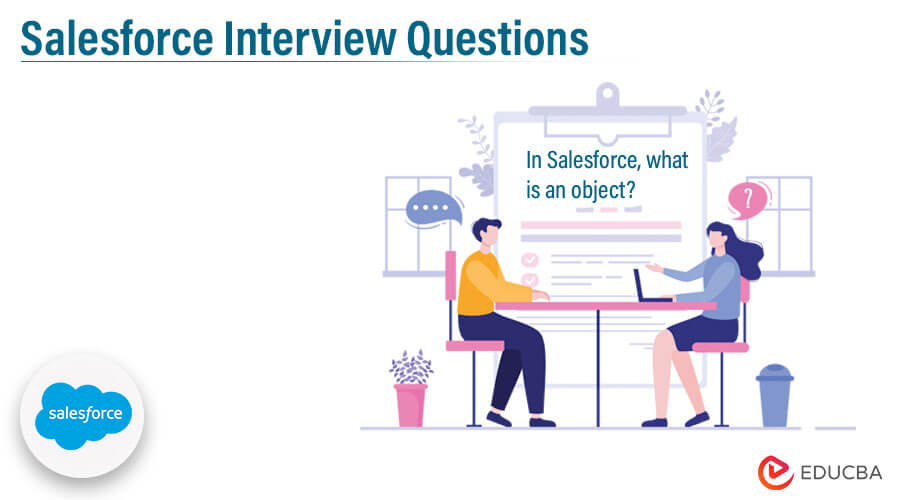 Key Highlights
Opportunities for a career in Salesforce are increasing every day, leading to increased competition.
To succeed in the interview round, master the foundational concepts of Salesforce and learn the top salesforce interview questions.
Apart from studying the concepts, it will also be valuable to complete a Salesforce certification course.
Salesforce Interview Questions & Answers – Fundamental
1. What is salesforce? Explain its purpose.
Answer:
Salesforce is a cloud-based software provider that builds organization tools to help businesses identify prospects, increment sales, and offer better customer service.
As an expert in customer relationship management, Salesforce assists businesses with communication with current and potential consumers. The software generates top leads for a company and even suggests steps & actions.
Businesses can leverage cloud computing and Salesforce services to improve connections with existing partners/clients and acquire new clients. They can monitor customer behavior, market to customers, and perform a wide range of tasks with the Salesforce CRM. Salesforce attracts new clients and also maintains customer satisfaction, encouraging brand loyalty.
2. In Salesforce, what is an object?
Answer:
Salesforce objects are database tables that hold an organization's data and keep track of its crucial and distinctive information. There are two different kinds of objects,
Standard object: 
The Salesforce platform offers a few pre-existing and in-built items that can help any form of business necessary functionalities
Some examples are contacts, accounts, campaigns, leads, products, reports, dashboards, and many more.
Custom object: 
As all businesses are unique in some way, the custom option helps them create objects based on their specific businesses needs
It includes page layouts, custom fields, object relationships, user interface tabs, etc.
3. What does a Salesforce profile mean? Can two users have the same profile?
Answer:
In Salesforce, a user's profile is a group of settings and permissions that specify their capabilities. As a result, it grants them access to specific Salesforce records.
There are various profiles available in Salesforce. For example, for a sales profile, leads, contacts, campaigns, etc., may be accessible.
For example, the employees of one department can have identical profiles. Take the sales profile as an example. Each sales employee has the same profile. Therefore, we can assert that multiple individuals can share the same profile.
Salesforce Interview Questions & Answers – Intermediate
4. What does Salesforce's audit trail mean?
Answer:
Salesforce's audit trail makes it possible to track administrators' modifications to the organization's database. It records who made the last-minute changes to the project. Thus, a company with several administrators can benefit from it.
We can use an audit trail to learn more about the changes made, the date and time, and the member who made the changes.
5. What is a Master-Detail relationship?
Answer:
A master-detail connection is a parent-child relationship where the detail object inherits specific attributes of the master object.
It helps organizations control the actions of the detail object using the master object.
An MDR can be either between one standard and another custom object or two custom objects. However, the standard object will always be the parent, while the custom object is the detail object.
Additionally, one custom object can only have up to two MDR
The same occurs for the corresponding detail records when a master object record is erased or unerased.
6. What does the Salesforce dashboard mean?
Answer:
A Salesforce dashboard visual represents Salesforce reports, i.e., it uses visual elements like charts, tables, etc., to represent data from cited reports.
It offers a quick summary of an organization's metrics and performance.
A single Salesforce dashboard has a limit of 20 components, i.e., it can only show a maximum of 20 reports simultaneously.
7. What is the sharing rule?
Answer:
Sharing rules are helpful when users want to share records with other users while limiting their authority.
The access can be for groups, roles, etc.
Every Salesforce object can have a total of 300 sharing rules. Among those, one can specify up to 50 guest-user or criteria-based sharing rules. However, first, one must ensure that the particular object allows sharing.
8. How do permission sets work?
Answer:
A permission set is a group of authorization options that provides user access to numerous features outside of their work profile.
It can be helpful when specific work profiles need access to out-of-department records. Thus, without modifying the profiles, we can broaden the functional access by using permission sets.
For instance, among five sales profile users, one is responsible for updating achieved targets. Therefore, rather than changing their profile setting, they can get access to that specific record through permission sets.
9. Explain Salesforce lightning.
Answer:
The Salesforce lightning is a component-based application development framework that includes several tools and technologies that help users build efficient mobile applications effortlessly.
These tools come with graphic improvements, user interfaces, page layouts, and more.
It intends to simplify the operations for business users wanting to build apps but possessing less programming knowledge.
10. List the advantages of using Salesforce CRM.
Answer:
Using automated communication, Salesforce Einstein Bots can provide automatic responses to chats. Thus, one can prevent delayed responses, improving user satisfaction.
Salesforce platform allows data synchronization, i.e., combining data from other programs like MailChimp and G Suite. It facilitates data transfer between software programs. Moreover, using the Salesforce mobile app, we can monitor data whenever and wherever required
Salesforce's Einstein Analytics provides valuable and accurate insights that help users take immediate actions if necessary. With Salesforce reporting tools and dashboards collecting and analyzing information, one can easily carry out data analysis.
Understanding a customer's path across the sales cloud helps gain insight into their behavior. To determine what appeals to the clients, we can also examine their clickthrough rates on email marketing.
The service cloud's live agent offers a chat box depending on clients' interaction with the website. Therefore, your customer support team can provide solutions by linking with the customer profile. It permits agents to respond quickly, which improves the client experience.
Conclusion – Salesforce Interview Questions
As Salesforce is one of the most sought-after job choices today, applicant competition is escalating quickly. Therefore, adequate preparation can improve your chances of getting the job. Your confidence will increase as you learn all necessary salesforce questions. In addition, pursuing a Salesforce Certification can be an added advantage. Hence, it is essential to receive the proper training to prepare for the Salesforce Interview.
FAQs
1. How to prepare for a Salesforce interview?
Answer:
First and foremost, master the basics of salesforce. Research the business and the hiring manager and identify the qualities they are seeking. Align your answers with their requirements and add the real-life applications of your skills. Note a few examples of your work that the hiring manager will find valuable. Finally, be assured and truthful.
2. How many interview rounds does Salesforce have?
Answer:
After the company shortlists a candidate, the first round of interviews is telephonic. The next round/s is technical tests that determine the candidate's knowledge. The technical round can be one or more than that, depending on the employment role. The final round is the face-to-face interview.
3. How do I introduce myself in a Salesforce interview?
Answer:
Begin with a brief overview of your professional background and insights into your personality and skill set. Lead by mentioning a few high points of your career. Highlight the organizations you've worked at, job roles, and excellent achievements. If you have certifications, you can mention them to raise your chances.
Recommended Articles
This article lists the top 10 salesforce interview questions with their answers. Refer to the following articles to learn more,