Learn from Home Offer TAKE THIS BUNDLE
Customer Relationship Management Course Bundle - 3 Courses in 1
This CRM Training includes 3 courses with 8+ hours of video tutorials and Lifetime access. This course will help you gain skills related to customer service so that you learn all aspects of customer service and management. It takes you through strategies that can be deployed to identify the customer needs and cater to them. It will serve as a guide as to how organizations can build and maintain strong relationships with their customers.
TAKE THIS BUNDLE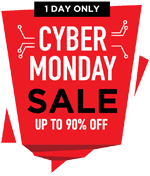 * One Time Payment & Get Lifetime Access
What you get in this Customer Relationship Management Course Bundle - 3 Courses in 1?
8+ Hours
3 Courses
Course Completion Certificates
Lifetime Access
Self-paced Courses
Technical Support
Mobile App Access
Case Studies
About Customer Relationship Management Course Bundle
---
| | |
| --- | --- |
| | |
| Courses | You get access to all 3 courses, Projects bundle. You do not need to purchase each course separately. |
| Hours | 8+ Video Hours |
| Core Coverage | This course is about the practical attributes of customer relationship management. The course will take you through the CRM framework and techniques. |
| Course Validity | Lifetime Access |
| Eligibility | Anyone serious about learning Customer Relationship Management |
| Pre-Requisites | Basic Sales & Marketing knowledge |
| What do you get? | Certificate of Completion for each of the 3 courses, Projects |
| Certification Type | Course Completion Certificates |
| Verifiable Certificates? | Yes, you get verifiable certificates for each course with a unique link. These link can be included in your resume/Linkedin profile to showcase your enhanced skills |
| Type of Training | Video Course – Self Paced Learning |
Customer Relationship Management Course Bundle Curriculum
---
Goals
The course is aimed to enhance your knowledge and understanding of various concepts relating to customer relationship management. Through this course, learners are expected to gain an insight into the history of CRM and its involvement as well as development and executive of an idle CRM strategy for building a strong customer basis and retaining them with the help of customer satisfaction.
Objectives
The learning objective of this course is to help the learners understand how customer relationship management works in different organizations. The learners will get to know various CRM strategies that are deployed by the organizations and how they select the strategy suited to them. The course comes with two case studies to give a better insight of how CRM strategies are selected and executed in the practical scenario.
Course Highlights
This course is an intermediate level course that will introduce you to the elementary and some practical concepts of customer relationship management. You will learn the following through this course:
You will gain an insight into the definition of CRM and the experts will break down this definition into easy components for you to understand the definition in totality without much difficulty. After you have understood what it is all about you will be able to analyze its applicability in the real industry as well.
The experts will narrate the history associated with CRM and what all developments took place after it first came into usage. You will get to know how CRM evolved over the years.
An understanding will be developed about how the customer relationship matrix works and what are its uses.
You will go through the specific concepts related to specific types of CRM namely strategic CRM, operations CRM, and management CRM.
By the end of the course, you will learn about the benefits offered by the CRM process.
Project Highlights
The course is supported by two interesting case studies related to the subject so that the learners experience the practical approach to the subject.
The first case study will be based on how global business and research firm incorporates strategic CRM in its marketing division. This will help you get a better understanding of how companies adopt a strategic CRM strategy.
The second case study will deal with the execution of an operational CRM strategy by an agile business intelligence agency. With this case study, you will learn about the broader aspects related to customer relationship management with a special focus on operational CRM.
CRM Course – Certificate of Completion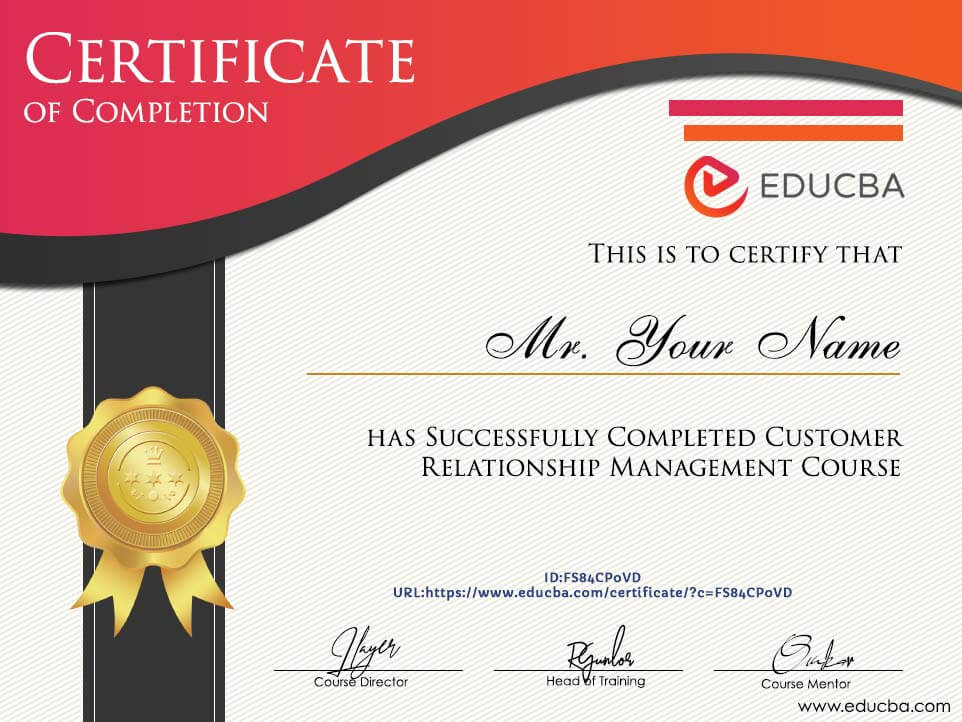 What is Customer Relationship Management?
Customer relationship management is the set of all practices, methods, and techniques that an organization deploys when dealing with its customers. The purpose of CRM is to help the organization improvise its division of customer service so that it is able to retain its existing customer base and also attract new customers thereby increase revenues. There are different customer relationship management tools that help you manage and provide effective services to your customers such as Salesforce, Infusionsoft, Team support, and such others.
What skills will you learn in this Course?
At the end of the course, you will develop the following skills:
CRM
Customer Service
Strategic CRM
Operational CRM
Management CRM
Pre-requisites
The course is designed in such a manner that anyone who has the desire to learn about customer relationship management can get enrolled for this course. Therefore, there are no specific pre-requisites for this course.
Target Audience
The course can be opted for by the following audiences:
Students keen on learning the subject
Scholars in customer relationship management, marketing, sales, management, commercial, and finance stream
Persons working as an industry, business, and functional analysts.
Chartered Accountants, CFAs and, other professionals relating to functions such as customer relationship management, digital marketing, marketing, corporate strategy, operations, sales, business development
Business owners who want to acquire the skills of customer management.
FAQ's- General Questions
---
How many hours should I expect to spend weekly for the course?
You need not invest much of your time in this course. The training is about 9 hours long and broken down into three lectures out of which the first lecture is for concept clarity and the rest two lectures contain case studies for getting practical insight into the subject.
How can this course help me with my career?
The course can help you acquire skills related to customer service and management which will help you secure a suitable job in the sector of customer service.
I am not acquainted with CRM; can I join this course?
Even if you are new to CRM and keen to learn about the subject you can join the course. You need not have prior knowledge of the subject.
I am working on the sales team and planning to take up this certification. How can I expect Customer Relationship Management Training to help me?
Being a part of the sales team, you must be having regular interaction with your customers. You might be dealing with some unsatisfied customers also. Through this course, you can learn how to deal with such customers by deploying the right CRM strategy.
Sample Preview
---
Career Benefits
The course is very beneficial for those who are working in sales, marketing, and business development fields. The training will help you gain the skills required to become a good customer relationship manager. Some of the advantages of the course are as follows:
The course will enable you to start your career in the field of customer service and management.
You will learn how to deal with customers and manage their issues.
You will acquire skills relating to problem-solving which will help you secure a job in any field related to customer management.
You will get an idea of how to apply CRM techniques and manage the customers.
Reviews
---
Customer Relationship Management Training
It is a long course that goes into very small details about each aspect of the Salesforce CRM platform. The level it is basic and it is very descriptive, overall the speaker seems to have a lot of knowledge on the program and he tries to relate the course with small business, overall it does the job explaining Salesforce.
Linked
Jorge Dominguez
Good CRM training
I did this Customer Relationship Management Training out of desperation. Since my company is a service company, I needed to know the basics of CRM along with technical expertise.  So I did this CRM Certification and everything started to make sense. This course is so well-thought-out that I didn't face any issue while going through the material. Comprehensive, detailed, and a perfect guide for beginners. I highly recommend this course for anyone who doesn't have any idea of CRM.
Jeff Borg
CRM certification
Trying to learn everything that makes service industry work I decided to undertake this as well and am glad I did the same. There is a whole new unexplored area I know I need to master before I find the right job. Thanks.
Mantas Khosravi